Yellow Birth Announcements
What customers have to say about our Birth Announcements
January 25, 2019
A Hit With All the Family!
"We used this card as a birth announcement and thank you card for our baby shower attendees. It's on a nice heavy cardstock, and the print was super clear. With my first order there was a smear on the return address on the back of the envelope, but no big deal. With the first order I also didn't receive the blank envelopes I ordered. The second order everything was perfect. I would highly recommend!"
January 24, 2019
Very nice cards
"Super classy cards"
January 24, 2019
Great buy
"Looks and feels great. Came so quickly and is such great quality!"
January 22, 2019
So sweet
"Easy to create!sweet design"
January 22, 2019
Love this product!!
"I love the simplicity of this birth announcement, it was easy to make and arrived on time!"
New Ideas for Celebrating Your Newborn
Few life events compare to the birth of a new baby. You'll likely have a hard time containing your excitement and will want to share the news with the world. Well, we're with you! At Shutterfly, we offer design solutions for all your stationery needs, such as yellow birth announcements for your little bundle of joy. With our combined creativity, we can capture a memory in a truly special way.
Finding the Right Words to Say
We're here to help you find inspiration when the moment arises. We want your projects to reflect who you are, putting a piece of your personality into every design. When constructing your classic birth announcements, take some time to think about the message you'd like to send. After choosing a photo, share a few words, such as an inspirational quote or an adorable quip. You will want also to include some details about your newborn, such as:
The baby's name
Birth date
Weight at birth
The parents' names
More Than Just Stationery
At Shutterfly, we offer more than stationery design; we provide inspiration for all your home design and entertaining needs. From creating your yellow birth announcements to planning your newborn's first birthday party, we have the solutions you're looking for. Check out the latest tips and trends from current industry innovators to discover creative DIY design ideas for you home. Need to put together the perfect play space for your new baby? Here are few things you can try:
Hang family photo collages
Create hand-painted pillows
Open up a comfy play area, perfect for napping
Pitch a tent or build a fort to inspire imagination
With the right design ideas and your own personal touch, you can turn your home into a lifetime of memories.
Vast Selection, Infinite Possibilities
Our goal is to facilitate your creative process by giving you the means to put together gifts and stationery that are truly unique. Whether you're assembling yellow birth announcements or designing the perfect wedding invitation, we want you to have options. When you sign up for a Shutterfly account, you can upload all your photos into one place, allowing you to swap out pictures until you find the one you want to print.
Additionally, we have a huge selection of templates, ranging in sizes and styles. From sleek, contemporary party invitations to foil-stamped holiday cards, choose the look that best reflects your personality. Obviously, we support any choice you make and promise to deliver a product that exceeds your expectations.
Related Products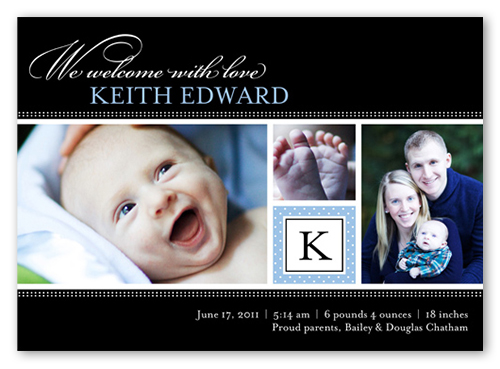 He's Here Birth Announcement 5x7 Stationery Card by Stacy Claire Boyd. Welcome your baby with love in this collage-style boy birth announcement. Add your baby's name and a favorite photo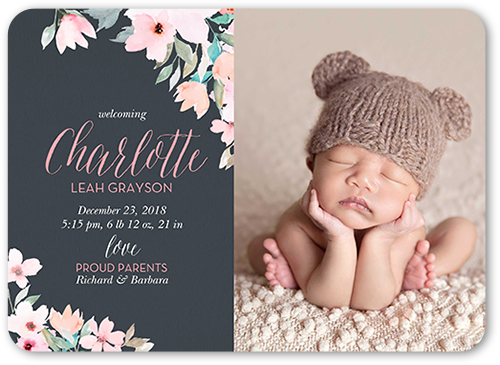 Fabulous Floral Girl 5x7 Birth Announcement Card. Announce your newest arrival with this stylish birth announcement. Add your baby name, a photo with the news everyone waiting for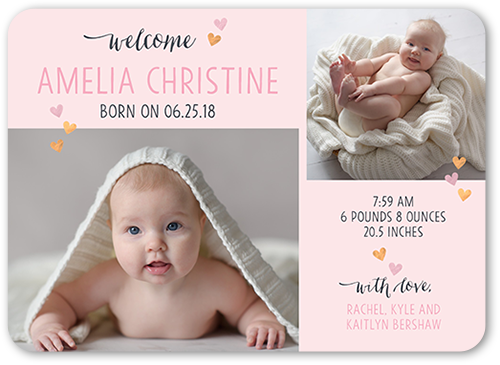 Heartwarming Debut 5x7 Girl Birth Announcement Card. Announce your newest arrival with this stylish birth announcement. Add your baby name, a photo with the news everyone waiting for