What customers have to say about our Bedding
July 21, 2018
VERY HAPPY with the results once again!
"One of my "go to" wedding gifts is a duvet with a custom cover! These always turn out well. Not recommended to ignore their warnings but.... I often get the warning icon that my photo will not look exceptional on my gift. I STILL keep going because on a huge blown up queen bed the pictures look MARVELOUS anyway; doesn't matter if NOT perfect. Each recipient of this personalizes gift is always in awe!"
"I bought two of these and they are great. Picture quality is great and also the material quality!!"
April 24, 2018
It's absolutely beautiful! I love how soft it feels!!!
"Well worth it!! I highly recommend it ! !!"
April 23, 2018
Better than expected
"Excellent quality sham with beautiful photo prints. No complaints and would buy again without reservations."
April 16, 2018
I would purchase from them again
"Luv my comforter very detailed and great quality."
Sophisticated Beige Bedding Designed For You
Any bedroom becomes a chic retreat with custom beige bedding. Sentimental photos, important dates, and family names are a few of the items you can add to the designs by Shutterfly. Browse their gallery of designs to find the starting-off point for your custom bedding. Once you have, start the fun by putting your creative touch on things. Picking your initial design is the hardest part.
Give the Gift of Beautiful Beige Bedding
Are you looking for a meaningful gift idea any recipient will love? Custom beige bedding makes a great gift idea for family and friends. From a single custom pillow sham to an eye-catching custom duvet cover, find beige bedding for every style and budget. Browse the collection of designs to find the one you will make your own.
Celebrate Your Love with Custom Beige Bedding
Turn your master bedroom into a romantic retreat with the help of custom beige bedding. Feature wedding photos, initials, and wedding dates on your custom bedding as a reminder of your love. This is a great way take the photos from your phone and make them part of your decor. Order one as a wedding or anniversary gift.
Personalize Your Beige Bedding
Show off your creative side with the guided personalization process by Shutterfly. Start by choosing the bedding item and size you need. With twin, queen, and king sizes available, it is easy to find the right one to fit every bed. Select backing fabric and start laying in your personal photos and text. In a few clicks, you will have beige bedding unique to you.
Designed for Comfort and Convenience
Duvet covers by Shutterfly offer the ideal combination of comfort and convenience. It all starts with the microfiber fabric used to create this soft beige bedding. This fabric helps keep hot sleepers cool and cool sleepers warm. Keeping it clean is easy too because microfiber is machine washable.
These duvet covers and pillow shams offer ease of use. The duvet covers feature a zipper closure and ties on the inside. Use the ties to secure the duvet to the comforter of your choice. Zip it shut, and you are ready to make your bed. Complete the look with the matching custom pillow shams. An envelope closure on the back makes inserting your pillow quick and easy.
Related Products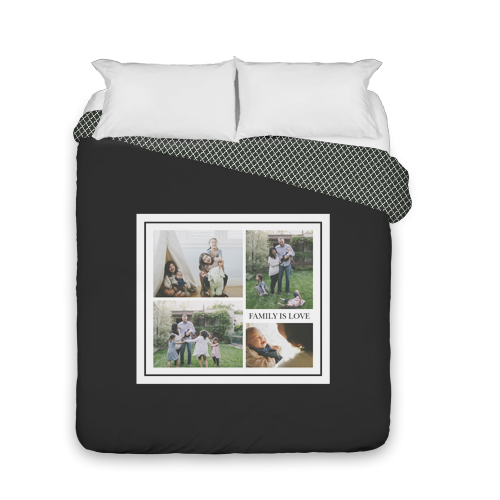 Classic Bold Border Duvet Cover. Cozy up to a Duvet Cover with your favorite photos. Choose your background and layout.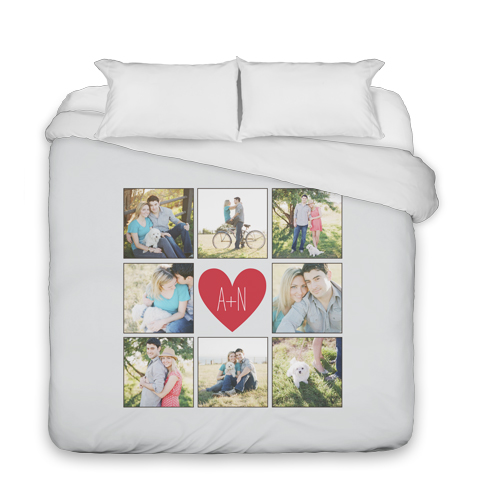 Love Grid Monogram Custom Duvet Cover. Cozy up to a Duvet Cover with your favorite photos. Choose your background and layout.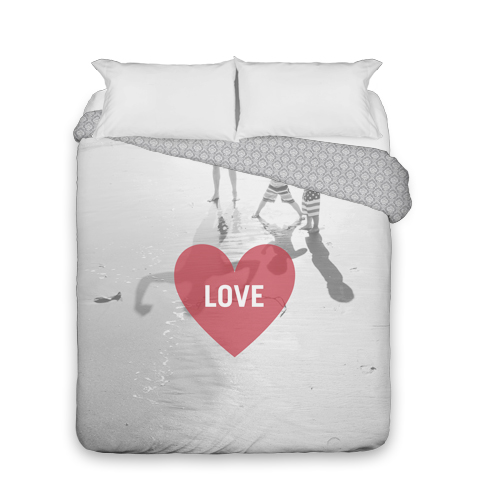 Love Heart Overlay Duvet Cover. Cozy up to a Duvet Cover with your favorite photos. Choose your background and layout.