What customers have to say about our Bedding
July 21, 2018
VERY HAPPY with the results once again!
"One of my "go to" wedding gifts is a duvet with a custom cover! These always turn out well. Not recommended to ignore their warnings but.... I often get the warning icon that my photo will not look exceptional on my gift. I STILL keep going because on a huge blown up queen bed the pictures look MARVELOUS anyway; doesn't matter if NOT perfect. Each recipient of this personalizes gift is always in awe!"
"I bought two of these and they are great. Picture quality is great and also the material quality!!"
April 24, 2018
It's absolutely beautiful! I love how soft it feels!!!
"Well worth it!! I highly recommend it ! !!"
April 23, 2018
Better than expected
"Excellent quality sham with beautiful photo prints. No complaints and would buy again without reservations."
April 16, 2018
I would purchase from them again
"Luv my comforter very detailed and great quality."
Chic Grey Bedding Designed for You
Referred to as the new neutral, grey bedding makes a great addition to any room. The soft hue sets the stage for a dreamy space. Personal photos and custom text take these designs and make them unique to you. With so many duvet covers, pillow shams, and fleece blankets available, the options are endless. Which design will be the starting point for your custom creation? With bedding this soft, you'll want to collect them all.
Showcase a Photo Gallery on Soft Grey Bedding
Are you looking for a way to take images from your phone and make them part of your decor? Shutterfly has a fun and comfortable way to do that. Start by selecting one of the bedding designs with places for multiple photos. Start the personalization process and upload all your favorite images. Add a little text and the photos from your last family photo shoot become a focal point of your decor.
Make Every Day Inspiring with Custom Grey Bedding
Come home after a long day to find an inspiring message waiting for you. Every day is a little inspiring by choosing a custom duvet cover featuring typography. This bedding makes a great choice for a teen or new college student. Imagine how much they would enjoy seeing photos of friends and family on grey bedding designed for them.
Cuddle in Softness with Plush Grey Bedding
The most important feature of any bedding is cozy comfort. Shutterfly has achieved that with their collection of luxurious grey bedding. Soft, microfiber fabric makes the ideal choice for these duvet covers and pillow shams. The fabric helps regulate body temperate as you sleep for all-season comfort. Microfiber fabric is easy to care for too. A quick cycle through the washer and dryer will keep it fresh and clean.
Grey Bedding Designed for Convenience
Shutterfly designs their custom duvet covers and pillow shams for convenience. Each duvet cover has a zipper closure along one end. Slip the comforter of your choice inside the duvet. Ties attach the duvet to the comforter, preventing shifting as you sleep. Zip the end closed and you are ready to make your bed. Top off your bed with matching pillow shams. Insert the pillow of your choice through the envelope-style back. A quick fluff and your sham is ready to go.
Related Products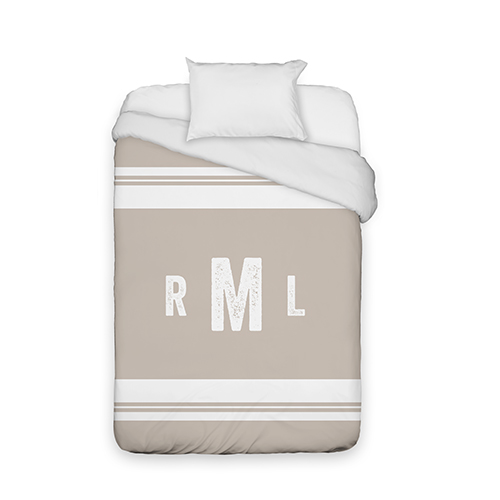 Adventure Monogram Border Duvet Cover | Bedding | Home Décor. Cozy up to a Duvet Cover with your favorite photos. Choose your background and layout.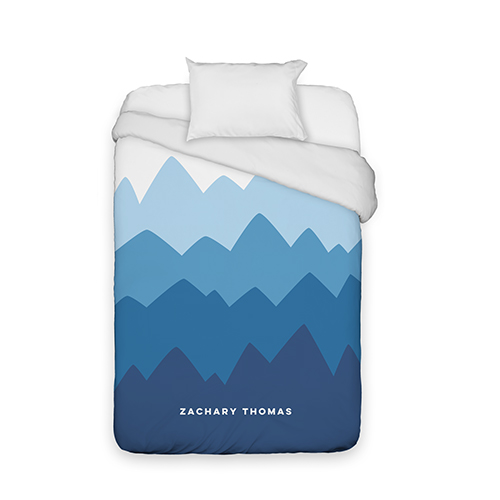 Adventure Mountain Range Duvet Cover | Bedding | Home Décor. Cozy up to a Duvet Cover with your favorite photos. Choose your background and layout.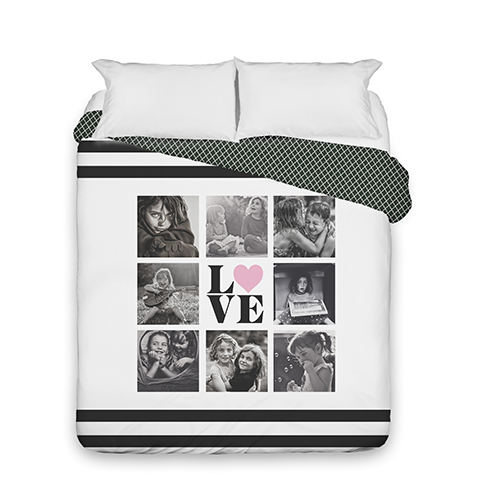 Double Stripes Love Collage Duvet Cover | Bedding | Home Décor. Cozy up to a Duvet Cover with your favorite photos. Choose your background and layout.