What customers have to say about our Duvets
July 21, 2018
VERY HAPPY with the results once again!
"One of my "go to" wedding gifts is a duvet with a custom cover! These always turn out well. Not recommended to ignore their warnings but.... I often get the warning icon that my photo will not look exceptional on my gift. I STILL keep going because on a huge blown up queen bed the pictures look MARVELOUS anyway; doesn't matter if NOT perfect. Each recipient of this personalizes gift is always in awe!"
April 24, 2018
It's absolutely beautiful! I love how soft it feels!!!
"Well worth it!! I highly recommend it ! !!"
April 16, 2018
I would purchase from them again
"Luv my comforter very detailed and great quality."
March 12, 2018
The best duvet cover ever!
"I made this duvet cover using my best pictures from a recent trip to Cuba, and it is amazing! Sharp, colorful, bright & cheery, everyone ooohs and aaaahs when I show them the duvet. One of the best products on Shutterfly!"
February 20, 2018
Love this product
"The colors came out very vibrant and it is the perfect addition to my daughter's room. I haven't washed it yet."
A Custom Red Duvet Cover You're Sure to Love
Give your bedroom a romantic update with a custom red duvet cover. The designs in the Shutterfly gallery are waiting for your customization. The duvet size, backing fabric, photos, and text are all things you personalize. The process at Shutterfly guides you through each step. In a few minutes, you have ordered a red duvet cover shows off your personality. Picking your favorite design is the hardest part.
From a simple monogram to a fun Disney showpiece, there is a red duvet cover for everyone in your home. The bright hue adds a pop of color to your decor. When you dress your bed with a duvet cover you aren't limited to just one. Collect a few of your favorites and trade them out seasonally. Fold duvet covers you aren't using and store them in a linen closet between uses.
Make Meaningful Gifts with a Custom Red Duvet Cover
A custom red duvet cover makes a great gift idea too. Celebrate Valentine's Day or an anniversary with a red duvet cover featuring a photo and your initials. This sweet sentiment makes a welcoming addition to any master bedroom. Order one for yourself or the as a wedding gift for the newlywed.
A red duvet with photos of friends and family makes a great gift for a new college student. Leaving home for the first time is difficult because of the people you leave behind. With this as a gift, the people they miss most will be with them as they sleep.
Imagine how excited your child will be to see their name and face on a red duvet cover featuring Minnie Mouse. With so many designs to choose from, it is easy to find heartfelt gifts for everyone on your list.
Comfortable, Cozy, & Convenient
Shutterfly's collection of duvet covers are designed to be cozy and easy to use. Microfiber fabric makes them soft to the touch and incredibly breathable. The fabric helps keep cool sleepers warm and warm sleepers cool. It makes them a good choice for all-season use.
Changing the look of your room is as easy as trading out the duvet cover. A zipper on the end makes sliding the duvet over the comforter of your choice easy. Ties located inside secure the duvet to the comforter, keeping it in place. Duvet covers make a great choice for families with pets and kids because they are machine washable. A cool cycle and tumble dry are all it takes to make them look like new again.
Related Products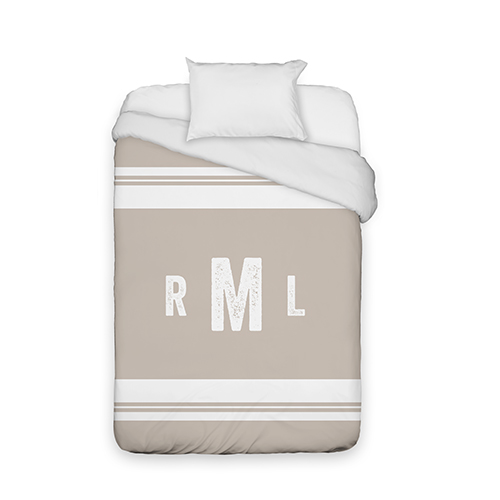 Adventure Monogram Border Duvet Cover | Bedding | Home Décor. Cozy up to a Duvet Cover with your favorite photos. Choose your background and layout.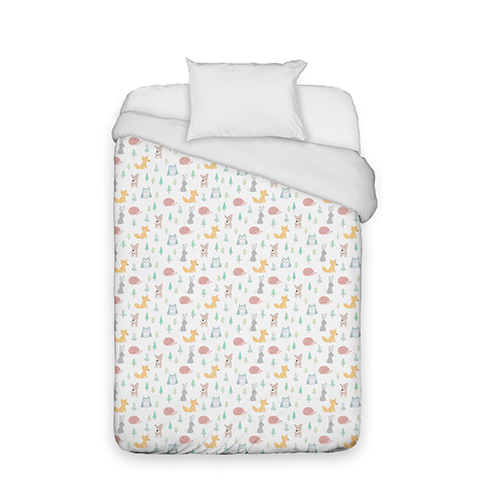 Adventure Woodland Creatures Duvet Cover | Bedding | Home Décor. Cozy up to a Duvet Cover with your favorite photos. Choose your background and layout.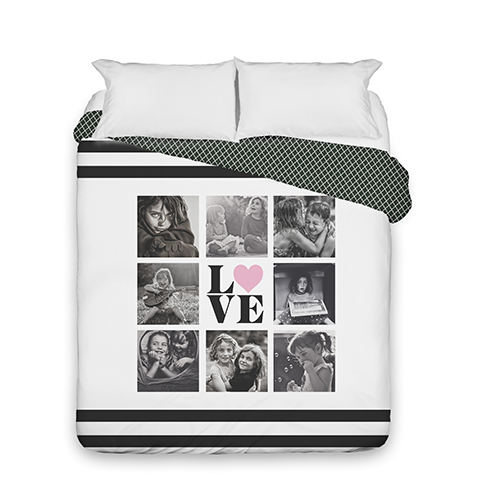 Double Stripes Love Collage Duvet Cover | Bedding | Home Décor. Cozy up to a Duvet Cover with your favorite photos. Choose your background and layout.