Custom White Duvet Covers
What customers have to say about our Duvets
July 21, 2018
VERY HAPPY with the results once again!
"One of my "go to" wedding gifts is a duvet with a custom cover! These always turn out well. Not recommended to ignore their warnings but.... I often get the warning icon that my photo will not look exceptional on my gift. I STILL keep going because on a huge blown up queen bed the pictures look MARVELOUS anyway; doesn't matter if NOT perfect. Each recipient of this personalizes gift is always in awe!"
April 24, 2018
It's absolutely beautiful! I love how soft it feels!!!
"Well worth it!! I highly recommend it ! !!"
April 16, 2018
I would purchase from them again
"Luv my comforter very detailed and great quality."
March 12, 2018
The best duvet cover ever!
"I made this duvet cover using my best pictures from a recent trip to Cuba, and it is amazing! Sharp, colorful, bright & cheery, everyone ooohs and aaaahs when I show them the duvet. One of the best products on Shutterfly!"
February 20, 2018
Love this product
"The colors came out very vibrant and it is the perfect addition to my daughter's room. I haven't washed it yet."
A Custom White Duvet Cover for Every Bedroom
Bright and crisp, a white duvet cover is an elegant choice for any bedroom. Whether you showcase a single image, a heartfelt sentiment, or a collection of snapshots, the results are stunning. Purchase one for yourself or as a heartfelt gift for a newlywed, new college student, or child. With so many designs from which to choose, you will find one for everyone on your list.
Inspiration for Your Custom White Duvet Cover
Not sure what to feature on your custom duvet cover? With so many designs available, the possibilities are endless. We have some inspirational ideas that will get you started:
• Welcoming cover for a guest bed
• A favorite inspirational quote
• Sentimental message to a child
• Wedding photo with lyrics to your song
• Chic monogrammed duvet for the newlywed
• Engagement photo with a monogram overlay
• Photos of friends and family for the new college student
Add Family Photos to a White Duvet Cover
Are you looking for a great way to use the photos you collected on your phone? Create a custom white duvet cover that takes your photos and makes them an instant focal point of your room. Browse the collection of designs to choose the starting point for your creation. You can even select the inside fabric of the duvet.
Shutterfly's guided process makes it easy to create a Disney duvet cover for you. Upload your photos and arrange them within the design you chose. Some designs allow you to add a monogram, name, or other text. If you don't have the right photo for your duvet, select one from the gallery of stock images. Make sure to choose your favorite fabric option for the back of the duvet too.
How to Use a Duvet Cover
Place the comforter of your choice within this zippered duvet for an instant update to your decor. Ties on the inside keep it in place. The soft microfiber fabric used helps regulate temperature for a comfortable night's sleep. Cool sleepers stay warm and warm sleepers stay cool beneath these cozy covers. Wash and dry this easy-care bedding to keep it looking like new for many nights to come. Duvet covers that aren't in use fold nicely for storage in a linen closet. If you have a few, change them out seasonally for a quick refresh.
Related Products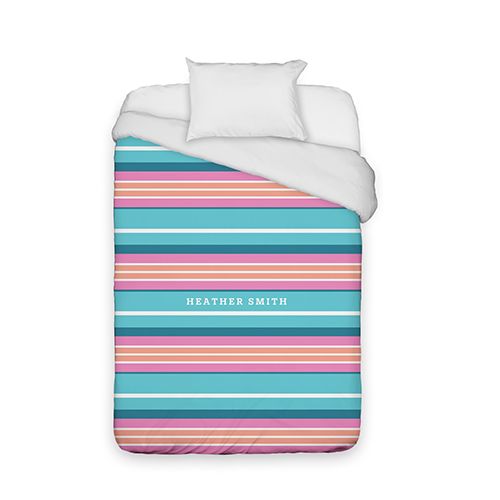 Active Monogram Stripes Duvet Cover | Bedding | Home Décor. Cozy up to a Duvet Cover with your favorite photos. Choose your background and layout.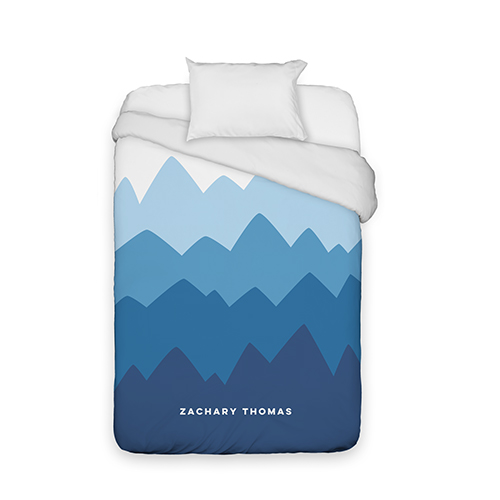 Adventure Mountain Range Duvet Cover | Bedding | Home Décor. Cozy up to a Duvet Cover with your favorite photos. Choose your background and layout.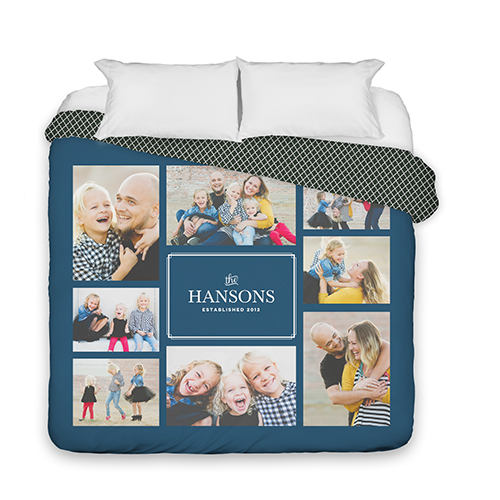 Family Border Collage Duvet Cover | Bedding | Home Décor. Cozy up to a Duvet Cover with your favorite photos. Choose your background and layout.