Symmetrical Eight Canvas Prints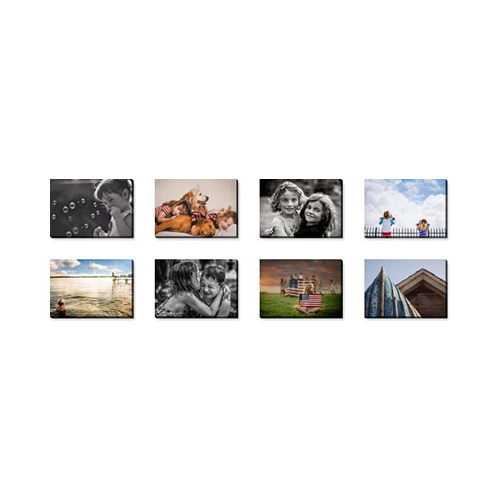 Discover custom Canvas Prints and decorate your space with a personal touch!
Product Details
Poly cotton Canvas with semi gloss finish
True artist canvas
OBA-free, bright white with excellent archival properties
Gallery-wrapped edges allow you to hang with or without a frame
Stylish backgrounds and layouts for one or more photos
See photos in full color, black & white or sepia tones
Show off your child's artwork or turn a favorite photo into a special gift
Depth 1 3/8 inches
Finish with a traditional wooden frame. Adds 1.25" to each size and makes the overall depth 2"
Includes a hanging template (printed to scale) along with a self-adhesive level
You can choose frames for individual pieces when you edit your arrangement.
Total Size:
Pricing
Set
Price
Canvas Print (10x14)

$89.99

Canvas Print (10x14)

$89.99

Canvas Print (10x14)

$89.99

Canvas Print (10x14)

$89.99

Canvas Print (10x14)

$89.99

Canvas Print (10x14)

$89.99

Canvas Print (10x14)

$89.99

Canvas Print (10x14)

$89.99

Total

$719.92
Pricing
Set
Price
Canvas Print (10x14) w/white frame

$119.99

Canvas Print (10x14) w/white frame

$119.99

Canvas Print (10x14) w/white frame

$119.99

Canvas Print (10x14) w/white frame

$119.99

Canvas Print (10x14) w/white frame

$119.99

Canvas Print (10x14) w/white frame

$119.99

Canvas Print (10x14) w/white frame

$119.99

Canvas Print (10x14) w/white frame

$119.99

Total

$959.92
Pricing
Set
Price
Canvas Print (10x14) w/brown frame

$119.99

Canvas Print (10x14) w/brown frame

$119.99

Canvas Print (10x14) w/brown frame

$119.99

Canvas Print (10x14) w/brown frame

$119.99

Canvas Print (10x14) w/brown frame

$119.99

Canvas Print (10x14) w/brown frame

$119.99

Canvas Print (10x14) w/brown frame

$119.99

Canvas Print (10x14) w/brown frame

$119.99

Total

$959.92
Pricing
Set
Price
Canvas Print (10x14) w/black frame

$119.99

Canvas Print (10x14) w/black frame

$119.99

Canvas Print (10x14) w/black frame

$119.99

Canvas Print (10x14) w/black frame

$119.99

Canvas Print (10x14) w/black frame

$119.99

Canvas Print (10x14) w/black frame

$119.99

Canvas Print (10x14) w/black frame

$119.99

Canvas Print (10x14) w/black frame

$119.99

Total

$959.92