Love Infinity Framed Print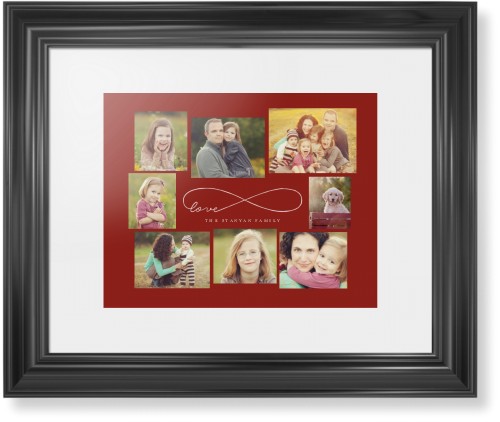 Love Infinity Print in Classic Curve Black Frame
Customize just the way you want. Our frame and pre-cut mat options allow you to mix and match styles and colors so you can create your own gallery-style frame.
Product Details
Available in wide variety of layouts, sizes and orientations
Frame: Modern or traditional designs available in black, brown, white, rustic and luxe metallic
Exclusive to Shutterfly, luxe metallic frames feature a hand-applied silver leaf finish
Pre-cut mat: Top and bottom mat options available at an additional charge. Top mat: single layer mat. Bottom mat: double layer mat with a bevel opening featuring an accent color to outline your print. Available in black, white and cream.
Sealed paper backing. Includes wire for easy hanging
Choose Size:

8x10

11x14

16x20

20x30

24x36
Frame Color:
Black

White

Brown

Rustic

Metallic
Custom Color Palette
Click Personalize and choose your colors for this design.
Up to 50% off
Until March 28
Framed Print pricing
Set
Price
11x14 print (w/mat) in 16x20 Classic Curve frame


(50% off)

$104.99




$52.50

Top mat (white)

$20.00

Total

$124.99




$72.50
Up to 50% off
Until March 28
Framed Print pricing
Set
Price
11x14 print (w/mat) in 16x20 Classic Curve frame


(50% off)

$104.99




$52.50

Top mat (white)

$20.00

Bottom mat (cream)

$15.00

Total

$139.99




$87.50
Up to 50% off
Until March 28
Framed Print pricing
Set
Price
11x14 print (w/mat) in 16x20 Classic Curve frame


(50% off)

$104.99




$52.50

Top mat (white)

$20.00

Bottom mat (white)

$15.00

Total

$139.99




$87.50
Up to 50% off
Until March 28
Framed Print pricing
Set
Price
11x14 print (w/mat) in 16x20 Classic Curve frame


(50% off)

$104.99




$52.50

Top mat (white)

$20.00

Bottom mat (black)

$15.00

Total

$139.99




$87.50
Up to 50% off
Until March 28
Framed Print pricing
Set
Price
11x14 print (w/mat) in 16x20 Classic Curve frame


(50% off)

$104.99




$52.50