What customers have to say about our Canvas Prints
January 27, 2019
Love the canvas print
"We live in a recently renovated old bank building. We found photos of the building from 1913 and had one put on canvas. It is in our grand entry way and looks terrific!"
January 26, 2019
Customer for Life!
"I am a Shutterfly customer for life! I ordered the wrong size (it was an obnoxiously huge picture!) And they helped me return it and order another. They were so great - very customer service oriented. Hard to find these days! Thank you Shutterfly!"
January 26, 2019
First time buyer and LOVE the quality
"Awesome product. Well Made. EXACTLY what is shown in your cart during check-out. Shipping time was spot on. I will definitely order more. Thanks for such an easy process."
"Product came out perfectly and they shipped quickly!!! Didnt hurt that it was on sale :-)"
January 25, 2019
Very happy.
"Turned out great!"
Metallic Frame Canvas Prints
Canvas prints are a creative way to decorate the walls of your home and add a personal touch to your décor. Who knew there were ways to make a stylish canvas print even more interesting? A unique metallic frame adds a luxe, shining quality to your canvas print, for a one-of-a-kind effect that makes it stand out. With a metallic finish that catches light to draw attention to your photos and designs, these prints offer contemporary style that's sure to impress your guests.
Luxe Frames that Elevate Your Photos
Choose from a multitude of metallic frame canvas print designs to find one that complements your personality, home décor and favorite photos. With your pictures digitally printed onto white artist canvas, you can enjoy a high-quality look that instantly elevates any space in your home.
Let Shutterfly help you create a work of art that's perfect for a variety of occasions and spaces, such as:
Wedding: Your big day is a once-in-a-lifetime experience, and your favorite wedding photos should be displayed in a one-of-a-kind way. The metallic frame on your personalized canvas print is perfect for making your wedding pictures shine bright.
Vacation: Show off breathtaking photos and favorite memories from your latest family vacation. Choose from a range of travel- and adventure-themed background designs, too.
Holiday: Metallic frame canvas prints complement your Christmas and New Year's décor and add shine to photos and designs that convey holiday cheer. They make amazing gifts for friends and loved ones, too!
Nursery: Personalize a sweet and simple canvas print to bring a touch of warmth and unique style to your baby's nursery. From a classic collection of family photos to an adorable display of your newborn's photos and footprints, metallic frames are the perfect way to highlight your little one's first memories.
Kid's Room: Give your kid's bedroom a dose of cool style with a unique metallic frame canvas print that's personalized with some of their best memories and pictures.
Pet: Show off favorite photos of your four-legged family members on metallic-framed canvas prints with cute sayings like "A house is not a home without paw prints" and "Rescued is my favorite breed."
Inspiring Quotes: With phrases like "Enjoy every moment" and "The best is yet to come," create personalized wall art that inspires you every day. Choose from a multitude of gorgeous photos and artwork from our Art Library to personalize a professional-quality print that coordinates with your home décor.
Decorate Your Home in Personalized Style
Available in a range of sizes including 8x10, 10x14, 16x20, 20x30 and 24x36, you can easily make a chic impact in any room of your home with personalized metallic framed prints from Shutterfly.
Looking for more ways to decorate your walls? Check out our other custom home décor items such as hanging canvas prints, personalized bedding for kids, and multi piece canvas prints.
Related Products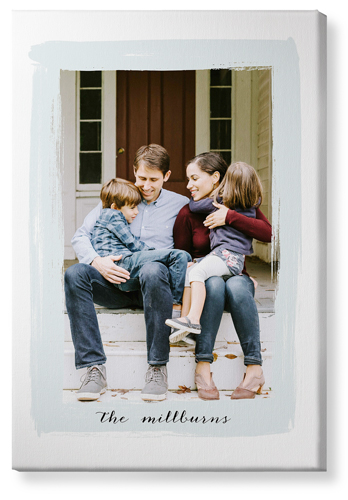 Brush Stroke Border Portrait Framed Canvas Print by Shutterfly. A gallery-style wall art features one or more favorite photos. Makes an elegant gift, too
Everyday Sentiments Custom Canvas Print. Use our Design-a-Wall tool to create an artful arrangement of canvas prints. Comes with a special kit to make hanging easy and flawless.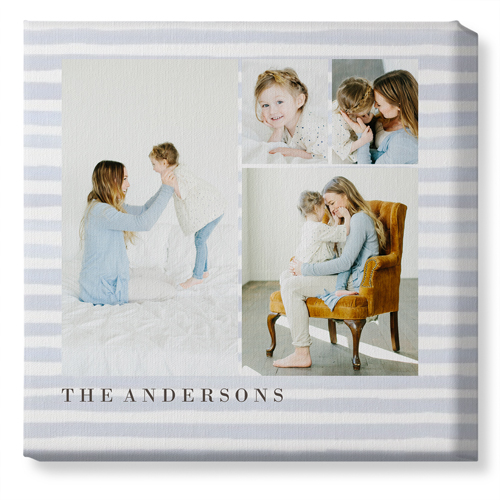 Hero Gallery Collage of Four Stripes Framed Canvas Print by Shutterfly. A gallery-style wall art features one or more favorite photos. Makes an elegant gift, too