What customers have to say about our Canvas Prints
January 27, 2019
Love the canvas print
"We live in a recently renovated old bank building. We found photos of the building from 1913 and had one put on canvas. It is in our grand entry way and looks terrific!"
January 26, 2019
Customer for Life!
"I am a Shutterfly customer for life! I ordered the wrong size (it was an obnoxiously huge picture!) And they helped me return it and order another. They were so great - very customer service oriented. Hard to find these days! Thank you Shutterfly!"
January 26, 2019
First time buyer and LOVE the quality
"Awesome product. Well Made. EXACTLY what is shown in your cart during check-out. Shipping time was spot on. I will definitely order more. Thanks for such an easy process."
"Product came out perfectly and they shipped quickly!!! Didnt hurt that it was on sale :-)"
January 25, 2019
Very happy.
"Turned out great!"
Design Ideas for Multi-Piece Canvas Prints
Canvas prints make a stunning addition to the walls of any home, and nothing beats a custom set of your very own photos printed on canvas. For a truly one-of-a-kind, eye-catching look, a multi-piece canvas print design makes a real impact. Here are just a few ideas for personalized canvas décor that will make a gorgeous centerpiece in any room of the home.
Canvas Print Arrangement & Design Ideas
For stylish, custom wall décor that will capture the attention of everyone who sees it, try one (or more) of these arrangement ideas:
Photo Spread: Make a statement with a panoramic photo spread arrangement. With a single photo spread across multiple canvasses, it's a stunning way to highlight a favorite shot. Landscape photos, close-ups, elegant black-and-white portraits and artistic silhouettes make great candidates for a photo spread arrangement.
Symmetrical Collage: A collage-style arrangement of several canvas prints in rows and columns creates a neat, striking look that's sure to capture attention. Show off six or eight of your favorite shots from a family vacation, photo session or wedding.
Asymmetrical Design: Asymmetrical canvas print arrangements make a creative statement. Diagonal designs are ideal for hanging in staircases or creating a unique gallery wall in any room.
Dual Portraits: Simple yet impactful, a pair of canvas portraits is perfect if your décor style is more minimalist.
Tips for Customizing Your Canvas Prints
Deciding which photos to display on your canvas wall prints can be a tough choice. You want to choose something that's timeless—so you'll enjoy it for years to come—that also captures what's most important to you. Here are a few tips for choosing the perfect photos for your multi-piece canvas prints:
Group related photos. Unless you're going for an eclectic look, create a design that features several related photos to ensure your 16x20 canvas prints have a cohesive aesthetic. This could mean choosing photos that are from the same event/day, photos of the same person/people or shots with a similar theme, such as a series of landscape photos.
Consider the focal point. Make sure to be conscious of where you place the photo that feels the most "central" to the set. Generally, the largest or centermost print in the set will draw attention first, so make sure you place the most important or favorite photo in that location.
To frame or not to frame? Custom canvas prints are available frameless or with a frame in black, white or brown finishes. The frame color you choose will have a big impact on the final appearance of your wall décor. Be sure to take into account the colors and tones of your photos as well as the color scheme of the room.
Pair your new canvas prints with a large metal print and more stunning wall art from Shutterfly.
Related Products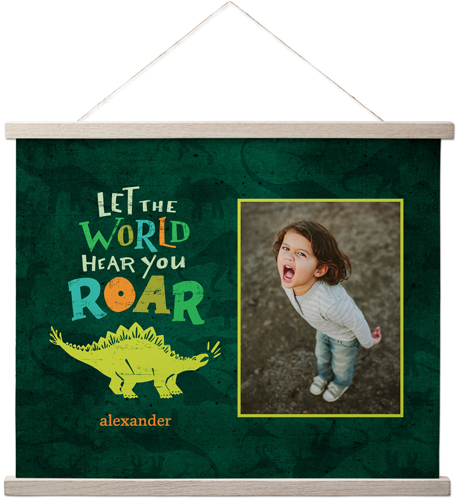 Dinosaur Hear You Roar Hanging Canvas Print by Shutterfly. Customize a wristlet to create the perfect accessory.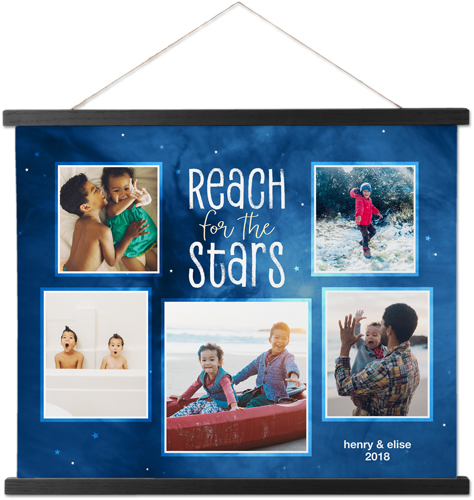 Moon and Stars Moments Hanging Canvas Print by Shutterfly. Customize a wristlet to create the perfect accessory.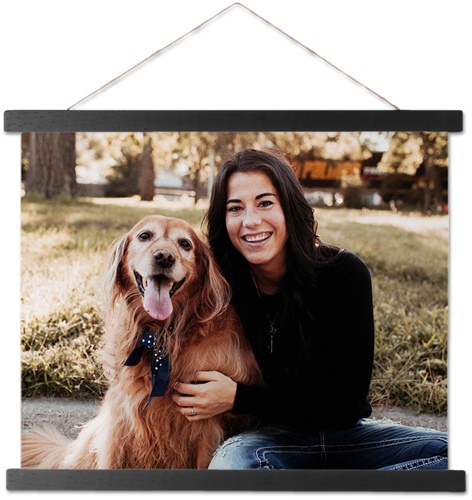 Pets Photo Gallery Hanging Canvas Print by Shutterfly. Customize a wristlet to create the perfect accessory.