Multi Piece Wall Art
Showcase Your Photos With Multi Piece Wall Art
Fill your home with your favorite pictures and memories with multi piece wall art. Multi panel wall art is an excellent way to showcase all of your best photos at once. Whether you're hanging two pictures side by side or a collection of photo spreads, you'll love seeing each piece of wall art hung in your home. With options like custom canvas prints, metal prints, and more — multi piece wall art designed by you is the best way to add warmth and personality to any room.
Display Your Photos on Custom Canvas Prints
Canvas prints make a stunning addition to the walls of any home, and nothing beats a custom set of your very own photos printed on canvas. For a truly one-of-a-kind, eye-catching look, a multi-piece canvas print design makes a real impact. Multi panel canvas sets will capture the attention of everyone who sees it and make beautiful keepsakes you can hang in your home for years to come. No matter how many pictures you feature in a canvas print set, you can make a gallery wall of special memories that will make you smile every time you pass by your photos.
Create Vibrant Home Décor With Multi Piece Metal Prints
Multi piece metal prints use a frameless design, giving photos a clean, modern look. Because of its durable material and professional finish, metal wall art has immense longevity. In addition to its longevity, metal prints are scratch-resistant and waterproof. That's right: you can hang your metal wall art panels in your living room, kitchen, or even bathroom without worry that it will be damaged. You can have peace of mind knowing the artwork will remain pristine over time. On our high-quality multi piece metal wall décor, your photos will print vibrantly and shine to make them stand out.
Wood Wall Art Gives a Rustic Feel
Shutterfly makes it easier than ever to turn your favorite photos into beautiful multi panel wood wall art. Add a rustic feel to your home with custom wood wall art made with your most-cherished memories. Personalized wood wall art makes great gifts. When you are puzzled on what to give your favorite newlyweds, turn your favorite photograph of them into a beautiful wood wall art piece they will cherish forever. You create wooden photo spreads with small prints, large prints, or even panoramic photos. Create a 3-piece wall art spread or entire gallery wall to create a showstopping piece of home décor.
Elevate the Room With Multi Piece Acrylic Prints
Channel your inner artist with these easy-to-create, contemporary acrylic prints that will look fabulous hanging on the walls in your home. Take your favorite photos and dramatically highlight them with modern Shutterfly multi piece acrylic prints. The frame-free design will add a modern touch to any space, whether it's in an office, dorm room, or your home. With multi piece acrylic prints, your photos are mounted on premium-polished acrylic with aluminum-brushed posts that make it easy to mount your print on the wall. Turn the photos you love into high-definition wall art décor in just a few minutes.
Take Photos to the Next Level With Mounted Wall Art
Hanging photographs in your home can mean several decisions. How many pictures do you want to hang on the walls? Which pictures do you want to use? Where are you going to hang them? Shutterfly is here to make this a much easier process. Simply upload all of your favorite photographs to our website and turn them into beautiful, mounted wall art. Get creative and turn your best photographic memories into statement pieces for your home. Whether you want to feature two pictures side by side, display a personal gallery, or create an elegant collage, Shutterfly can turn your precious memories into beautiful ready-to-hang mounted wall art.
Related Products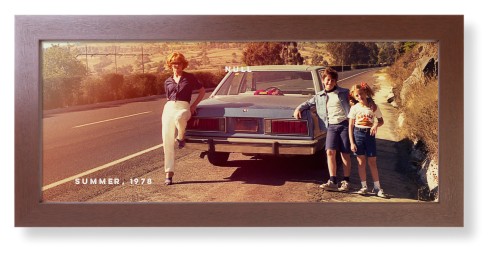 Gallery Panoramic Framed Print by Shutterfly. Customize your framed print just the way you want. Our frame and pre-cut mat options allow you to mix and match styles and colors so you can create your own gallery-style frame.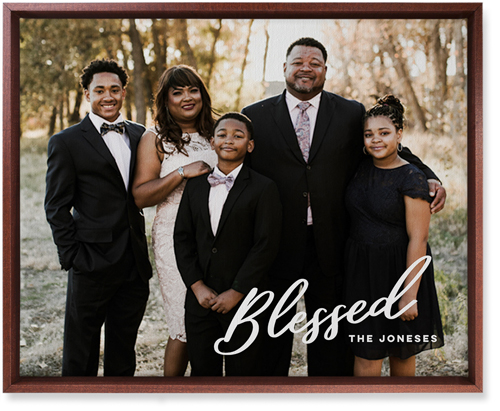 Blessed Letters Wall Art by Shutterfly. Turn your favorite photos into works of art and make your home your gallery. Create a canvas piece for yourself or make a gift for a loved one to enjoy every day.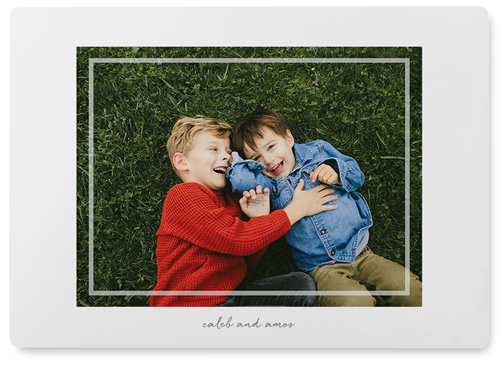 Border Town Wall Art by Shutterfly. Turn your favorite photos into works of art and make your home your gallery. Create a canvas piece for yourself or make a gift for a loved one to enjoy every day.