Tea Towels
What customers have to say about our Tea Towels
December 18, 2017
Great gift idea!!!
"These are wonderful!!! I ordered them with a picture of my Grandmother and her famous Meatball recipe on them for my family and they came out amazing!!! Can't wait to see everyone's reactions on Christmas morning. There will be tears. A really wonderful personal gift at a great price!"
Transform Your Tea Towel Into a Personalized Work of Art
We know cleaning the house can be a bore, a chore or just plain hard work. However, with personalized tea towels from Shutterfly, you can turn an ordinary towel into a memorable, fun and elegant work of art. Whether you plan on using your tea towel as an accent for your stylish kitchen or want to use it for everyday tasks around the house, our personalized tea towels are perfect for any occasion. Kitchen towels are perfect for Mother's Day gifts or housewarming gifts. Your recipient will love to receive a personalized kitchen towel decorated with their favorite photos and memories. Whether you're making one as a gift for new homeowners or designing something special for yourself, you'll love getting creative designing custom tea towels with Shutterfly.
Design Your Own Personalized Tea Towels
With Shutterfly, customizing your own tea towels couldn't be easier. Simply choose between one or two kitchen towel templates and start designing. You can choose from hundreds of free photos from our art library for the perfect fit. If none of our photos speak to you, upload your own family pictures for one-of-a-kind custom tea towels that will surely impress. In addition to your chosen photos, you'll have the ability to decide what colored text will be displayed. Some text suggestions include a favorite household recipe, your family's last name, a beloved quote or even a lovely declaration dedicated to that special someone. Next, you'll choose the theme of your tea towels. With a variety of options for patterns such as fruits and vegetables, herbs, lemons, foliage, hearts and more, there's no shortage of originality. Monograms, pictograms, photo collages and Mr. and Mrs. sets are just a few categories at your disposal. You'll love seeing your own design on the wall hanging ready to use as you prepare meals for your family. Not only are these great gift ideas for baby showers, Mother's Day, and housewarming parties, but they're the perfect piece of home decor that adds a touch of personality to your own kitchen.
Give the Gift of a Custom Tea Towel
Originating in the 18th century, tea towels have long been given as gifts and kept as mementos. Made with 100% cotton, our towels are both elegant and useful, making them the perfect gifting option for a variety of occasions and people. To make gifting even easier, we make sure your towels arrive wrapped in ribbon and ready to go. A tea towel isn't just a pretty keepsake — it's designed for a variety of household tasks. So why not give the gift of something beautiful as well as valuable? Ideal for drying dishes and leafy greens, tea towels are also perfect for keeping fresh muffins warm or acting as a handy pot holder, a substitute for plastic wrap, a stylish kitchen apron and much more. Still, the gift of a tea towel goes far beyond practical uses. For more inspired ideas, your gift would make the perfect wine bottle wrap souvenir, placemat, or even a charming piece of kitchen décor.
Custom Tea Towels and More Unique Home Accents
If you're smitten with our trendy dish towels, our soft woven blankets, fleece photo blankets and custom pillows will entice you. Both offer customizable selections that'll warm up your home, including the ability to upload precious family photos and choose between a variety of unique, textural designs and attractive themes. If you're looking for more one-of-a-kind kitchen decor to make for yourself or as a gift for loved ones, design custom trivets, cutting boards, and kitchen mats with your favorite photos and designs.
Related Products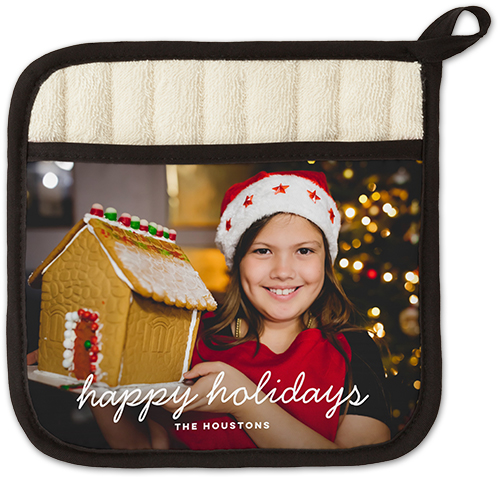 Baking Happy Holidays Pot Holder by Shutterfly. Give your favorite chef a pot holder made just for them. Personalize the front pocket with one of our designs or your own favorite photos. Goes great with our personalized tea towels.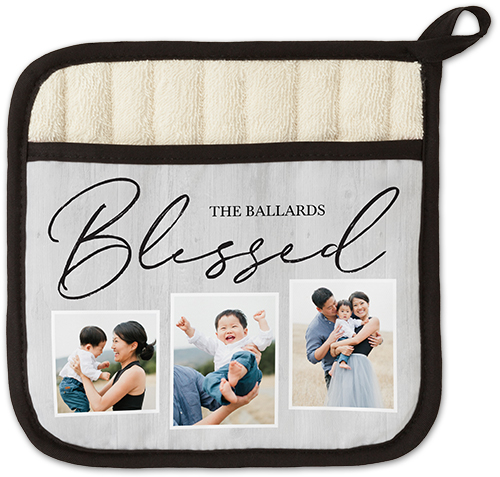 Blessed Weathered Wood Pot Holder by Shutterfly. Give your favorite chef a pot holder made just for them. Personalize the front pocket with one of our designs or your own favorite photos. Goes great with our personalized tea towels.