What customers have to say about our Wood Wall Art
January 16, 2019
Looked great, very happy.
"Very happy"
January 10, 2019
Loved it!
"Bought this for my daughter and her family after they lost their fur baby. They absolutely loved it and brought them so much joy."
January 10, 2019
Perfect product!
"Product was better than expected and looks great!!"
December 25, 2018
Better than I expected!
"Great color saturation for a print on wood."
"After seeing your Pais Vacation Wood Wall Art, I knew it would be the perfect medium to memorialize our trip through Portugal and Spain. When it finally arrived it far exceeded my expectations! The color of the photos transferred beautifully onto the high quality wood--accomplishing all that I had hoped for. Job well done, Shutterfly!"
Create Custom Wood Wall Art
Whether you are renting your first apartment or decorating a house you will love for years to come, your home is a place that should make you feel loved and happy. Where you live is your place to surround yourself with the people you love. While you could just hang everyday prints or posters on your wall, custom art will help turn that apartment or house into a home. Shutterfly has an amazing array of custom wood wall art options to decorate your home.
Designing Your Personalized Wood Wall Art
Did you know you can have your favorite photographs printed on wood? Whether you want a stand-alone piece or a beautiful series of images printed on wood, Shutterfly has an easy-to-use template for you. Browse from one of the over 80 options for a wood print that is perfect for your home and budget.
Shutterfly makes it easier than ever to turn your favorite photos into beautiful wall art. Shutterfly also has an extensive art library to help you create pieces you love. The templates will guide you through the entire design process. You can pick unique design elements like monograms, borders and your own personalized messaging. You can choose a one-size piece or create an entire gallery. Showcase one favorite, create a custom collage or design a series of all your favorite images.
Personalized wood wall art makes great gifts. When you are puzzled on what to give your favorite newlyweds, turn your favorite photograph of them into a beautiful wood wall piece they will cherish forever. Turn your child's school pictures into a unique gift for Grandma this Christmas. Create a custom family portrait print to display in your own office (who said you couldn't give yourself a little gift).
Turn Your Best Photo Memories into Custom Gifts
Shutterfly makes it easier than ever to turn the memories you cherish into beautiful, personalized gifts. Do you have a year's worth of photos of the kiddos? Turn their seasonal photographs into a one-of-a-kind calendar. (Bonus idea, you can print a personalized calendar for each set of grandparents this holiday season). If you like accenting your favorite images with texture, custom metal prints are a great way to display all of your best pictures. Just like the wood wall art, you can personalize your metal prints to match your photo library and your budget.
It's easier than ever to take your photographs and turn them into beautiful pieces ready for display. Upload your images to Shutterfly for elegant and unique prints, calendars and wood wall art.
Related Products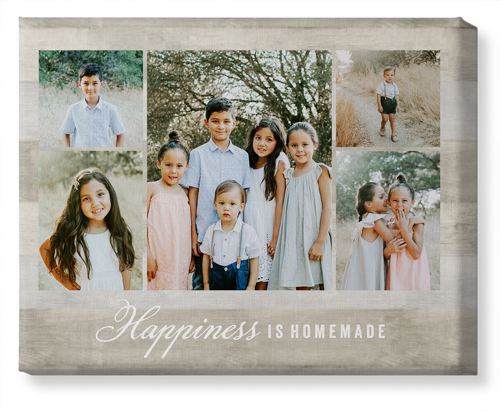 Hero Gallery Collage of Five Wood Framed Canvas Print by Shutterfly. A gallery-style wall art features one or more favorite photos. Makes an elegant gift, too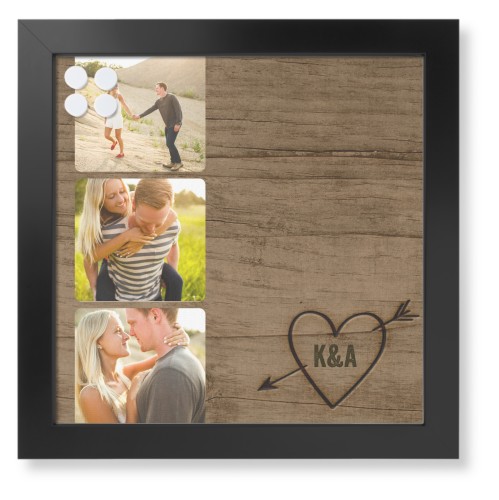 Initial Wood Heart Framed Magnetic Board. Create a fun and unique way to display photos, artwork and notes with custom framed magnetic board. Prefect you kitchen, office or as a gift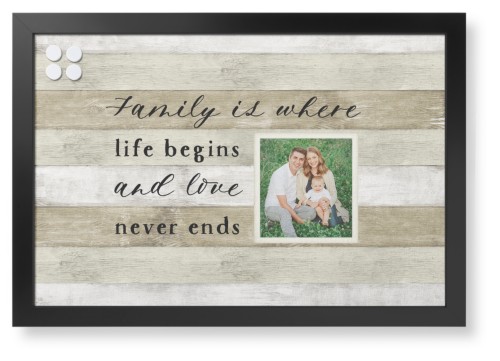 Rustic Printed Wood Framed Magnetic Board. Create a fun and unique way to display photos, artwork and notes with custom framed magnetic board. Prefect you kitchen, office or as a gift