Download article
Add pictures and text captions
The next step is to add pictures and text to your calendar. First, add pictures from your Shutterfly account. You can use up to 200 pictures for a Wall Calendar. Click the "Get pictures" button at the bottom of the page.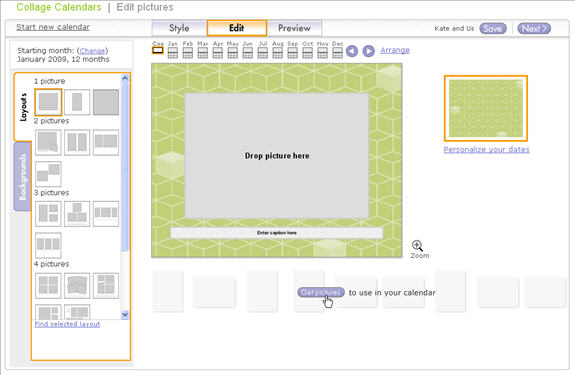 On the Collect Pictures page, you can either select entire albums from the folder view or specific pictures from the album view. The selected items will be highlighted by an orange box around the edge. Click "Add to Calendar" in the upper-right to add these pictures. Then, when you're done, click "Return to Calendar".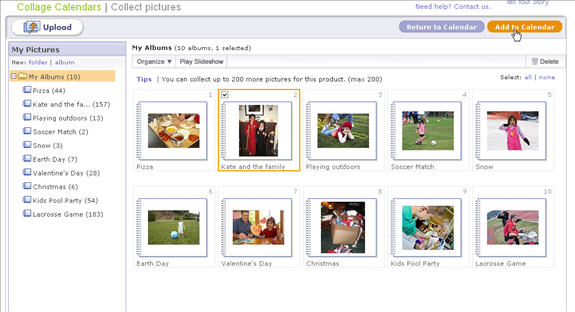 Your pictures now appear on the picture strip running along the bottom of the page. Beginning with the cover, drag-and-drop pictures from the picture strip onto the gray boxes in the calendar that read "Drop picture here".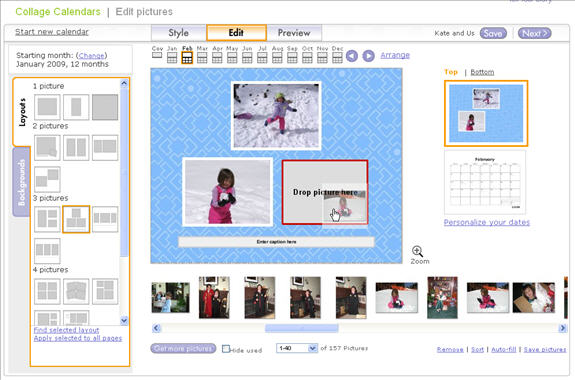 To add text to your calendar, click on any box that reads "Enter caption here". An "Edit text" pop-up window will appear. Enter a caption and choose the font type, size, alignment and color of your text. Click the "Check spelling" link to prevent typos in your finished calendar. Click the "Preview" button to see how your text will look, then click "Done" when you're finished. If you don't want any caption on a page, leave the text box blank. Blank text boxes won't appear on the finished calendar.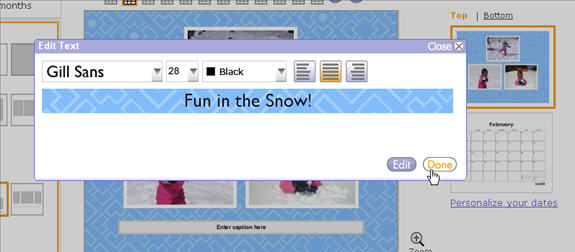 Continue filling each page of the calendar with pictures and text. Navigate by either clicking a month icon at the top-center or use the two arrow buttons to move back and forth. For Wall Calendars, you'll notice that the backgrounds and number of pictures have been pre-selected based on the style you chose. If you want to change them for any month, it's easy to do. On the palette, simply select a different background from the Background tab and a different layout from the Layout tab.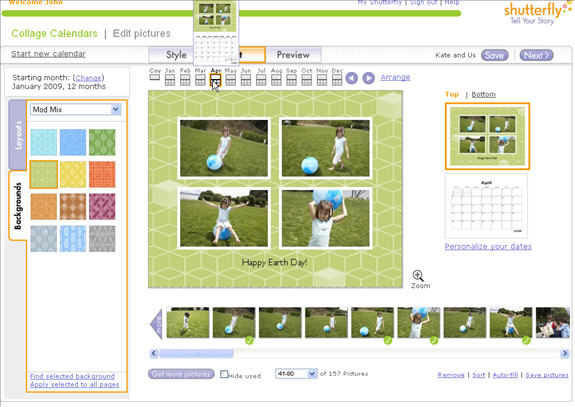 Click the "Zoom" icon at the center of the page for a closer look at any month. To edit any pictures that have been placed on calendar pages, click on them to rotate, crop, remove red eye or choose effects.