Download article
Personalize your dates
On the right of each calendar page, you'll see a thumbnail preview of the month you're currently working on. Click "Bottom" to view the dates. On the left of the Edit Dates page, you'll see a list of holidays or events for that month which will appear in your calendar. To personalize your dates, click "Add a new event".
You'll notice two tabs: one for Public Holidays and one for Personalized Events. The first tab has a number of holidays which are preselected before you start creating your calendar. You can add other public holidays by clicking the check box to the left of the holiday name. You can remove holidays by clicking that box again until the check mark disappears. To select all the holidays, click the "All" link in the upper right. To remove all the holidays, click the "None" link.
To add special events like a friend's wedding or birthday, click on the Personalized Events tab and select "Add a new event". Fill out the event form by entering the type of event, event name and event date. When you're finished, select "OK" and you'll see your event under the tab. In addition, we'll save your personalized events so that you can easily add it to future calendars you might create.

Click "Done" in the upper right of the page to return to your calendar. Your new personalized event will now appear. To get a better look at the bottom half of each month, click the "Zoom" icon.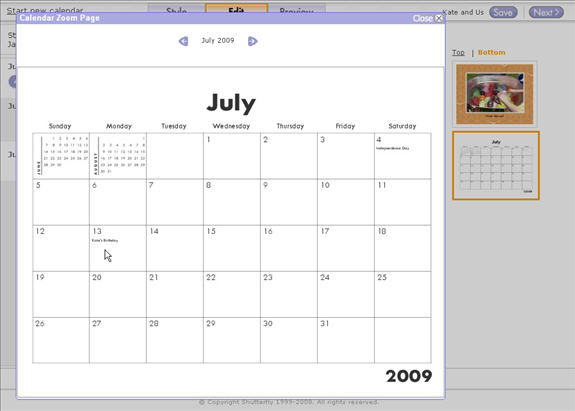 When you're ready to preview and order your Collage or Classic Calendar, click "Next".
Proceed directly to the Preview and order your calendar step in this tutorial.