Download article
Get started
Shutterfly calendars are perfect for marking time and sharing memories. Our Wall Calendars are available in 12- and 18-month formats and you can start your calendar on any month. We include nearly 50 pre-printed holidays and you can also customize your calendar with special events you want to remember. The calendars are printed on durable card stock so you can jot down notes and appointments. Our Calendar Posters are poster-size and allow you to easily view the year at a glance.
We're going to show you how to quickly and easily create our Wall Calendars and Calendar Posters. To begin, sign in to your Shutterfly account. (If you don't already have one, click "Sign up" at the top of the page.) Click the "Store" tab and from the column on the left of the page, select the "Calendars" link.
Choose the type of calendar you want to create. For a Wall Calendar, select layouts that include multiple pictures for each month and pick from pre-designed backgrounds to frame your photos. For a Calendar Poster, select either the 16x20- or 20x30-size; you'll determine style and orientation later.
When you've chosen the calendar type, click the "Go" button directly underneath it to start. If you've chosen to make a Calendar Poster, proceed directly to the Create a Calendar Poster step in this tutorial.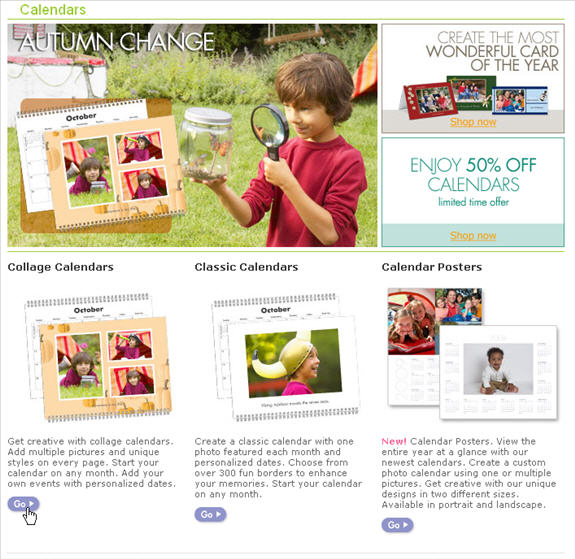 Create a Wall Calendar
For Wall Calendars, choose the starting month—you can start the calendar on any month you choose—and also the number of months (12 or 18) for the calendar. Then click "Get started."