Download article
Edit your poster
Once your poster background has been selected, you'll be on the "Edit Poster" page, where you can get your pictures, enter text and change layouts, backgrounds and edges.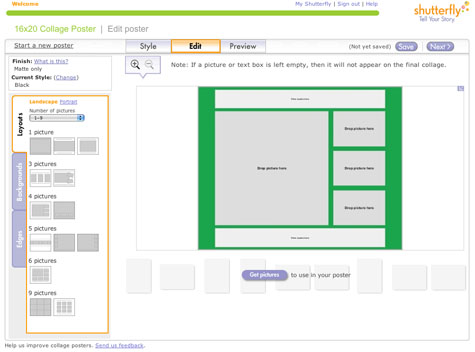 To add your pictures to this collage, select "Get Pictures" at the bottom of the page. Collect the pictures you'd like to use by selecting either an entire album or albums from the main work area, or opening albums and selecting specific pictures from within them. Select the "Add to Poster" button at the top right of the page to add your images. It's best to add more than you need so you can use your best pictures. You can add up to 60 pictures in the filmstrip. When you're ready to start editing the poster, click "Return to Poster".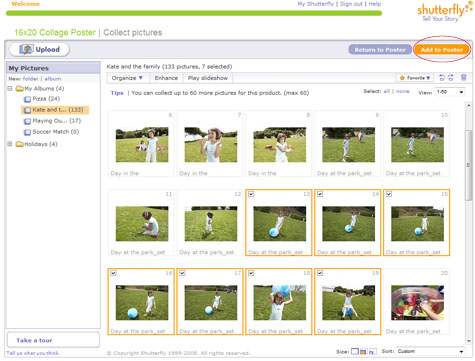 Now that you have your pictures ready, it's time to select a layout. Using the "Layout" tab on the left of the page, choose from Landscape versus Portrait, the number of pictures (1-9 or 13-30) and the layout you prefer. Click on a specific layout to view it on the center of the page. To change your background color or theme, click on the "Background" tab.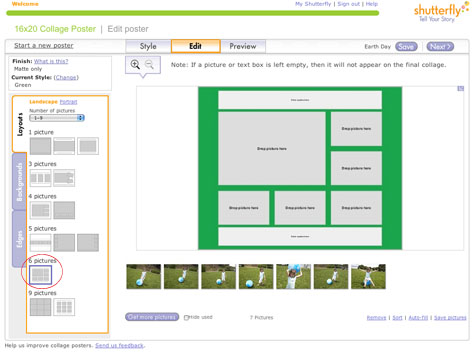 Next, drag-and-drop your pictures into the poster boxes. If you'd like us to take care of the layout for you, select "Auto-fill" below the picture strip. (If you have more photos in the picture strip than will fit on your poster layout, we'll select the pictures to use according to the order in which they appear.) If you need to make any changes, you can replace pictures by dropping a new photo on top of the old one, or by dragging one from the poster box back onto the picture strip. If you leave a picture box empty, only the background will appear on the finished poster.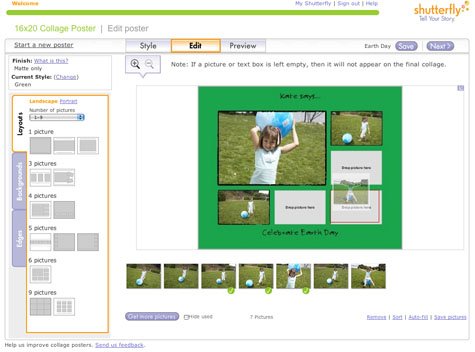 Add whatever text captions you'd like by clicking on the text boxes provided. Use the preview button to make sure your text fits in the box, then select "Done" when finished. If you don't want a caption on a text box, leave it blank. Blank text boxes won't appear on the finished poster.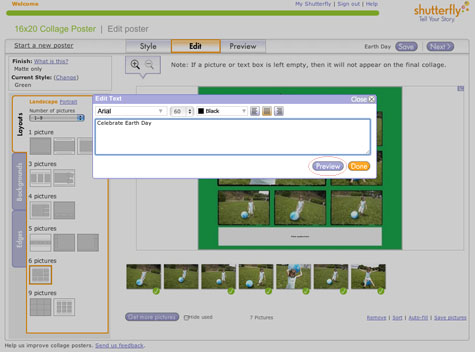 A nice finishing touch is to add edges to your pictures. Select the "Edges" tab on the left. Click once on each edge to see how it appears on your collage. If you don't want any edges, select the box on the top left.
When you're done creating your collage poster, click the "Next" button at the top right.