Download article
Preview your poster
Review your final collage from the preview page. Make sure that you have the right images, that everything is spelled correctly and that you're happy with the final product.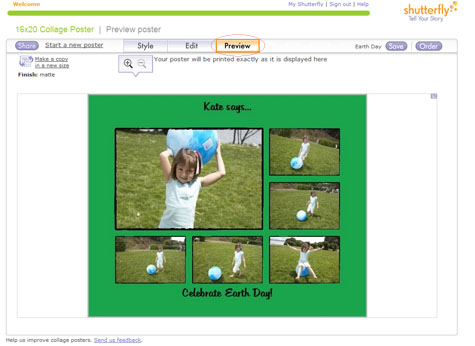 Use the magnifying-glass icons above the preview to zoom in on your poster—especially if you're trying to check the picture resolution on a large-sized poster such as 20x30. Pan the poster details by rolling over the purple arrows at the edges of the poster display, or dragging the hand icon and the transparent grey box in the thumbnail at the upper right corner. You can always go back to the "Style and Edit" tabs to make any changes.
Once you're happy with the way everything looks, you're ready to order. Click "Order" at the top-right corner of the page to add your collage poster to your shopping cart. Your project is also saved under "My Shutterfly", so you can edit it, order more copies, or share it on a share site at any time.