Download article
Get started
When you upload your pictures to Shutterfly, you can do much more than view them. Our workspace offers tools that let you quickly and easily organize your photos as well. We're going to show you the different ways to do so.
To begin, sign in to your Shutterfly account. (If you don't already have one, click "Sign up" at the top of the page.) Then click on the "My pictures" tab.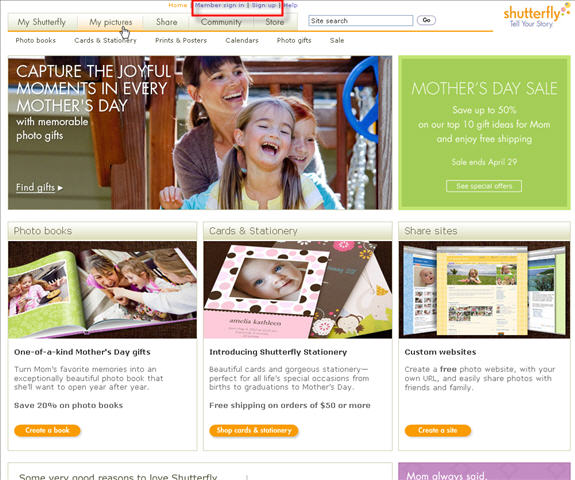 By default, your pictures are contained in albums, which themselves are contained within folders. Albums and folders can be found on the left side of the My Pictures page. When you first create a Shutterfly account, any albums that you upload are placed in a default folder called "My Albums."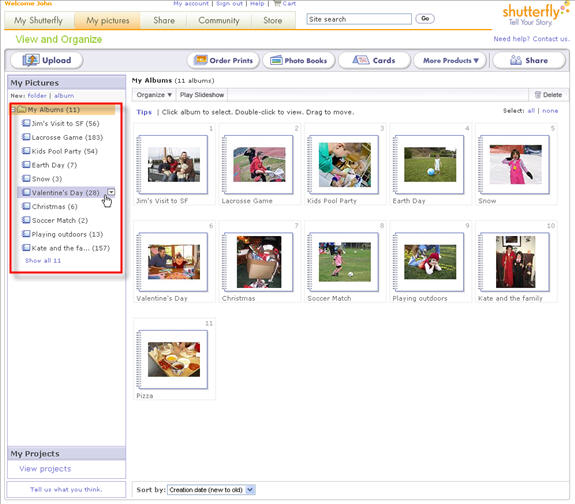 As you create more and more albums over time, it makes sense to group them into new folders using some logical hierarchy—such as same subject or same year. Let's say you want to put all the albums from the various holiday gatherings together in the same place. At the top of the left column, select "New folder" and from the dialog box create a folder called "Holidays." Drag all of your holiday-related albums into this new folder — move them from another folder on the left or from the main workspace in the center of the page. Keep in mind that you can move albums into folders but cannot move folders into other folders.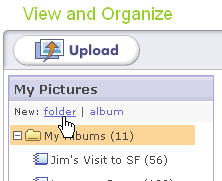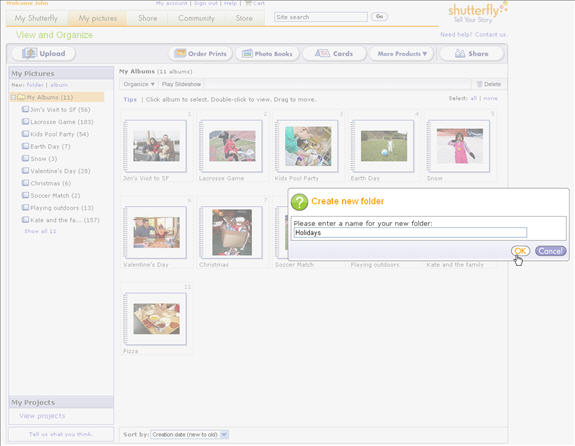 Creating a new album is just as simple. Click the "New album" link at the top-left. From the dialog box, name the album and use the pulldown menu to determine into what folder it should be saved. Then click "OK."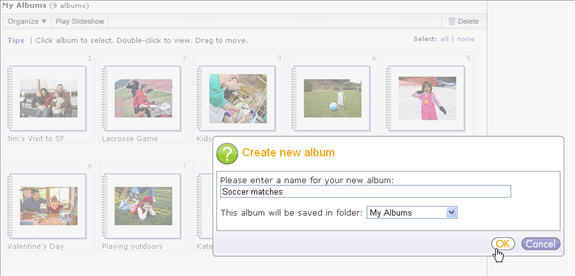 Select pictures and albums
To perform actions such as copy or move, you'll need to make sure that the specific pictures or albums have been selected first.
To select an album, simply click on the album cover in the main work area. An orange border and a check mark will appear around the album. To de-select, click on the check mark again.
To select pictures, you'll first need to get into album view. Do this by double-clicking on any album from the left column or from the main work area. As with albums, click on each picture to select it—the orange border and check box will appear. Select multiple, adjacent images by holding down the "Shift" key, then clicking on the first and last pictures in the group. If you want to select all the pictures in an album, select the "all" link at top-right.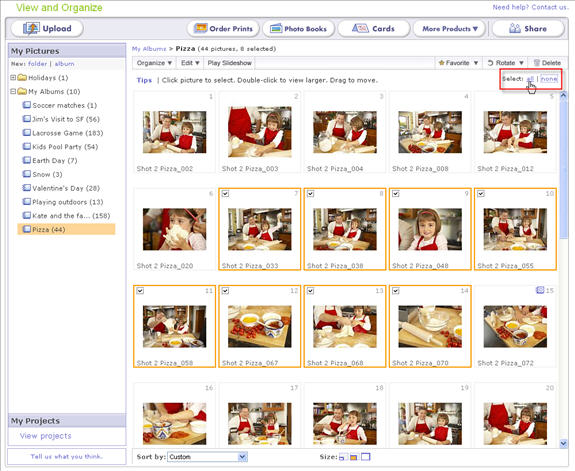 To de-select an image, click on the checkbox in the top left corner, or click anywhere on the image while holding down the "Ctrl" key. To de-select all checked images, click the "none" link at the top-right of the page.