Download article
Arrange pictures, albums and folders
There are a variety of ways to arrange pictures or albums in the My Pictures work area.
Arrange pictures
To re-arrange pictures within an album, select the pictures to move, then mouse over the "Organize" pulldown menu in the upper-left corner and select "Arrange pictures." In the dialog box, choose a picture number and whether to move the selected pictures before or after that number. The click the "OK" button. The selected pictures will be moved to that new location within the album.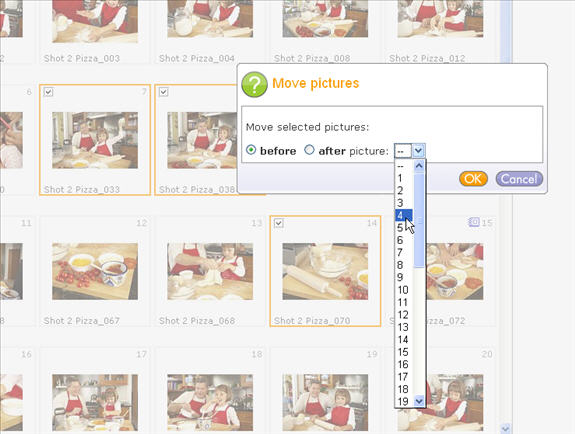 Sort pictures and albums
To sort pictures, go to the "Sort by" pulldown menu at the bottom-left of the main work area. Click on the arrow to sort your pictures by Date taken, Upload order (the default setting), Name or Custom.
You can also sort albums using the "Sort by" menu—in this case, sort by Creation date, Modified date, Name and Custom.
If you arrange either your pictures or albums in a special order through drag-and-drop, your custom settings will be remembered. Even if you try sorting them some other way, you can always return to that special order by selecting "Custom."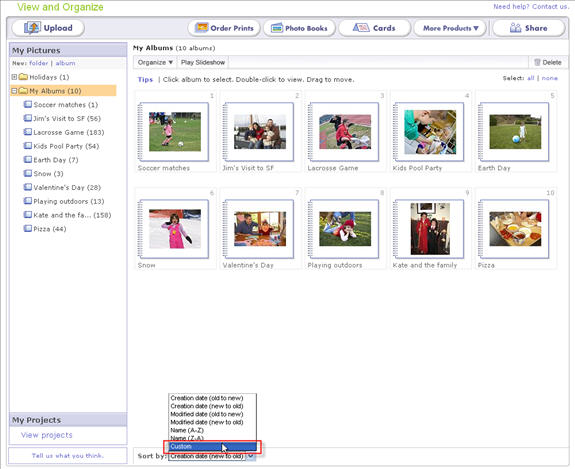 Drag-and-drop pictures and albums
You can also arrange pictures and albums in the same way you move files from one place to another on your computer desktop: drag-and-drop.
To drag-and-drop pictures, place your mouse on the selected image and then drag it to the desired location where you'd like to place it. You'll see a green bar that appears just before you drop it into that spot, so you'll know if it's in the right place.
You can also drag a picture directly into any of the albums on the left side of the page. When you do this, a copy of the picture appears in the destination album; the original image remains in the album from which you moved it.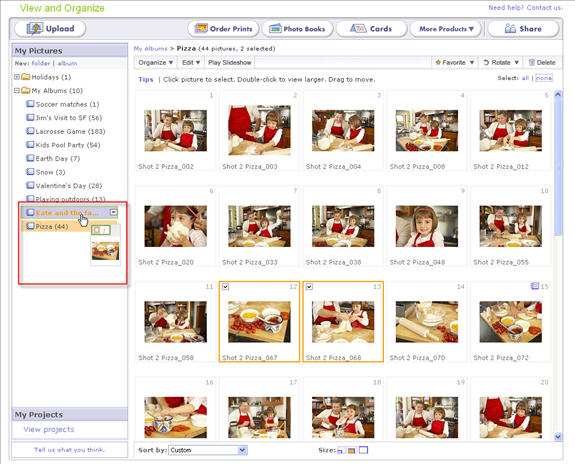 To drag-and-drop albums within the main work area, drag the selected album and drop it in the desired location—a green bar appears just before you drop it into that spot. To move an album from one folder to another, drag from one folder and drop into the desired new folder.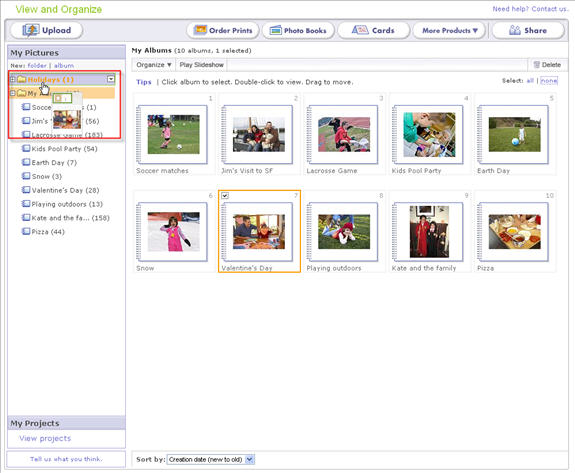 To arrange the order of folders, drag the folder name and drop it in the desired location.