Download article
Create a cover
The Cover step is where you design the cover for your photo book. If you've selected a 5x7, 8x11, 8x8 or 12x12 book, you can change your original cover choice now by clicking the Cover Type pulldown menu above the palette.
If you've selected a photo cover, choose the pictures, layout, background and edges to use for the front and back covers as well as the spine. As you do when building pages, drag pictures from the picture strip and drop them onto the covers and spine. To use a picture that's already been used on another page, uncheck the "Hide used" checkbox above the picture strip. You can also add a title to the covers and spine of certain photo books by clicking on the text boxes.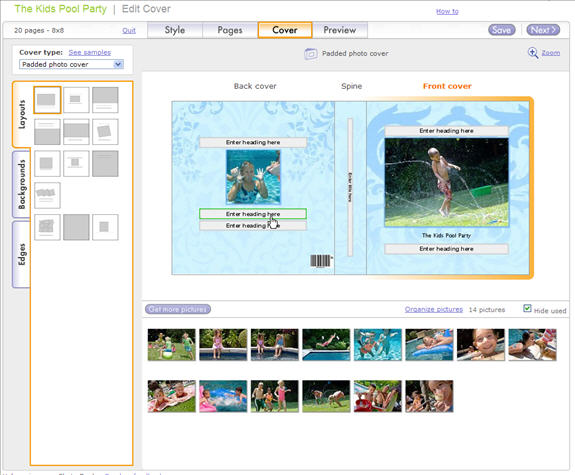 If you select a leather or fabric cover, the cover window will showcase the picture on your book's title page. Confirm that you like the placement of the title page picture—it'll be visible through the cover.
When you're done creating your cover and ready to preview and order, click the "Next" button at top-right.