Download article
Get pictures
The Pages step is the heart of the photo-book-making process, where you add pictures and build each page by selecting and placing images, choosing a background design, and adding any text.
Start by clicking the "Get Pictures" button in the middle of the page to add photos from your Shutterfly account. If you have pictures sitting on your computer's hard drive or in your camera's memory card, you'll need to upload them to your Shutterfly account first.

On the "Collect pictures" page, choose entire albums or specific pictures to be included in your book. For a regular photo book, collecting 30-50 pictures is a good start, and you can fit up to 1000 pictures on 101 pages. Add entire albums by selecting them from the folder view or add individual pictures by selecting them from the album view.
When you've finished selecting pictures, click the "Add to Photo Book" button at the top right. You'll be asked whether you'd like to add any additional pictures to your book. If you click "Yes," choose more albums or pictures, and click "Add to Photobook" again when you're finally done collecting and ready to start creating.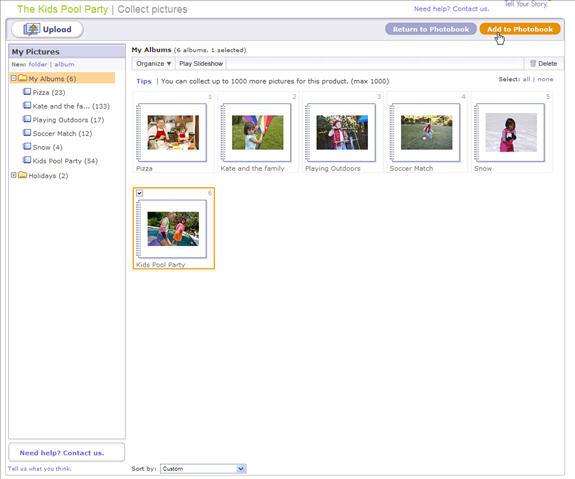 Your selected pictures will now appear. Add more images to this workspace at any time by clicking the "Get more pictures" button above the thumbnails.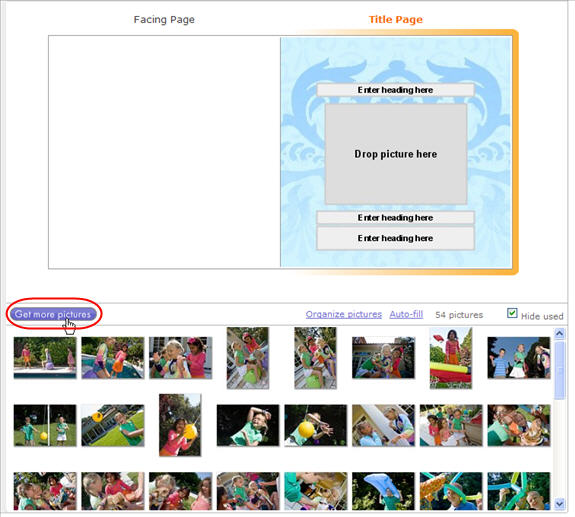 Before you fill the pages of your photo book with pictures, take a moment to look over the pictures you've collected. Which ones do you want to use and how might you use them to tell a story? Would a timeline be most effective? Perhaps groupings of people, places, or subjects? Also consider which pictures would look best alone on a page, and which ones might look better as part of a group.
Click "Organize pictures" above the thumbnails to sort the pictures by date taken, by order added to project, by upload order or by name. You can also rotate them to the correct orientation, hover over them for a magnified view, and use the "Remove" link to eliminate duplicate or less flattering shots. When you've finished, click "Done" at top-right to begin building your book's pages.