Download article
Share projects
Sharing projects is a great way to collaborate with others on things like a family reunion photo book. It also allows friends and family to save a project to their accounts and order their own copy. If you've created any projects you'd like to share, return to the My Shutterfly page. Under My Shared Pictures and Projects, select "Share projects".
Since this is your first time sharing projects, you'll need to select "Get started" on the upper-right of the next page. You'll see all the projects you've created that you can share. You can share photo books, calendars, collage posters, and scrapbook pages. Choose a project to share and select "Next".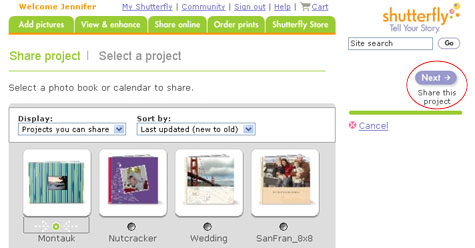 Then enter the emails of those with whom you'd like to share, just like you would if you were sharing a single album.