Download article
Set up your site
The first step in creating your Share site is to choose a template. What sort of site would you like? There are personal sites for sharing family pictures, images of your new baby, great travel memories or your photo journal. You can build sites for groups such as your child's class, a sports team, a wedding or any sort of club. Shutterfly offers a wide variety of styles and layouts for each type of site.
From the column on the left of the page, click on the category that's right for you. In the center of the page, you'll see the styles available in that category. Click the "See all styles" link at the bottom to view the full selection, and select the "Preview" link next to any style for a magnified view. When you've chosen a style, click "Next."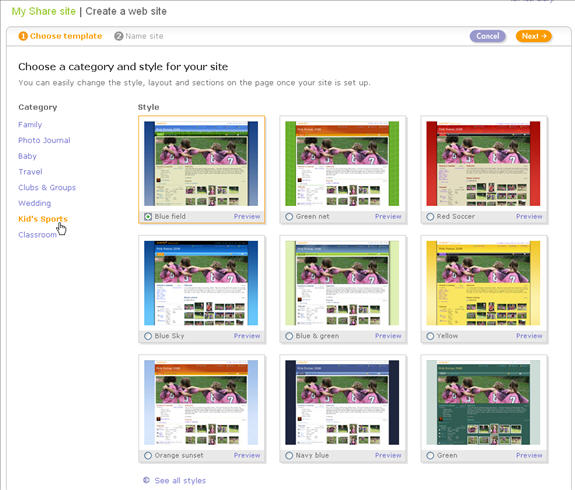 Now, give your site a name and personalized web address. The site title will be displayed at the top of the page, and the URL will be used by visitors to access the site. If you enter the site name first, the URL will share that name by default, but the web address can be changed to something different. Make sure you click "Check availability" to see if the URL has already been taken.
This is also where you, as the site owner, decide whether the site will be open or members–only. With open Share sites, friends and family don't need to have a Shutterfly account to view it, but they won't get automatic notifications of site changes. In addition, they'll need to sign up or already have a Shutterfly account if they wish to post comments or add pictures to the site. For an open site, select the button next to "Only people who know my site address." For an extra level of privacy, click "Show password option" to create a password that visitors must enter.
To create a members–only site, select the button next to "Only people I select as Members of my site." This site is closed to general visitors. Only Members of your site who sign in to their Shutterfly account can view it. Members can have special privileges that regular site visitors don't, including the ability to add content and edit and customize the site. In addition, members are notified of site updates.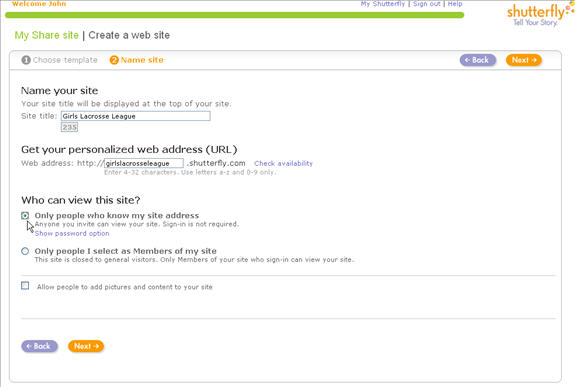 When you're done with these steps, click the "Next" button to see your newly created site and start adding pictures.