Black Flask
What customers have to say about our Flask
January 9, 2019
Groomsman Gifts
"We purchased 5 Personalized Flasks for the Best Man and Groomsmen for gifts from us."
December 14, 2018
I would buy this product again
"I bought this as a gift. Looks way better in person! I would have liked to put a picture on it. The person I bought if for lives deer so it's perfect anyway."
December 10, 2018
I would buy this gift for many if I knew more drinkers
"These will be gifts for my husband's golf buddies! They can't wait to use them!"
December 9, 2018
This was an awrsome gift for my hubby !!
"It is the perfect size!"
November 18, 2018
Awesome
"Love it"
Sipping Spirits in Style with a Personalized Black Flask
Carry your favorite liquors along with you in classic style within a handy black flask. This handy stainless steel flask features a matte black finish with your choice of image etched onto the surface. An attached screw cap makes it easy to open and fill this flask with your favorite spirit. The contemporary finish on this classic piece of barware makes it as attractive as it is useful.
A Black Flask Makes the Ideal Groomsman Gift
Show your groomsman how much you appreciate all they did to celebrate your special day by gifting them a custom black flask designed just for them. Not only will they have a heartfelt gift to commemorate the occasion, but they will also have a functional item they can use throughout the reception. While you are at it, stock up on one for yourself to remind you of the special day. The included gift box makes each piece ready to gift.
Toast Major Accomplishments with a Personalized Black Flask
Do you know someone who has recently graduated, gotten a new job or promotion, or finally reached that life-long goal they set for themselves? Honor their major accomplished with the gift of a customized flask. With so many different design options to choose from, it is easy to find one that will always remind them of the day.
Customize a Black Flask in A Few Quick Clicks
Shutterfly makes designing a custom flask as easy as making a few selections and typing in some basic information about the recipient. Start by browsing the entire collection of available designs as a starting-off point for your piece. With the design selected, start working your way through the guided prompts to lay in monograms, names, sentimental sayings, dates, and more. Many of the designs have a two-sided option, allowing you to commemorate an event on one side and add names or a date on the other.
Don't see the right design for the occasion? Select the option that allows you to upload your own image, and the possibilities will truly be endless. You can design an image in Photoshop or another program and have it sandblasted onto the surface of your stainless steel flask. With this option available just imagine what you could do. Add a company logo, a favorite quote, personalized artwork, and so much more.
Related Products
Laurel Wreath Monogram Kitchen Mat by Shutterfly. Create a personalized mat for the chef in your life. This anti-fatigue, memory foam mat makes a great gift or addition to your kitchen décor.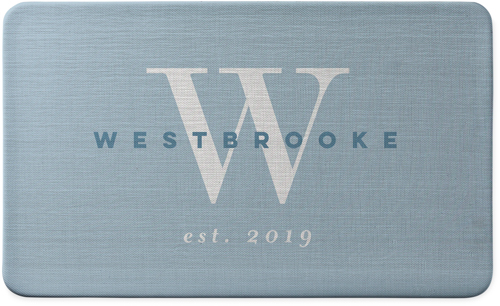 Monogram Text Gallery Kitchen Mat by Shutterfly. Create a personalized mat for the chef in your life. This anti-fatigue, memory foam mat makes a great gift or addition to your kitchen décor.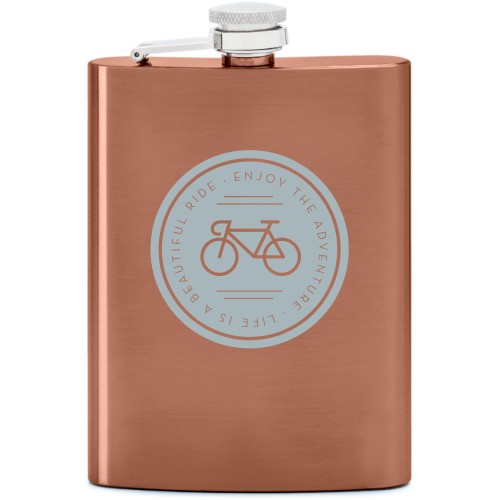 Beautiful Ride Personalized Flasks by Shutterfly. Lift their spirits with a stylish gift etched with a monogram, design or personal message. Choose from matte black, copper or stainless steel. Great gifts for groomsmen, birthdays, holidays and more.