What customers have to say about our Gifts for Dad
January 17, 2019
Dad loved it
"He uses it to drink coffee out of in the morning"
January 16, 2019
Highly Recommended
"This is my second family puzzle. But this time it was for my niece and she loves it. Once put together, the photos was clear, and great. Highly recommend to use Shutterfly for your puzzles."
January 15, 2019
Definitely would buy again and recommend this item
"I purchased this as a gift. I actually purchased many items from Shutterfly for Christmas as gifts for various family MEMBERS."
January 14, 2019
I would buy this again
"Nice thick glass. I have been pleased with all the glass products."
January 13, 2019
Nice gift for craft beer lovers
"The seal at the top is much better than screw on lids. Seems durable and well made. Extra bonus to personalize it for a special gift."
Personalized Gifts for Dad & Father's Day Gifts
Find the best gifts for dad that are as unique as they are memorable. With Shutterfly, you can create durable and heartfelt personalized gifts for dad that are great for any occasion. From sturdy photo prints to personalized iPhone cases to the perfect glass for his favorite brew, Shutterfly is your one-stop shop for a range of customizable Father's Day gift ideas for your amazing dad. You can make custom Father's Day gifts or make something special just because he deserves it.
Create Custom Father's Day Gifts & Gifts for Dad
Let Dad know why he's #1 when you add your favorite photos, a special message, or your father's name to your gift. Whether he's a new dad or a grandpa, you can create the best Father's Day gifts, birthday gifts, and more with Shutterfly. Shutterfly's custom dad gifts are ideal for your dad's birthday, Father's Day, the holidays, or just to let him know you're thinking about him. Use our Father's Day gift guide to find the perfect item just for him. Choose from a variety of gifts for dad, including:
Barware: For a Dad with distinctive tastes, find the perfect glass for his home bar. Choose from beer steins, pint glasses, stainless steel growlers, and more. Personalize this Father's Day gift with his name, monogram, or a fun message.
Prints: Share some of your favorite photos of you and your dad in a stylish custom print perfect for a sentimental Father's Day gift. Custom wall prints can be made out of high-quality canvas or beautiful cardstock, with both framed and frameless options. Add one favorite photo or design your own collage to capture your fondest memories with Dad.
Mugs: Design a special coffee mug for Dad. Shutterfly's coffee mugs come in a variety of color options and can be customized with photos and text. Also, check out our stainless-steel travel mugs for a Father's Day gift for on-the-go dads.
iPhone Case: Help keep Dad's phone safe and looking great. Personalized iPhone cases feature either a matte or glossy finish and a removable silicone liner for extra protection. Pair a custom iPhone case with other tech gifts for dad like a wireless charger.
Wood Wall Art: Create a work of art to match your dad's stylish home decor. Wood wall art makes for the best Christmas gifts for dad. Because of the premium quality of the wood used, the woodgrain will show through pictures to create a rustic, one-of-a-kind work of art.
Other personalized gifts include aprons, can coolers, coffee mugs, puzzles, keychain, frames, water bottles, and bottle openers. Your dad will adore these thoughtful Father's Day gifts created just for him. Finish your gift with a personalized card perfect for the occasion, including birthday cards or Father's Day cards.
How to Create a Personalized Gift for Dad
Creating personalized dad gifts is easy with Shutterfly. Whether you're shopping for a Father's Day gift or something special for the holidays or his birthday, you can create unique gifts for dad that he'll cherish forever. First, choose the gift you'd like to customize. You can choose tech gifts, gifts for the home, kitchen accessories, office accessories, and more. Choose cool gifts for dad like custom desktop plaques or opt for useful gifts for dad like a personalized apron he can use while grilling. Once you choose the gift, simply upload your photos and personalize your design with hand-picked backgrounds, colors, and messages. He'll adore personalized Father's Day gifts or custom gifts for Christmas and his birthday.
Related Products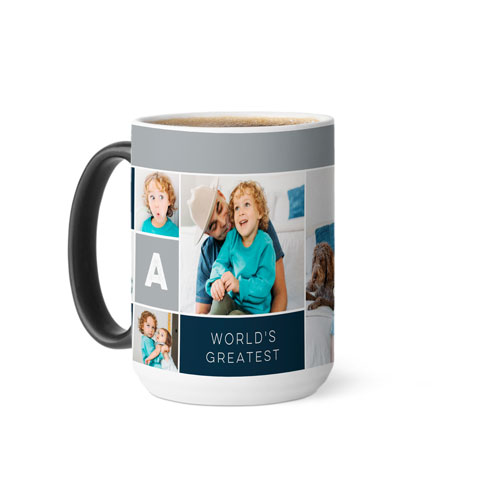 Dad Color Blocks Color Changing Mug by Shutterfly. Pour your hot beverage into this ceramic mug and watch your personalized image or message magically appear. This heat-sensitive mug changes color when hot and returns to matte black when cold.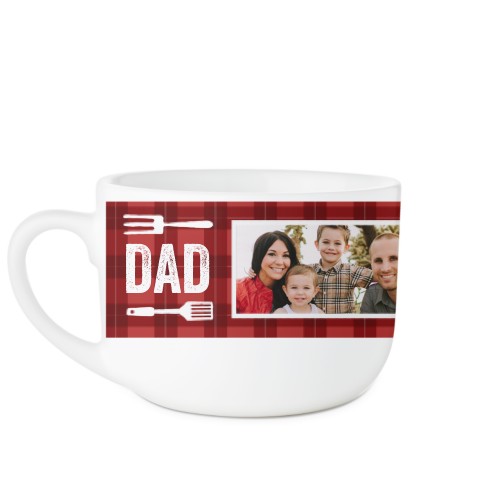 Grill Master Latte Mug by Shutterfly. Indulge in an extra-large cup of your favorite coffee or tea with a latte mug personalized with unique designs, favorite photos or a custom message. Great for cereal, soup, dessert and more. Perfect for ...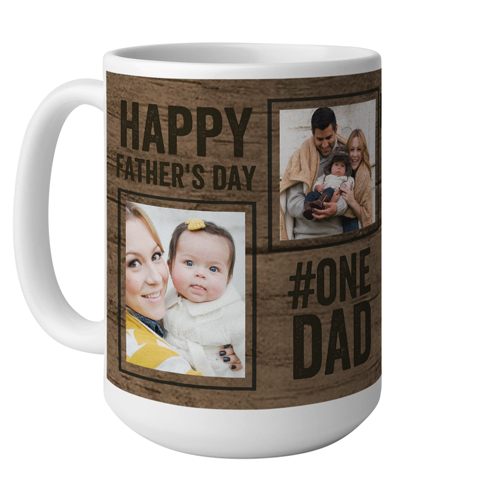 Rustic Pictogram Mug by Shutterfly. Make a unique mug for yourself or someone special with your favorite photos in a stylish, exclusive design. Specifically crafted to contain hot beverages, its personalized style really warms up the morning.