What customers have to say about our Gifts for Mom
January 18, 2019
Picture frame
"Thinking about getting this for my sister in law"
"👌👏"
January 17, 2019
Beautiful!!
"Shutterfly Rocks!!! This was a Christmas gift for my mother and law and she loved it!!"
January 17, 2019
Love these! It's my second one!
"I have both of mine in my office at work. I get many compliments on them. I tell everyone where I got them!"
January 16, 2019
So pretty
"This plaque turned out so pretty! It was great quality, and I'm planning to buy another one just like it!"
Create Gifts for Mom That Come From the Heart
Create one-of-a-kind gifts for mom that come from the heart. Shutterfly's collection of personalized gifts for Mom are stylish treasures that you can personalize. Make a heartwarming gift when you upload your favorite photos, add her name, monogram, or a special message from you and create a one-of-a-kind keepsake she'll always cherish. Whether you're shopping for a Mother's Day gift, holiday gift, or something special for Valentine's Day, with Shutterfly you can make her something that's both sentimental and functional. Personalized gifts are the best gifts when it comes to giving something special to Mom.
The Best Gifts for Moms
Whether you're celebrating Mom's birthday, Mother's Day, the holidays or just want to remind her that she's loved, let Shutterfly help you create the perfect gift. Gifts for moms that are personalized show her how much thought you put into her present. You can include her favorite photos, birthstone, and a custom message to your personalized gifts for mom. Give your amazing mother something to make her smile when you choose from high-quality gifts like:
Jewelry: Give Mom a stunning piece of customized jewelry. Choose from gorgeous engraved necklaces and bracelets you can customize with her name, initials or a short message. These unique jewelry gifts are available in three finishes: gold, silver and rose gold and make the perfect gift for a mom who loves to accessorize.
Prints: Personalized framed prints are a great way to give your mom all her favorite photos, formatted in a wide range of chic and stylish ways. Choose from rustic canvas prints, stunning glass prints, and elegant desktop plaques. Add one special photo or make a beautiful collage to highlight your favorite memories together as a unique gift for mom.
Mugs: These gift ideas are perfect for her morning cup of coffee, tea or hot chocolate. Add a favorite photo of the two of you to the custom mug and a happy Mother's Day message for the perfect gift for her special day.
Blankets & Pillows: Perfect for a new mom, wrap her mom up in warmth and comfort when you give her a blanket or pillow you personalized with photos and a heartfelt message.
iPhone Case: Give Mom a gift she can use daily! Strong and durable iPhone cases from Shutterfly can fit many different iPhone models and can include an interior liner for extra protection. Choose either a matte or glossy finish for your phone case, then personalize with photos and text for a unique birthday gift she'll use every day.
Mother's Day Gifts She'll Cherish Forever
When you need a thoughtful gift for Mother's Day, turn to Shutterfly to help you create something unique and personalized. Our collection of Mother's Day gifts are both functional and sentimental. Exciting gifts for mom on Mother's Day include personalized ceramic coasters, wine glasses, aprons, totes, notebooks, candles, puzzles, can coolers and key chains. A special Mother's Day photo book filled with her most cherished memories will last as a keepsake she treasures forever. When you're done creating the perfect gift for Mom, add a little more love to her present when you include a personalized card or hand-written note on custom stationery. Browse our birthday greeting cards, Mother's Day cards, and Mother's Day stationery.
Related Products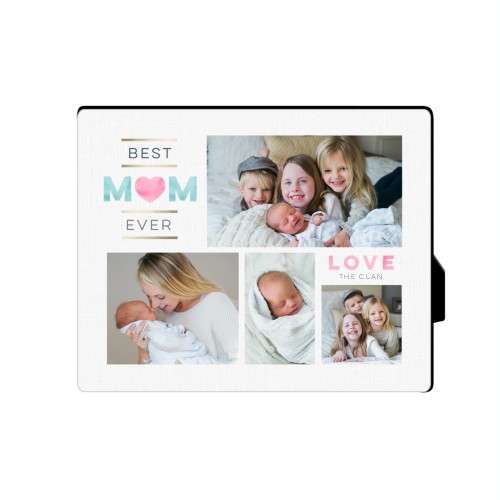 Watercolor Mom Collage Desktop Plaque by Shutterfly. Who needs a frame? Make a mini masterpiece with a beautiful desktop plaque in a range of designs for every occasion.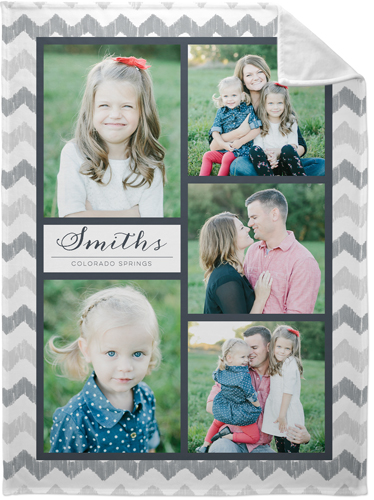 Love Joy Family Fleece Photo Blanket by Shutterfly. Cozy up to a fleece blanket with your favorite photos. Choose your background and layout.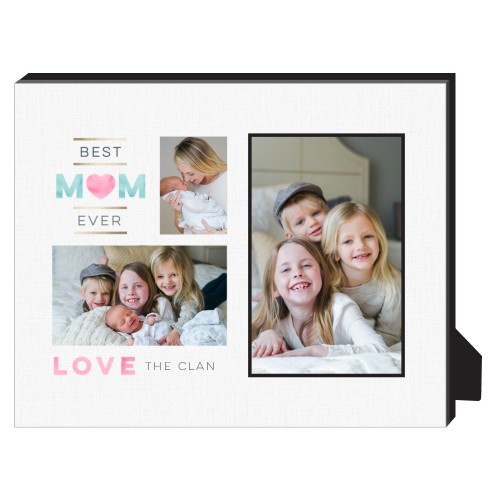 Watercolor Mom Collage Personalized Frame by Shutterfly. "Choose from a range of printed designs","Includes keyhole hanging slots and an easel back for easy display","8x10 frame fits 4x6 print; 11.5x11.5 frame fits 5x7 print","Made with durable high-gloss hardboard"