Phone Card Holders
Design a Custom Phone Card Holder
Leave your wallet, purse and other bulky items at home when you have one of our convenient phone card holders. These functional phone credit card holders adhere to the back of your smartphone or smartphone case, enabling you to keep your essential items, like credit cards and IDs, in a slim leather pocket. Did we mention you can also stow your house key in our phone wallets? This means you'll only need to carry your phone with you wherever you go. Experience the ease and freedom of leaving large wallets and bags behind with this one-of-a-kind tech accessory!
How to Use a Phone Card Holder
Shutterfly's handy little leather phone card holders are made with a high-quality adhesive to allow for easy installation, realignment and removal on both iPhones and Samsung Galaxy phones, as well as smartphone cases. Measuring 2.5 inches wide by 3 3/8 inches long, they're the perfect size for carrying your essential items without needing bulky wallets and bags. Using Shutterfly's custom card holder is an ideal way to store your essentials when you're going out, whether you're traveling or just running errands. The cute phone wallet is durable for long-term use, and it's an especially secure and convenient way to keep essential items on you when you're heading somewhere you don't want to bring a bag. The best places to use a phone wallet would be fun family days at the amusement park, trips to the beach, going for a jog at your favorite park, or taking your dog for a walk around your neighborhood.
Fun Custom Phone Wallets
Available in a variety of colors and styles, you can find a card holder design you love and that matches your personality. Choose your favorite template from our design options and then personalize your phone card holder using our free online customization tool. Select from the beautiful colors available in our Custom Color Palette and then add your name, a monogram or a custom message or quote you love. You can also upload a favorite photo as the main design feature or upload up to four photos to create a photo collage. No matter which design options you choose, you'll end up with a truly one-of-a-kind custom phone wallet that you'll love using every day.
Personalized Phone Wallets for Mother's Day
One great idea for personalized phone wallets is to create a custom gift for Mother's Day. Shutterfly offers multiple styles for all types of moms, including cat moms. Your mom or friend will love the sweet present that's as stylish as it is functional. With the template you choose, you can still customize the phone card holder with your photos as well as unique messages and text. Add "Mom Boss", "Cat Mom", or other fun phrases to the holder for a fun and unique design.
More Personalized Phone Accessories
Affordable, stylish and extremely convenient, a personalized phone wallet can also make an excellent gift for friends and family members. After you've completed the design for yours, why not design a few custom phone card holders for your loved ones, too? In addition to a card holder for a phone, consider personalizing other tech accessories everyone will love. You can customize a wireless phone charger for the whole family that looks great and lets anyone charge their phone easily. For more gift ideas, try making custom phone cases that include your favorite photos of friends, family, pets, and more. With Shutterfly, you can make the tech in your life extra special and more fun to look at!
Related Products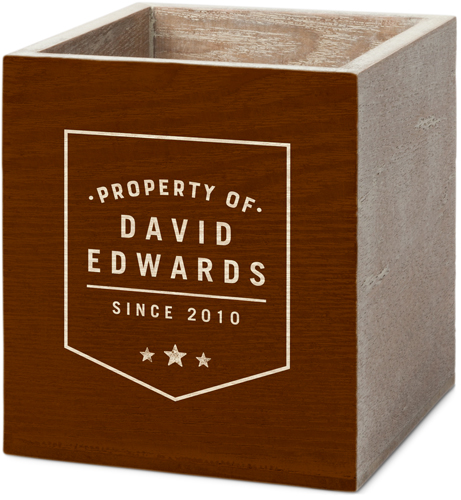 Property Of Pen and Pencil Holder by Shutterfly. Keep your pen and pencil organized in our personalized holder. Add a photo or sentiment for a personalized touch to your office.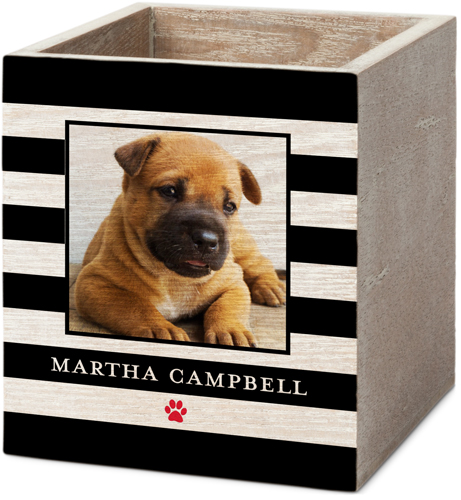 Simply Chic Stripes Pen and Pencil Holder by Shutterfly. Keep your pen and pencil organized in our personalized holder. Add a photo or sentiment for a personalized touch to your office.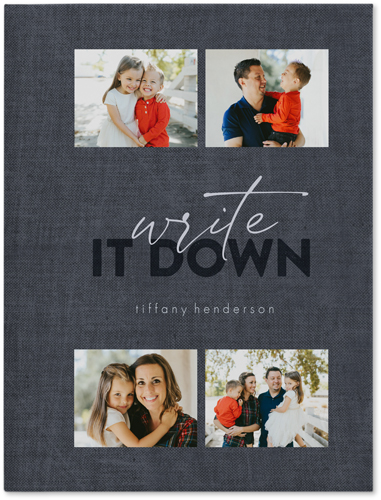 Classic Textured Leather Journal by Shutterfly. Personalized hardcover journals perfect for everyday use.