Stemless Wine Glass
What customers have to say about our Stemless Wine Glass
January 14, 2019
I would buy again.
"Love it"
January 14, 2019
Turned out super cute!
"The glasses turned out super cute and are going to make awesome gifts for my roommates!"
January 11, 2019
I would recommend this product
"It was a Christmas gift for my mother and she absolutely loved her gift she doesn't even want to drink out of it that's how much she loves it."
January 10, 2019
Great quality. Exactly what I wanted
"This was exactly what I wanted. Great quality the engraving was beautiful."
January 9, 2019
Love these wine glasses
"Purchased 5 wine glasses that are personalized with our wedding date and my bridesmaids names on them. Cant wait to give them to the girls!"
Add Elegance to Any Special Occasion With Stemless Wine Glasses
Stemless wine glasses are quaint, attractive and perfect for weddings or other special occasions. The only thing that can make them even more perfect is having them customized with etched monogram designs. Shutterfly makes it refreshingly easy to turn regular stemless wine glasses into customized works of art. Whether you're hosting a special occasion or an informal gathering, you can create personalized stemless wine glasses that offer a sophisticated and striking look. With our vast collection of custom designs, you can make one-of-a-kind glassware that makes great gifts for housewarmings, weddings, holiday parties, birthdays, or any special occasion. Our personalized wine glasses will make a perfect addition to a home bar and a unique gift that any wine lover will appreciate.
How to Make Personalized Wine Glasses
With Shutterfly, it's easy to make your own custom stemless wine glasses. With custom designs that feature photo collages, unique backgrounds, and fun quotes, you can make the perfect wine glasses that showcase your style and personality. Browse through our personalized wine glasses and choose the one you want to make your own. Choose from printed or etched wine glasses depending on what you want your design to look like. Then, upload your photos and place them into the templates. Customize the stemless wine glass' text to say whatever you want. If you're giving wine glass favors out as bridal shower gifts for your bridesmaids or party favors, you can customize each glass to feature your friend's name and a special message or photo. Whether you're going for a classy and elegant look or something more fun, you can make a personalized stemless wine glass for any personality or occasion.
Why You Should Personalize Stemless Wine Glasses
Since wine is commonly served at weddings, it is a good idea to present wedding guests with stemless glasses as wedding favors. Have the stemless wine glasses personalized with your initials or a favorite saying so that they can be used as home décor once the special event is over. Our great quality and dishwasher-safe bar and custom glassware also make great gifts for the wine enthusiasts in your life. While you're customizing your stemless wine glasses, why not expand your glassware collection by creating personalized plates, glass prints, mason jars, and cups for your home? Custom wine glasses also make great party favors for wine tasting parties. Plan an evening with friends to blind test different varietals for aromas and flavors.
Related Products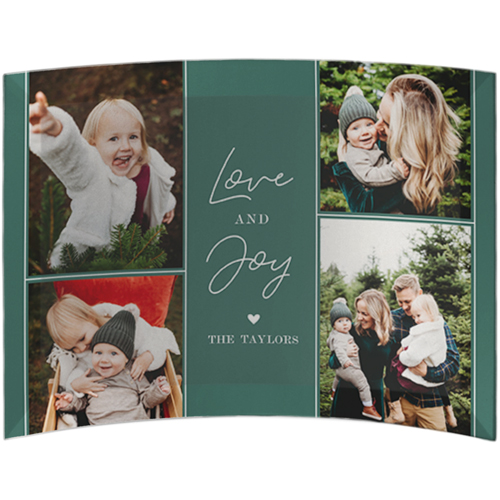 Banded Love and Joy Curved Glass Print by Shutterfly. Show off your favorite photos in stunning, luminous, freestanding curved glass.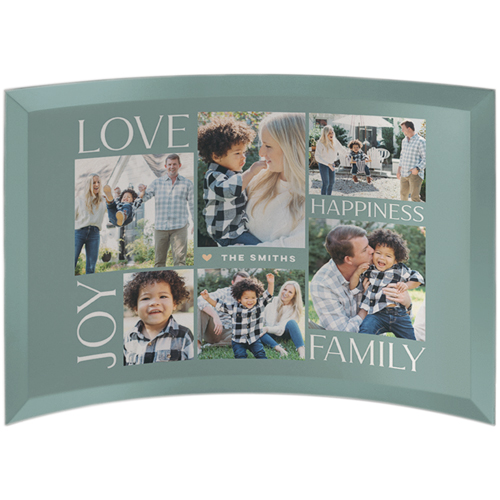 Contemporary Family Joy Curved Glass Print by Shutterfly. Show off your favorite photos in stunning, luminous, freestanding curved glass.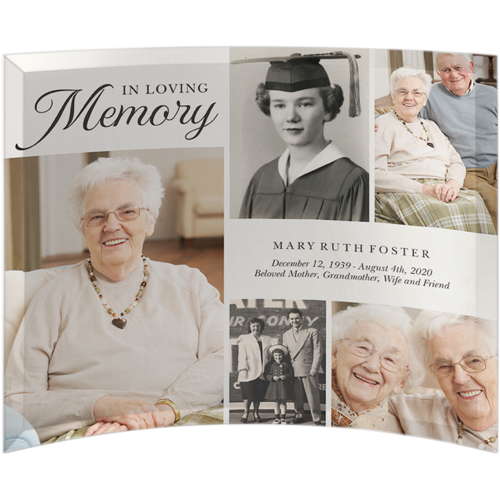 Loving Memory Collage Curved Glass Print by Shutterfly. Show off your favorite photos in stunning, luminous, freestanding curved glass.