What customers have to say about our Jewelry
January 22, 2019
For a necklace
"My daughters will love these."
January 20, 2019
My daughter Loves carrying her memories with her!
"Made a necklace with photos for our summer trip, and included a couple of great pictures of the dogs. It was a very special gift, I'm sure her favorite!"
January 17, 2019
I would buy this product again
"Family members"
January 15, 2019
I FREAKING LOVE THESE!
"You cannot beat the quality of these. I buy the charms only and attach them to my own jewelry. I also gift them. So much better than a locket. I don't know how they get the photo in there! I repurchased one because I was wearing it out but that's the beauty of Shutterfly!"
January 15, 2019
Beautiful
"Met my expectations!"
Custom Necklaces
Custom necklaces are the perfect gift for a new bride. This is especially true if the bride and groom already have their home essentials and haven't registered for gifts. Just as women have worn lockets with photos of special people for decades, custom necklaces can be personalized with a photo that you can upload right from your computer. Whether you're gifting a personalized necklace to a woman in your life for a birthday, baby shower, wedding, or Valentine's Day, you can create a unique piece of custom jewelry that she will cherish forever. Design a name necklace or one with her birthstone that she can wear everyday, or add a photo that she can wear with her everywhere she goes.
How to Make a Custom Necklace
It's easy to design personalized necklaces with Shutterfly. When choosing what style custom necklace or engravable necklace you want to make, consider who you are making it for and what the occasion is. If you're designing a photo necklace as the perfect wedding gift, you can either choose your own photo of the bride and groom, or you can purchase one from the photographer. The perfect photos highlight the bride and groom's faces without being too close or far away. Perhaps choose an image of them exchanging their vows or dancing to their first song. Any image that shows the two of them lovingly looking into each other's eyes will make for a great memory that the bride can look fondly on at any time.
Shutterfly has many different options for high-quality custom necklaces. In addition to photos, you can choose a personalized initial monogram, and you can add a birthstone for an extra charm. If you go with a photo necklace, you can choose any type of photo you think the recipient might like. For instance, the custom necklaces also make great gifts for new mothers or someone who has recently lost a loved one. Having an image close to the heart makes the loved one feel that much closer. Shutterfly's necklaces are also great options for Mother's Day gifts, a Sweet 16, a quinceanera, and for any other special occasion.
Personalized Engravable Necklaces Make Perfect Gifts
An engravable necklace is a unique personalized gift for anyone in your life. From bar necklaces to custom name necklaces, these one-of-kind pieces of personalized jewelry will live on as a special keepsake for years to come. Add their monogram, a photo, or a special message to create the perfect gift they won't find anywhere else. Include their birthstone or add a charm to their pendant necklace for that extra special touch. Initial necklaces and nameplate necklaces designed with our customization tools are a wonderful gift for her. Design a custom keepsake box she can keep her personalized jewelry in so she will never lose this special item.
Photo Necklaces and More Custom Jewelry Options
In addition to photo necklaces, Shutterfly also has more custom jewelry options like bangles, bracelets and individual charms. Each of the options is customizable to make it exactly what the purchaser is looking for. The simple style of the bangles and bracelets helps the charms to really stand out. All the custom jewelry also has different metal options: gold, silver, sterling silver, or rose gold. Custom necklaces are small gifts that make a big impact. You can buy one for someone else—or for yourself. Keep someone special close to your heart, or create your own signature jewelry with your initial and birthstone.
Related Products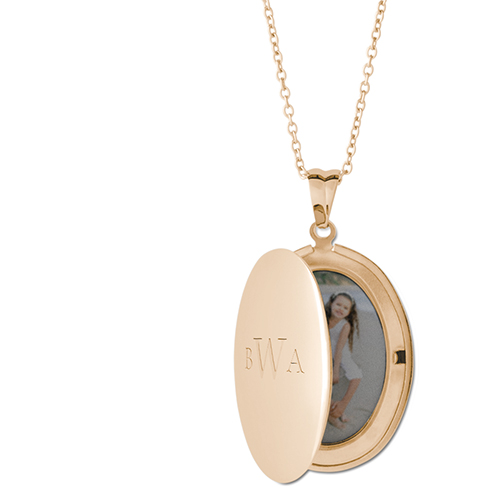 Monogram Trio Locket Necklace by Shutterfly. Keep precious memories close to your heart with a personalized photo locket. The delicate oval pendant comes ready to wear with photos of your choice already inserted. The front of the locket can be ...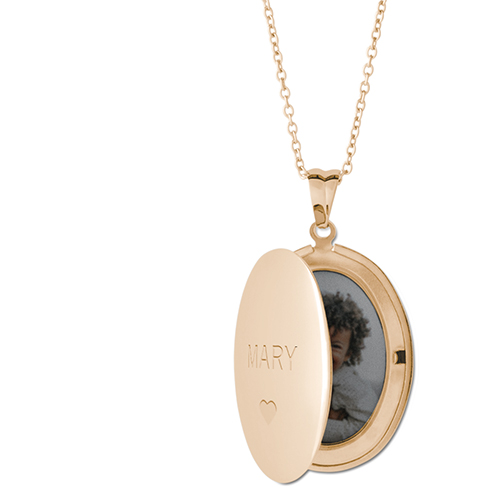 Whole Heart Locket Necklace by Shutterfly. Keep precious memories close to your heart with a personalized photo locket. The delicate oval pendant comes ready to wear with photos of your choice already inserted. The front of the locket can be ...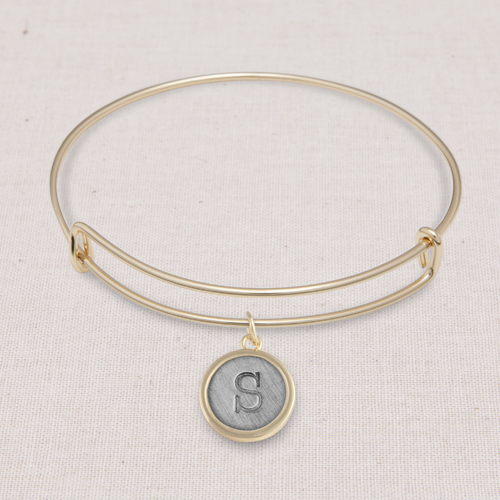 Order a Gold Vivienne Bangle by Shutterfly. Shine in your new bangle, featuring your favorite colors, photo, or monogram. Visit now.