All Candles
What customers have to say about our All Candles
January 18, 2019
Very classy looking
"This is a small candle so make sure your prints are not too detailed!"
January 15, 2019
Great product! Turned out just how I wanted!
"The quality was exactly what I wanted. I was very pleased with how this turned out!"
January 8, 2019
I liked it so much I kept it for myself.
"I light the candle while enjoying a bath"
January 7, 2019
I would buy this product again
"Great gift"
January 1, 2019
Perfect for a Religious Gift
"I gave this to my daughter-in-law for her adult baptism by adding a photo of our church. She loved it."
Personalized Candles for Every Occasion
Shutterfly's personalized candles offer a unique gift for nearly every occasion. Light up any room at home while sharing special memories and love to those who are miles away. Choose Christmas candles or Hanukkah candles with your favorite holiday photos as well as birthday candles for your family and friends' big day. Custom candles are displayed on a 9-ounce, elegant glass jar and feature your favorite art or photos. Combine your best memories with an unscented or scented candle to create ambience and warmth in any room of your house.
Design Custom Candles for Your Home and Gifts
At Shutterfly, we believe you should have as many options as possible when you are designing personalized gifts or products for your home. Our non-toxic soy candles come in a variety of scents, such as:
Ocean Breeze
Grapefruit Blossom
Garden Bouquet
Fireside Spice
Evergreen Forest
Fill your home or apartment with the fruity, citrusy scent of grapefruit or the spicy scent of a forest. Every time you enter the room, you'll smell the sweet aroma of personalized candles that draw your attention to your favorite family memories. We also offer several design colors and a variety of collections including holiday candles and options for glass or ceramic candle holders. Other than gifts, you can easily customize decorative candles to match your home's interior design. Select red candles or classic white and personalize your candle design with even more options.
Adding personal photos on candles can help create the perfect anniversary gift. With Shutterfly, it's easy to create romantic candles with your favorite couple photos. For the more challenging times in life, memorial candles can also help you lift up and celebrate all loved ones. A birthdate candle helps you offer a special gift to the ones you love. Whether you choose unscented or scented candles, a personal photo is the best way to make your candle more meaningful and delightful.
Shutterfly's Unique Candles Ship Fast
Custom candles make a great last-minute gift. We've all been in that situation where we've forgotten a gift for someone important and don't want to go generic. That's why we've created unique solutions that allow you to get customized, special gifts quickly. We offer several shipping options, including rush and super rush shipping that is guaranteed to arrive by a certain date. Don't panic when you've waited too long to order that special gift. We do our best to turn your products around quickly, whether they be photobooks, simple prints or personalized candles.
Browse More Personalized Gifts
Whether you are looking for inspiration for custom home décor, shopping for unique ideas for personalized gifts to give your family or wanting to create a yearly calendar with your favorite snapshots of the year, Shutterfly is here to help. Our user-friendly system and customer-centric products ensure that you love everything you get from us.
Related Products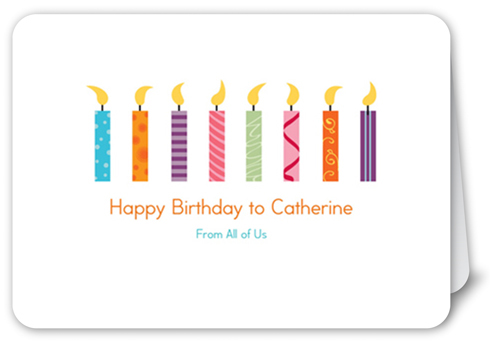 Candle Collection Birthday Greeting Cards. Another year older. Send personalized celebratory greetings with a favorite photo and your own message in this stylish birthday card
Circle Monogram Pilsner Glass by Shutterfly. Say cheers with a stylish pilsner glass personalized with your own custom message. Perfect for enjoying your favorite beverage or as a memorable gift.
Classic Monogram Pilsner Glass by Shutterfly. Say cheers with a stylish pilsner glass personalized with your own custom message. Perfect for enjoying your favorite beverage or as a memorable gift.