Black Notebooks
What customers have to say about our Notebooks
January 27, 2019
Wonderful Little Notebook
"I've had one made for almost everyone in the family and some friends. Everyone states their very happy with the product. In fact, my brother told me it was just the right size for him and he was very happy with it. Shutterfly has done fantastic work with everything I've ever purchased from them, and I've been with Shutterfly ever since 2004. Katie"
"My notes or diary"
"Graduation gift"
January 26, 2019
Loved it!
"Perfect little note taking book."
January 26, 2019
Perfect !
"I ordered this and used a picture of my sonogram to use as a journal throughout my pregnancy. It came out perfect. I love it!"
Practical Elegance: Black Notebooks Keep Your Thoughts in Style
Children in school are not the only ones who need notebooks. Professionals, busy parents, proud grandparents, aunts and uncles—everyone can use a little organization. Notebooks keep dates, thoughts and information all in one place, orderly and easy to find. Black notebooks from Shutterfly can be personalized with favorite photos to create an elegant and practical accessory that reminds you and your loved ones of beloved memories with every use.
Customizing Stylish Notebooks
Whether you want to give a classy custom item to someone or treat yourself, Shutterfly has the perfect black notebook for every need. You can choose between lined notebooks in two sizes: 5-by-8 or 8.5-by-11. You start by simply choosing the template you like best. Shutterfly has a collection of attractive designs from which to choose, and every pattern can be easily personalized. Uploading your own photos is fast, easy and fun. You can even upload images from social media. The Shutterfly design assistant will help you create a notebook cover you love.
Notebooks Are Good for Everything
Just about everyone can use a notebook. Busy professionals can record important facts and information to help them prepare for meetings and presentations. Parents can write down household records, such as meal plans, due dates for bills and children's schedules. Shutterfly's black notebooks feature designs that let you put your favorite images on the covers so you are often reminded of loved ones and good times.
Stylish Black Notebooks Make Great Gifts
Puzzled about what to get your child's teacher? Customized black notebooks are a stylish and thoughtful way to say "thank you." Shutterfly's personalized black notebooks are always a hit with children. For someone who seems to have everything, a personalized notebook combined with a special stationery set makes a caring gift.
Shutterfly makes living life with personal style easy with customizable items such as black notebooks, desktop plaques, and paperweights. These items can be used for so many things by just about everyone. Personalizing them with favorite photos and sayings means that memories and loved ones will come to mind every time the products are used.
Related Products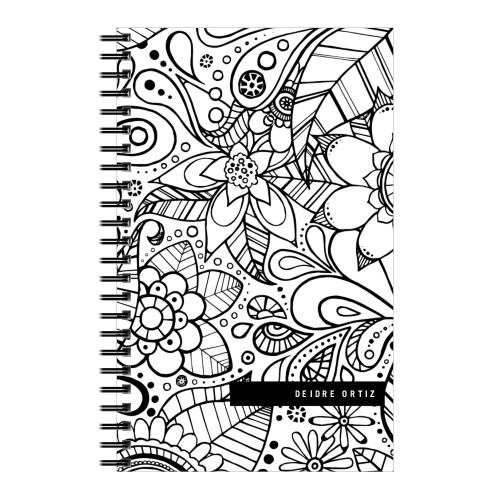 Color Me Floral 5x8 Lined NotebookNotebook by Shutterfly. Stylish, personalized notebooks perfect for everyday use.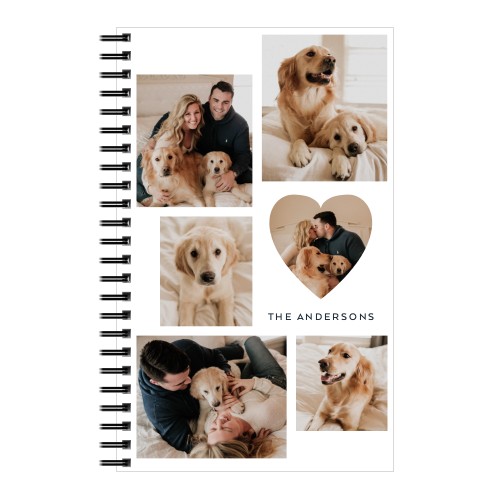 Heart Collage Gallery 5x8 Notebook by Shutterfly. Stylish, personalized notebooks perfect for everyday use.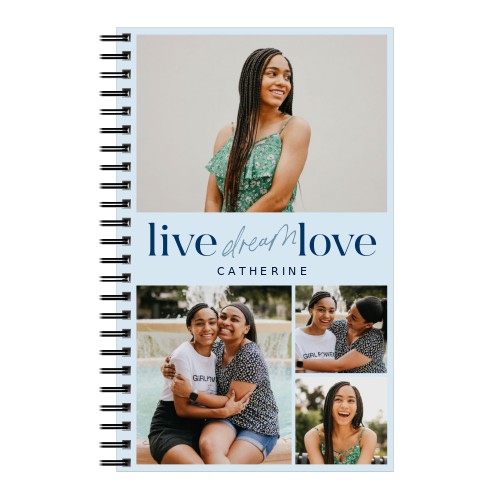 Live Dream Love Collage 5x8 Notebook by Shutterfly. Stylish, personalized notebooks perfect for everyday use.