What customers have to say about our Puzzles
January 26, 2019
Excellent gift!
"I designed a 500 piece puzzle for my daughter's 14th birthday. I had her text me a bunch of photos of her and her friends, and I made a collage. Where the single "monogram" letter was on the template I instead reduced the size and font until it said "FRIENDS 2018-19." She really liked it. Also, I bought a big, inexpensive black frame she can use to hang the puzzle in her room once she's put it together!"
January 26, 2019
Shutterfly is Awesome!!
"i have been using shutterfly for years now for various photo projects and can't say enough about how much i appreciate the company, products, and services. unless something goes very haywire, i plan to remain a customer for life! -matt, portland OR"
January 26, 2019
Fun For Families
"My grandson is learning how to put together puzzles. He enjoys seeing a picture of himself."
January 26, 2019
Fun puzzle
"Family likes puzzles and this is one of my pictures"
January 26, 2019
My Photo Puzzle
"I enjoyed putting my puzzle together. I love it. Wasn't too happy cause I also ordered 2 8x10 Photos it said I could get 3 free gifts & was Charged for the 2 photos."
Black Photo Puzzles
If you're looking for a personalized keepsake puzzle to glue, frame and hang on a wall in a room that has a black and white décor scheme, then Shutterfly's custom photo puzzles with black backgrounds and accents will make a wonderful addition to your space. And if you're looking for a unique gift for a loved one to display in their modern-style home with a lot of black and white décor, these puzzles will beautifully complement their space. Once you've decided on a design that matches your preferred aesthetic, you can customize the puzzle further by adding special photos, family names and a custom message or favorite quote. We have a variety stylish photo puzzles featuring black design schemes, enabling you to find the perfect one for your home or to gift to a loved one.
Features of Custom Black Puzzles
Our puzzles are made of high-quality paperboard and make an excellent addition to any home. Available in both portrait and landscape orientation, in various shapes and with different options for the number of pieces your puzzle has, you can design puzzles to suit everyone. Easily create your own custom puzzle online and have it delivered to your door or send it as a gift to somebody you love. Shutterfly turns your personalized puzzle goals into reality.
How to Design Custom Black Puzzles
Creating a custom photo puzzle takes only minutes with Shutterfly. Browse the various black puzzles designs we have available in our collection until you find the perfect one for your needs. Once you have the design you love, you'll be able to customize it further by size and material. 50-piece puzzles can be great for preschoolers, while 1,014-piece puzzles offer a great challenge for older kids and adults and can also be fun for a family game night. Finally, upload your photos, add names, a favorite quote or saying and use our online customization tool to select your favorite colors, font styles and font sizes.
Photo Puzzles Make Thoughtful Gifts
Custom photo puzzles make excellent gifts to share with friends and family members. Whether you're celebrating their birthday, a holiday, or another special occasion – or just to let someone know you're thinking of them - a personalized photo puzzle is a unique and thoughtful gift idea.
For more photo gifts loved ones will enjoy, check out our canvas prints and custom photo books. Any of these items will become special keepsakes they'll cherish for a long time.
Related Products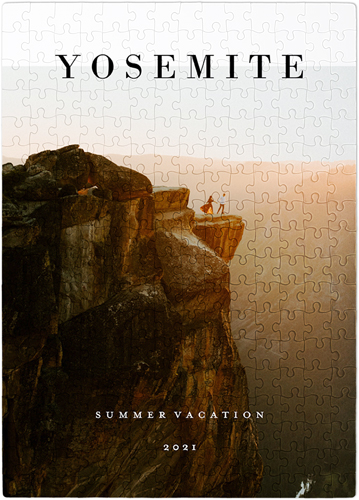 Bold Memories Portrait Puzzle. Turn favorite photos into hours of fun with a one-of-a-kind photo puzzle. Made of high-quality paperboard, it makes for a delightful addition to game night, a special gift, or a fun treat for yourself. Comes in ...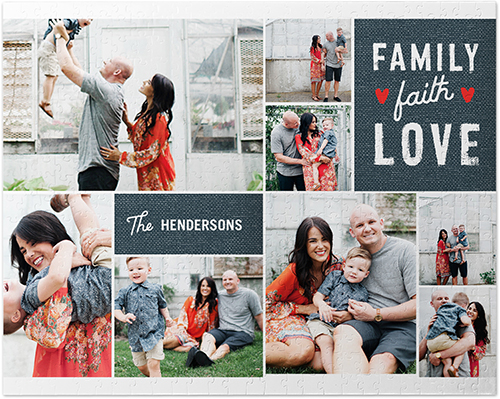 Family Faith Love Puzzle. It's easy to create a gift from the heart. Make a personalized photo puzzle, and your loved one can enjoy the memory again and again. A matching photo box stores your 60-piece or 252-piece puzzle.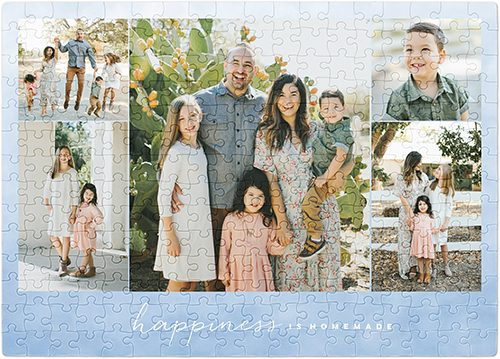 Hero Gallery Collage of Five Puzzle. It's easy to create a gift from the heart. Make a personalized photo puzzle, and your loved one can enjoy the memory again and again. A matching photo box stores your 60-piece or 252-piece ...