Bone Ornaments
What customers have to say about our All Ornaments
January 27, 2019
Going to be a great gift!
"It's great. My niece and family are going to love this. Going to give it to them for Christmas 2019."
January 27, 2019
Love Making Personalized Items
"I love making personalized items for my family and friends. And they love getting them."
January 27, 2019
I buy these every year.
"Each Christmas, I use a holiday picture and make one of these ornaments. Each one I have gotten over the past 5 years has been great quality. I look forward to ordering and receiving mine each year."
January 26, 2019
Ornamental Memories
"Shutterfly strives to make beautiful memories into tangible items that we will not forget!"
January 26, 2019
Looks great
"Gift to daughter and her family"
Personalize Your Dog Bone Ornaments
Commemorate your adorable pup this holiday season with a porcelain ornament in the shape of a dog bone. Shutterfly dog bone ornaments are fun, festive and customizable. Each ornament comes with its own gorgeous red ribbon and is available in multiple colors, styles and patterns.
Whether you just added a new pet to your family or you're looking for the perfect gift for a pet lover, a bone-shaped Christmas ornament is a great idea.
Bone Ornaments
Give your playful pooch something to wag his tail about with a new holiday ornament featuring his own fuzzy face. These high-quality ornaments are made out of porcelain and can be personalized with a range of options.
Choose from a range of dog-themed bone ornament designs featuring patterns and images like pawprints, snowflakes, hearts, Chevron, woodgrain and more. Add your pet's name, the year and even a short message or quote like "Love, Peace, Woof" or "Cold Nose, Warm Heart." Depending on the design you choose, you can even add a photo (or several) of your pup dressed in his holiday best.
Looking for more ways to add a personal touch to your holiday festivities? Check out our personalized pet advent calendars, pet prints, and pet ornaments labels to make a stylish statement.
Related Products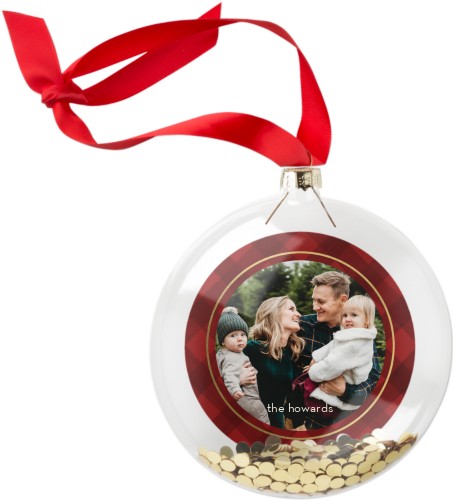 Classic Plaid Border Glitter Ornament by Shutterfly. Trim the tree with a touch of sparkle! Personalize a glitter ornament with a favorite photo or message as a special addition to your tree or for a truly memorable gift.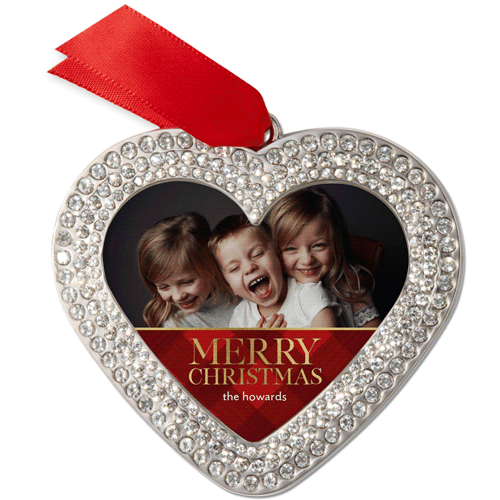 Classic Plaid Merry Jeweled Ornament by Shutterfly. Add sparkle to your tree with this personalized jeweled ornament. Personalize with your favorite photo or monogram.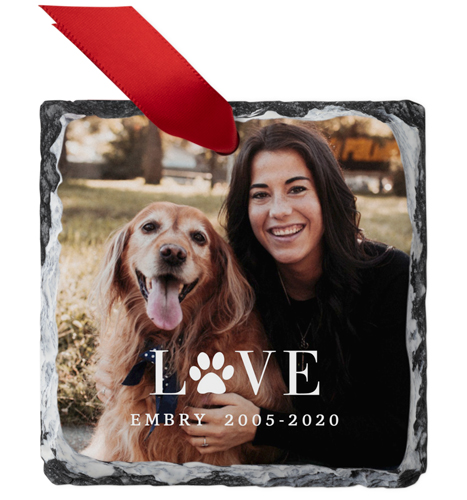 Love Paw Slate Ornament by Shutterfly. This elegant personalized slate ornament will be a one-of-a-kind addition to any tree. Made of natural stone, no two ornaments will be exactly alike. Available in round or square, the ornaments are personalized edge-to-edge ...