What customers have to say about our Ornaments
January 27, 2019
Going to be a great gift!
"It's great. My niece and family are going to love this. Going to give it to them for Christmas 2019."
January 27, 2019
Love Making Personalized Items
"I love making personalized items for my family and friends. And they love getting them."
January 27, 2019
I buy these every year.
"Each Christmas, I use a holiday picture and make one of these ornaments. Each one I have gotten over the past 5 years has been great quality. I look forward to ordering and receiving mine each year."
January 26, 2019
Ornamental Memories
"Shutterfly strives to make beautiful memories into tangible items that we will not forget!"
January 26, 2019
Looks great
"Gift to daughter and her family"
The Perfect Ornament for Every Member of Your Family
You may have heard it said that the very best gifts are those you make yourself. We here at Shutterfly believe that there is a lot of wisdom in this saying, and we want to help people create wonderful gifts with the help of our great selection of customizable holiday gifts and our design studio.
You can make a circle ornament featuring formal portraits, candid snapshots, or special Christmas photos. We offer a variety of appealing designs and optional features to make creating the perfect personalized gift fast, simple, and fun.
Ornaments and other decorations make wonderful presents for everyone on your holiday shopping list. In fact, many families have a tradition of sending photo ornaments to grandma and grandpa as well as to other relatives who might live far away. Expertly printed photos capture the beauty of every image you choose; we are completely confident that you will enjoy the quality of each customized gift you order from us. Shutterfly stands behind a 100 percent happiness guarantee. If you ever have any concerns with your order, our help team will do everything they can to make it right.
A Year-Round Memento
Many lovely ornaments are best suited just for the holidays; snowflakes, snowmen, and seasonal greenery like holly might look a little out of place in the middle of summer. However, a beautiful circle ornament will never stick out for the wrong reasons. The glass or ceramic circle can be displayed in many ways, such as:
Hung on the wall
Displayed in a workplace cubicle
Securely tacked on a dorm room bulletin board
Hung from a stable trinket tree
Displayed in a china cabinet
This year-round aesthetic is especially nice for people who want to enjoy their family's portraits during every season. Distant relatives and elderly family members who may not be able to travel frequently will certainly treasure gifts that share the smiling faces of grandchildren, nieces, and nephews.
Each circle ornament comes with a hanger already in place, which makes display quick and simple. The lucky people who receive a customized photo ornament from your family can display their gift right away.
Adding Custom Features to Your New Circle Ornament
Every heart, cube, or circle ornament can be a work of art thanks to the great design choices made possible by the Shutterfly online design studio. We make it easy to upload your photos; our studio is compatible with major photo file formats. Select your image and make any adjustments to the placement that you wish; some ornaments allow the creation of a photo montage and offer places for multiple photos. After placing your order, your new personalized ornament can be shipped quickly with either the super rush or the next day option.
Related Products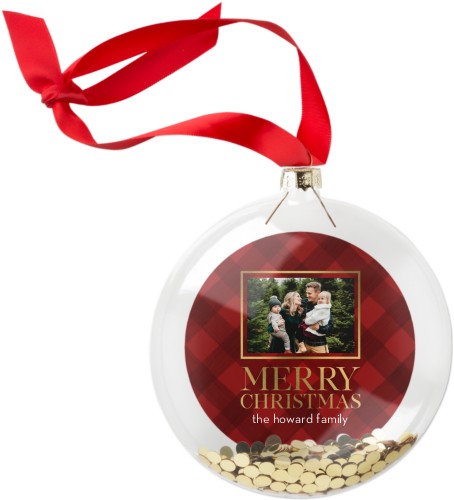 Classic Plaid Merry Glitter Ornament by Shutterfly. Trim the tree with a touch of sparkle! Personalize a glitter ornament with a favorite photo or message as a special addition to your tree or for a truly memorable gift.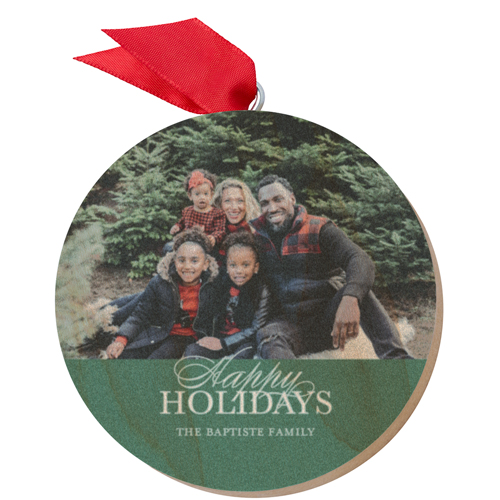 Happy Holiday Script Wooden Ornament by Shutterfly. Add a rustic vibe to your Christmas tree or holiday hearth with our elegant wooden ornament. Available in square and circle shapes with front photo space on both.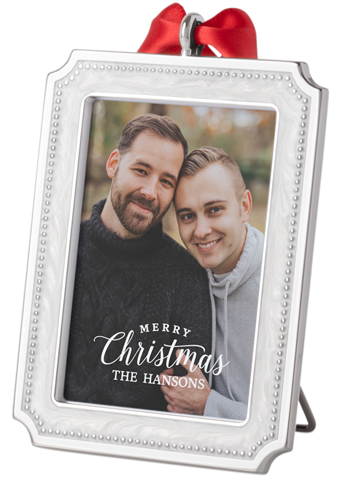 Merry Christmas Gallery Picture Frame Ornament by Shutterfly. Add a favorite photo to your Christmas tree with an elegant ornament you'll enjoy year after year. The metal frame holds one photo print, and features a ribbon for hanging and an easel stand ...