All About Sports iPhone Case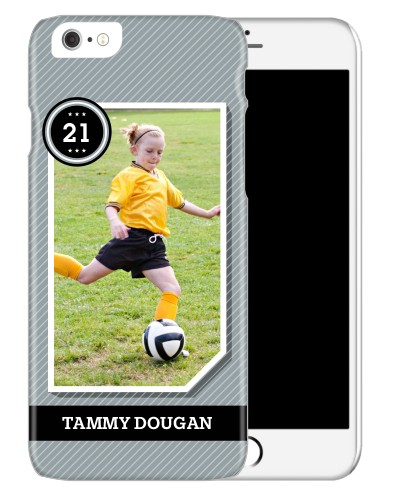 Make an iPhone case that's unmistakably yours. This case is slim and lightweight for easy portability. Choose from a range of designs and layouts, and personalize with photos, your name and even a monogram.
Product Details
Fits the iPhone 6 with 4.7" screen
Slim, lightweight case
Made of tough polycarbonate plastic
No need to remove the case while charging your phone with most chargers
Choose a matte or glossy finish
Choose phone:

iPhone
6 Plus

iPhone
6

iPhone
5/5s/SE

iPhone
5c
Custom Color Palette
Click Personalize and choose your colors for this design.
Note:
Gift box option available
Phone Case pricing
Item
Price
iPhone 6 Plus Slim Case (Glossy)
$44.99
iPhone 6 Plus Slim Case (Matte)
$44.99
Phone Case pricing
Item
Price
iPhone 5c Slim Case (Glossy)
$44.99
iPhone 5c Case with liner (Glossy)
$54.99
Phone Case pricing
Item
Price
iPhone 5/5s/SE Slim case (Glossy)
$44.99
iPhone 5/5s/SE Slim case (Matte)
$44.99
iPhone 5/5s/SE Case with liner (Glossy)
$54.99
iPhone 5/5s/SE Case with liner (Matte)
$54.99
Phone Case pricing
Item
Price
iPhone 6 Slim Case (Glossy)
$44.99
iPhone 6 Slim Case (Matte)
$44.99
iPhone 6 Case with Silicone Liner (Glossy)
$54.99
iPhone 6 Case with Silicone Liner (Matte)
$54.99