Flat Glass Prints | Glass Photo Prints
What customers have to say about our Glass Prints
January 25, 2019
A great gift!
"My boyfriend said it was one if the nicest gifts he ever received. The quality is exceptional!"
January 23, 2019
an excellent gift item
"Take any picture and convert it to a glass picture. Quality is excellent! Shipping is high unless you are buying over $39 or $49 of merchandise, however. This is a perfect gift for the hard to buy for person - you must have a nice picture somewhere you can use!"
January 22, 2019
Great gift!
"I purchased these on more than once occasion as thank you gifts. The 7*7 picture works great with photos from your phone. Anything larger requires a higher resolution depending upon your photo layout. I would definitely purchase this item again."
January 21, 2019
Beautiful curved glass
"I am always impressed by how wonderful things turn out. Great place for family keepsakes for generations"
January 20, 2019
Curved Glass Print
"This was my third time uploading a photo onto curved glass as gift; perfect gift for friends to capture that special moment/event we participated in. Shutterfly makes it easy and it's very affordable."
Custom Flat Glass Prints
Whether you are looking to showcase one stunning photo or create an elegant collage of your favorite photos, Shutterfly's custom flat glass prints will transform your beloved pictures into beautiful, modern pieces of art. These personalized flat glass picture prints are perfect for displaying favorite photos from a special occasion such as a wedding, anniversary or milestone birthday.
Make your fondest photos stand out when you display them in our custom flat glass picture prints. They'll be sure to add style, warmth and personality to any room.
Designing Custom Flat Glass Prints
Shutterfly makes turning your photos into beautiful, flat glass prints a convenient and fun process. Simply upload your images to your template of choice and then use the picture print design assistant to arrange your photos in a stylish way to create a flat glass print that matches your home décor and personal style. When you're finished designing your custom flat glass print, you'll have a stunning, high-quality piece of home décor that you'll be proud to display in your home or give as a gift to a loved one.
Gift a Flat Glass Photo Print for Any Occasion
Custom picture prints on glass make beautiful gifts for friends and family members. From newlyweds and spouses to parents and grandparents to siblings and friends, an elegant custom flat glass print is a gift that your loved ones will be delighted to receive. For wedding and engagement gifts, you can turn beautiful engagement photographs or wedding pictures into elegant flat glass picture prints, which make excellent gifts for parents and grandparents alike. Custom flat glass prints also make great wedding gifts for the newlyweds – pair it with a personalized congratulations card and add a thoughtful, personalized message. You can also create flat glass prints with your favorite pictures of your kids and the whole family to make sentimental holiday picture print gifts that grandparents will cherish. There are so many ways to design personalized flat glass prints, making them a great gift option for anyone for any occasion! Design even more eye-catching home and wall décor pieces with our custom canvas prints, metal prints, personalized framed prints, photo tiles and other personalized wall art.
Related Products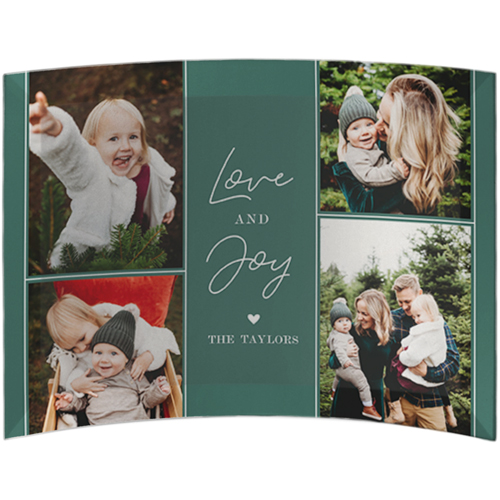 Banded Love and Joy Curved Glass Print by Shutterfly. Show off your favorite photos in stunning, luminous, freestanding curved glass.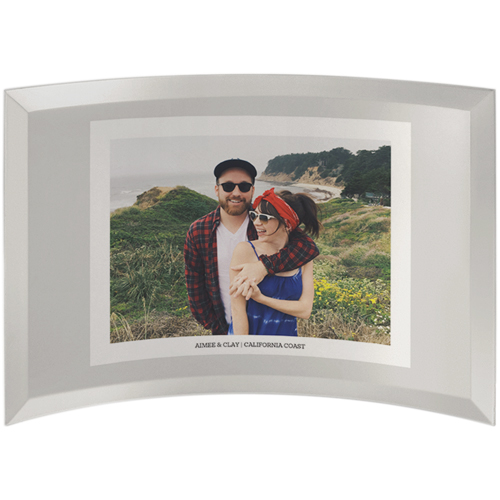 Border Memento Curved Glass Print by Shutterfly. Show off your favorite photos in stunning, luminous, freestanding curved glass.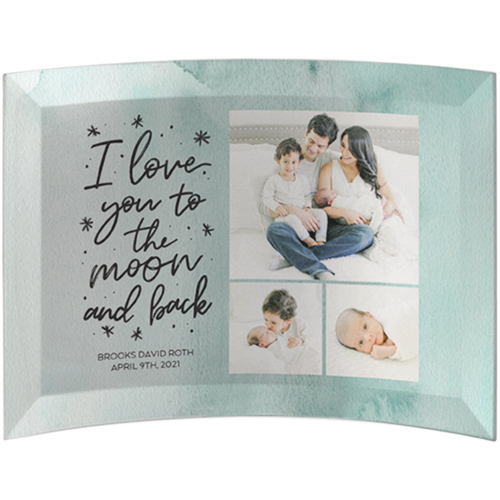 Love You to the Moon Watercolor Curved Glass Print by Shutterfly. Show off your favorite photos in stunning, luminous, freestanding curved glass.