Memory Games
What customers have to say about our Memory Games
January 17, 2019
Great for sharing Family History!
"These matching "memory" cards are a good quality, and a good size. I also liked having some choice over the design of the "back side". It took quite a while to set up (load and label the photos), but I liked being able to choose the ribbon design to type in the name of the ancestor whose photo was on the card. I plan to use them with our grandchildren at a family reunion coming up to help them become familiar with the names and faces of some of their ancestors. I got two sets of 12 pairs -- one set for each of 2 family lines."
January 15, 2019
Fun game
"It was so easy to drop pictures in the templates to make these cards for the game. I bought this for my granddaughter to match animals or family pictures. I received this in about a week!"
January 14, 2019
Memory Games are great for all ages!
"I have made quite a few of these. One was of all the young cousins, so they could play and remember their cousins who live far away, another was for my mother of all her grandchildren so she could play a solitaire game of her grandchildren, another was for my young grand-nephew of all the places he has visited, and the last one if for my son and his fiancée of different places they have visited. It a great conversation starter and a way to remember all their great adventures."
January 12, 2019
Very sturdy my great grandkids will love them.
"Very pretty will last for years"
January 7, 2019
Game Night Favorite
"Sturdy game with vivid pictures. One of our favorite games to play during family game night!"
Make Learning Fun with Memory Games
Sometimes, finding the perfect gift for young children can be quite a puzzle. They are constantly growing, so picking out clothes that will fit them (for long) can be challenging. Often, little ones have more toys then they really need—or you can't even be sure which ones they already have. Games are a great option, especially for kiddos with siblings or active social lives. Educational games don't have to be boring and a memory game is a unique gift to help them play and learn.
The Benefits of a Memory Game
A memory game is a great way to help someone build skills and memory. These games are good for children of any age, whether it is your favorite little one or your favorite game-loving adult with an eternal child inside. Memories help young brains make connections and help older ones stay sharp. They make for fun games on rainy days and can be played by children of all ages.
Personalized Games for Kids & Adults
If there is a game lover in your life, Shutterfly has you covered this gift-giving season. For the 52-card loving aficionado, Shutterfly can help you make your very own deck of personalized playing cards. You can also turn your favorite photograph into a customized puzzle. Simply upload your favorite photograph and Shutterfly will print, cut and mail you back a puzzle the whole family can enjoy. Puzzles and other custom games are guaranteed to bring family game night to a whole new level. While you are creating fun games for rainy days, don't forget about the hot cocoa. A custom photo mug is the perfect addition to any rainy-day game session.
Celebrate the Child Inside of All of Us
Just because we are getting older doesn't mean our gifts have to be boring. Shutterfly has hundreds of unique presents for all occasions that can help inject a little personality into gift-giving. Whether you are stumped on what type of game to give the kiddos, or how to help your favorite newlyweds celebrate their nuptials, Shutterfly can help you find, customize and create a present to match the personalities of all of your favorite people.
Related Products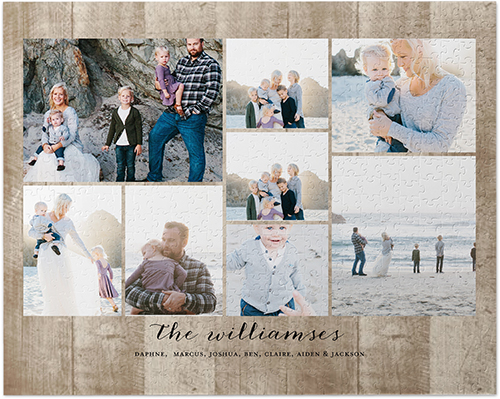 Gallery Collage of Eight Puzzle. It's easy to create a gift from the heart. Make a personalized photo puzzle, and your loved one can enjoy the memory again and again. A matching photo box stores your 60-piece or 252-piece puzzle. ...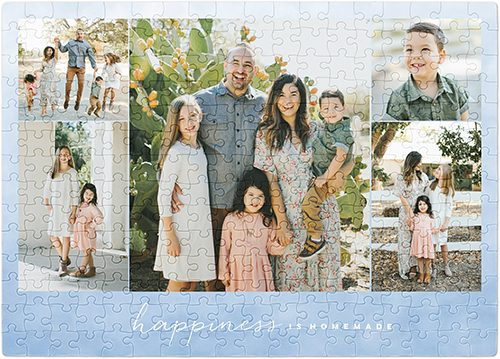 Hero Gallery Collage of Five Puzzle. It's easy to create a gift from the heart. Make a personalized photo puzzle, and your loved one can enjoy the memory again and again. A matching photo box stores your 60-piece or 252-piece ...