What customers have to say about our Luggage Tags
January 26, 2019
Sturdy and Cute
"I was expecting a standard plastic tag. This is metal based with a good weight. Definitely should hold up with travel."
January 23, 2019
Awesome!
"I bought my granddaughter her first piece of "real" luggage and attached this customized luggage tag. I chose"LOVE" on the front, as was pictured on the site, but her name, or some other personalized word would have been cute too. A close up of her sweet face and her own name and address on the back made her feel so grown up. She LOVES the tag and I would suggest ordering it for anyone. It's awesome!"
"Very nice and attractive for our new luggage!!"
January 22, 2019
Luggage Tag
"these are great quality. They seem to be metal so I think they will hold up well"
January 22, 2019
Really nice
"good quality"
Luggage Tags for Kids
Luggage tags make it easy to ensure your child's luggage won't get lost while traveling. Personalized luggage tags from Shutterfly add style and fun to a unique tag your child is sure to recognize! Upload pictures, your family name or choose a classy monogram with your child's initials. With a lot of exciting graphics to choose from, creating a luggage tag to match your child's interests and hobbies is easier than ever – saving you time so you can focus on planning your next amazing trip!
Simply Ways to Customize Your Child's Luggage Tag
You won't spend a lot of time customizing your child's new luggage tag. Simply upload your images, then choose from Shutterfly's many colors, patterns or graphics. Finish it off by adding your contact information and voila, you have a one-of-kind tag your child will love!
All Shutterfly luggage tags come with a stylish, black buckle strap so they can easily attach your tags to your suitcases. Plus, Shutterfly's luggage tags are metal, so they will last through all your adventures. Some of Shutterfly's customization options include:
Graphics: Select images that reflect your child's interests like anchors, mountains or for the little pirate, a skull and cross bones. Or choose a Disney themed luggage tag featuring some of Disney's most popular characters including, Mickey and Minnie Mouse, Woody, Buzz Lightyear, Lightning McQueen, Elsa, Cinderella and more!
Patterns and Texture: A bright and colorful luggage tag is a great way to see that your child will never misplace it! With bold stripes in shades of blues, greens, oranges and pinks or tags covered in lots of X's and O's, these tags add an easily identifiable and easy to find tag for any piece of luggage.
Pictures: Personalized pictures are an awesome way to really make the luggage tag unique. Have more than one picture you want to add? Shutterfly offers tags that can hold multiple pictures so you won't have to choose between your favorites.
Text: Outside of the necessary contact information on the luggage tag, Shutterfly allows you to add other kinds of messages on the front of it. These messages can range from silly like, "Don't quit your daydream," to encouraging such as, "She who dares, wins," to important medical information others need to know about your child, "Allergic to peanuts."
Shutterfly's personalized luggage tags come in two sizes: small (2x3.5") and large (2.5x4.375"). When you have completed your personalized luggage tag consider some of our other personalized travel items for kids such as overnight bags, toiletry bags, and backpacks.
Related Products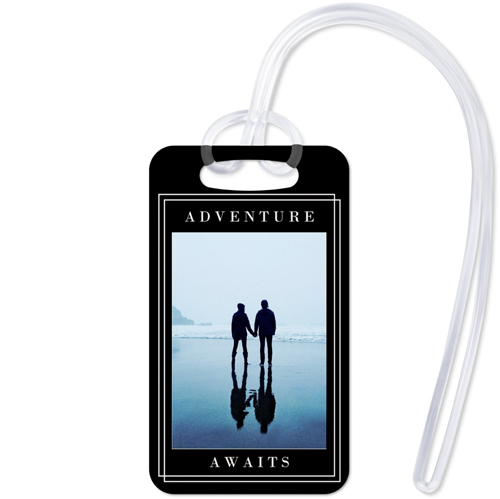 Adventure Awaits Borders Luggage Tag by Shutterfly. Spice up your travel with a fun suitcase luggage tag, personalized with favorite photos, designs and more. Plus, add your contact info so you never lose a bag again.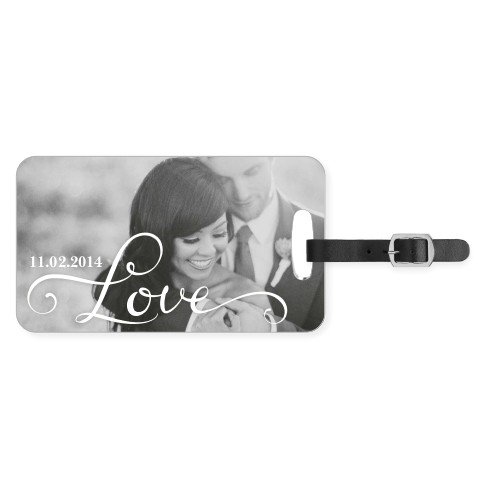 Hand-Lettered Love Luggage Tag by Shutterfly. Customizeda luggage tags with photos, contact info, and design to make travel easy. Order online now!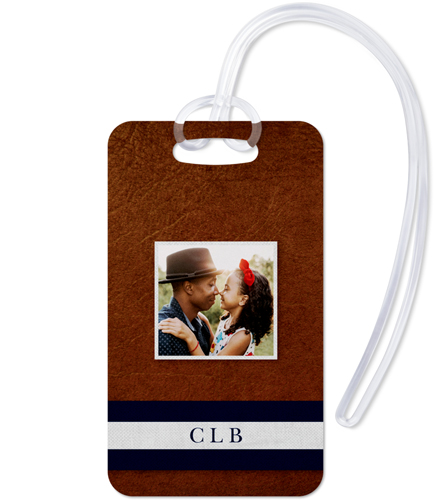 Initial Stripe Banner Luggage Tag by Shutterfly. Spice up your travel with a fun suitcase luggage tag, personalized with favorite photos, designs and more. Plus, add your contact info so you never lose a bag again.