What customers have to say about our Ornaments
January 27, 2019
Going to be a great gift!
"It's great. My niece and family are going to love this. Going to give it to them for Christmas 2019."
January 27, 2019
Love Making Personalized Items
"I love making personalized items for my family and friends. And they love getting them."
January 27, 2019
I buy these every year.
"Each Christmas, I use a holiday picture and make one of these ornaments. Each one I have gotten over the past 5 years has been great quality. I look forward to ordering and receiving mine each year."
January 26, 2019
Ornamental Memories
"Shutterfly strives to make beautiful memories into tangible items that we will not forget!"
January 26, 2019
Looks great
"Gift to daughter and her family"
Create Personalized Christmas Ornaments
This Christmas, make cookie-cutter tree ornaments a thing of the past. Thanks to Shutterfly, you can turn all of your favorite photographs into custom ornaments for a tree that will brightly shine. Get your house ready for the holidays with personalized Christmas ornaments that you can enjoy for years to come. Or, give a personalized ornament to everyone on your list as a thoughtful and unique gift or stocking stuffer. As the years go by, your family members, friends, and loved ones will cherish the memories and history these photo ornaments pass down.
How to Design a Custom Christmas Ornament
Shutterfly has everything you need to decorate your tree in style. No matter what size, shape, or material you desire, Shutterfly has the perfect Christmas ornament for you. Perhaps your tree wants to dazzle with glass ornaments or shimmer with metal snowflake ornaments. For the rustic enthusiasts, there are beautiful wood options, and if you like a little heft, the pewter will accent your tree to perfection.
Once you select the material for your personalized Christmas ornaments, you can play with size, shape, how many photos you want to use, the color of accents, and custom text. Shutterfly will guide you through the whole creation process with the easy-to-use design assistant. In the same way that snowflakes are different, you really can customize each ornament to match your unique personality. Make one Christmas ornament to celebrate one special memory or make a whole set to truly showcase your favorite photos. Your ornaments will ship directly to your door, ready to be hung on the tree.
Personalized Christmas Ornaments Make Great Gifts
Grandma and Grandpa might already have everything they need, but an ornament with your little one's shining face will warm their hearts. Show your children's teachers how much you appreciate their hard work with a beautiful ornament featuring a photograph of the whole class. Custom ornaments are a thoughtful way to bring a little bit of extra joy to the holiday season.
Celebrate the most extraordinary people and memories in your life with one-of-a-kind personalized gifts. Shutterfly's personalized ornaments make incredible gifts for the people closest to you. They're perfect for commemorating important milestones like weddings, new babies, and a new home.
No matter if you have a tiny little Charlie Brown style tree or a fir or pine with massive branches, Shutterfly is here to help you trim your tree in personalized style. Whip up some hot chocolate, gather the family and get ready to put all the fixings on the tree. This Christmas, you can share your love and favorite memories in the form of one-of-a-kind ornaments and personalized Christmas gifts.
Personalized Ornament Styles and Ideas
Make a personalized ornament for any occasion with Shutterfly. From baby's first Christmas ornaments to adorable pet ornaments featuring your cat or dog's name, there's a Christmas ornament that matches your style and interests. Customize wedding ornaments to celebrate newlyweds or an anniversary or memorial ornaments to honor a loved one who has passed. Choose from a wide assortment of unique designs, shapes, and themes to make personalized Christmas ornaments that are loved, cherished, and enjoyed each year.
Related Products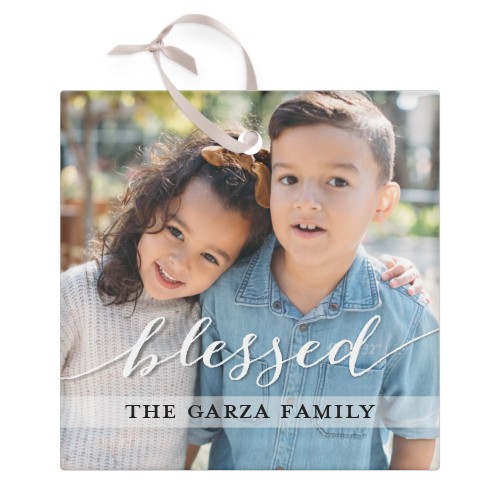 Elegantly Scripted Square Glass Ornament by Shutterfly. Clearly, this beautiful reflective glass is a new way to decorate the tree and home. Create now!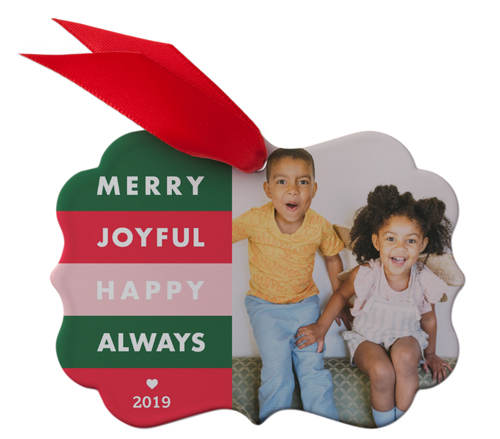 Merry Joyful Happy Always Metal Ornament by Shutterfly. Trim the tree with a deco-style ornament personalized with the photos you love.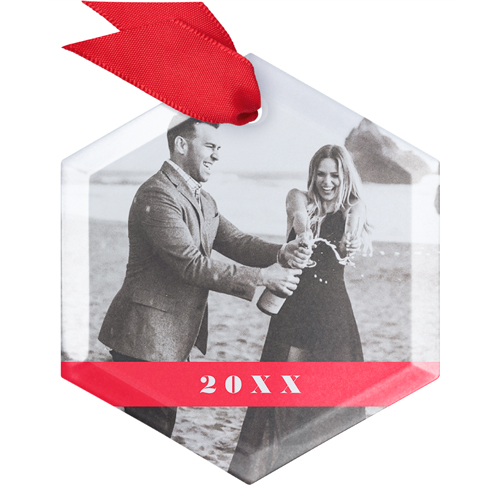 Shining Year Hexagon Glass Ornament by Shutterfly. Clearly, this beautiful reflective glass is a new way to decorate the tree and home. Create now!