Pet Bowls
What customers have to say about our Pet Bowls
November 13, 2018
cat food bowl
"Loved the bowl. It was tiny enough that my cat went to eat in it right away. I realized the other bowls I had been feeding her with were too big. Thank you!!!!!!!! Janice"
"Bought two of these and they are so nice! The quality is exceptional and I love how they turned out. Another great product from Shutterfly!"
August 22, 2018
Shiny and Solid Standout
"I love the look and feel of this bowl. It is great quality ceramic. The finish is sleek and my graphics look beautiful. We are using it as a prize at an animal shelter event paired with a pet place mat. Everyone is impressed with how nice it looks."
March 28, 2018
I have been talking about this for weeks
"This bowl is awesome. I got the larger size and boy did I get big! I was surprised how big it came! Usually personalized items are too big. Anyways, I am very happy with the design, color and especially the quality!"
March 13, 2018
Great item
"It was perfect size for my pet."
Create a Custom Pet Bowl
Create personalized dog bowls and cat bowls that look great and offer the perfect size for your furry friends to enjoy their treats and food. Shutterfly's 39 oz. customized dog bowls include fun designs and enough space for your dog's name or a funny quote or message. For a cute cat bowl, you can customize a smaller 9 oz. bowl that also includes a design, name, and message. Your pets will have a high quality, durable bowl, and you'll get something unique to add to your kitchen or living space.
Designing Custom Pet Bowls
Shutterfly makes it easier than ever to create custom products for gifts, and also to decorate your home and office. Naturally, it should be no different for your pets. Whether you want a fun, playful food and water set, or you prefer to match your home décor, it's easy to personalize a bowl. Shutterfly has 15 different design options including the possibility to create your own 100 percent unique design. You can choose one of the fun templates, upload your own photo (or photos) or choose from Shutterfly's art library. There are two different size options in 39 oz bowls or 9 oz bowls - choose the larger size as a dog food bowl and the smaller size as a water dish, or use the smaller size for a personalized cat bowl. You can pick porcelain white ocean aqua for the interior color of your pet bowl, so the inside looks great too even when it's cleaned out. Personalized pet bowls make great gifts for both cat and dog lovers. Give the pet owner in your life a custom set for a birthday, Christmas present or another holiday. They will be cheerfully reminded of your thoughtful gift each day when they feed their beloved pet.
Ideas for Cat Bowls & Dog Bowls
Your dog food bowls and cat bowls are unique dishes because they're usually always out. Even if your pets can't truly appreciate great design, creating personalized pet dishes will make your kitchen look more stylish and put together. Some great ideas for custom dog bowls include a dog bone background with the dog's name front and center. You can also choose dog illustrations that are both fun and modern. For personalized cat bowls, choose a stylish watercolor background or a heart design. Shutterfly's dog dishes and cat bowls are high quality, so you'll enjoy the beautiful designs and your pets will enjoy a great eating experience.
Shop More Personalized Pet Accessories
Why stop with a bowl? Give those bowls a place at the table (or rather, on the floor). Shutterfly has more than 10 different customizable pet placemat options. You can upload a picture of Fido's face or match your bowls to one of Shutterfly's designs. Did you know pets want to feel pretty, too? A custom pet tag is a great alternative to those normal, everyday tags you typically see on pets. You can upload your favorite photograph and customize the text. If you have a little buddy who likes to get out occasionally, a custom tag will help them find their way back to you. You should not have to outfit your pet with standard or basic pet products. Shutterfly is here to help you design creative and custom pet products that both you and the furry one will love. While your pet might not even notice what all the pampering is about, you'll definitely love how Fluffy looks with their custom pet bowl set, personalized placemat and one-of-a-kind pet tag.
Related Products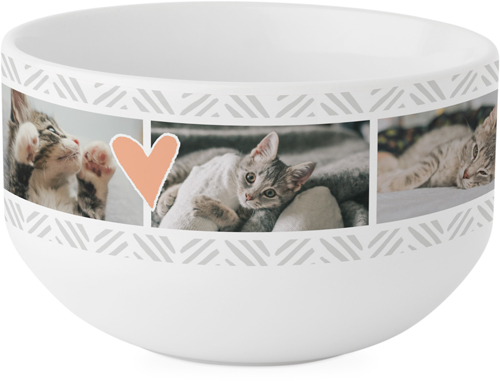 Playful Organic Chevron Pet Ceramic Bowl by Shutterfly. Indulge in your favorite soup with a ceramic bowl personalized with unique designs, favorite photos or a custom message. Great for cereal, soup, dessert and more. Perfect for gifting too.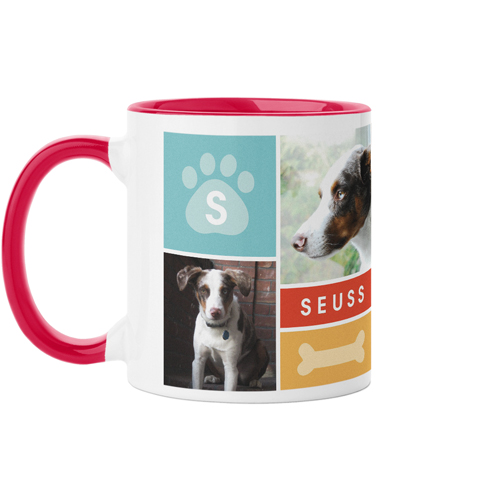 Colorful Pet Collage Mug by Shutterfly. Make a unique mug for yourself or someone else with your favorite photos in a stylish, exclusive design. Specifically crafted to contain hot beverages.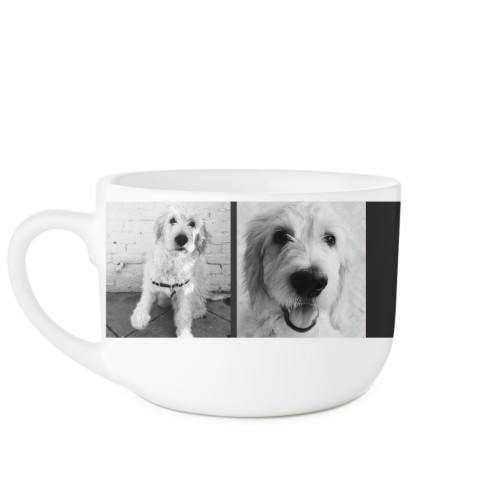 Pet Collage of Four Latte Mug by Shutterfly. Indulge in an extra-large cup of your favorite coffee or tea with a latte mug personalized with unique designs, favorite photos or a custom message. Great for cereal, soup, dessert and more. ...