Mom Love Is All You Need Mug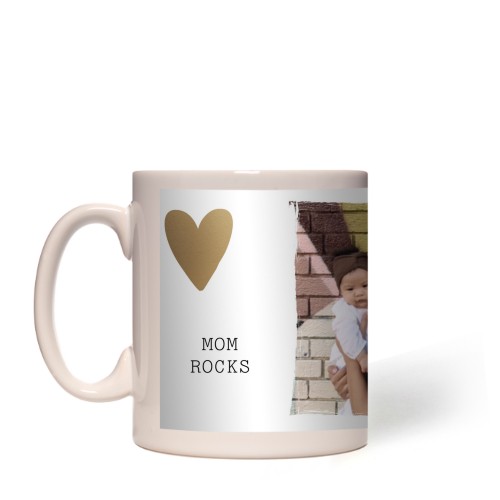 Mom Love Is All You Need Mug
Indulge the chocolate lover with a photo mug filled with premium Ghirardelli chocolates. Personalize a mug for yourself or someone special with your favorite photos in a stylish, exclusive design that's specifically designed for hot beverages. Chocolates arrive wrapped in a gift bag tucked inside the mug.
Product Details
Hand wash only. Not microwave or dishwasher safe
Made for hot beverages
Chocolate Count: 8pcs (Net Weight 3.93oz)
Mini Chocolate Count: 8pcs (Net Weight 2oz)
Hot Cocoa Count: 2 (Net Weight 1.7oz)
Chocolate May Contain: Soy, Milk, Tree Nuts. See individual package labeling for additional information
Custom Color Palette
Click Personalize and choose your colors for this design.
Choose mug size (oz):


Choose Ghirardelli gift add-on:

Assorted
Squares
Premium
Hot Cocoa

Peppermint
Bark

None
Photos:
For 0 to 5 photos
Note:
Gift box option available
20% off
Until December 19
Ceramic Mug pricing
Set
Price
Ceramic Mug (11 oz) - Gold Metallic (Love is All)

$18.99




$15.19

Ceramic Mug (15 oz) - Gold Metallic (Love is All)

$21.99




$17.59

Assorted Squares

$7.99




$6.39

Premium Hot Cocoa

$7.99




$6.39

Peppermint Bark

$7.99




$6.39
20% off
Until December 19
Ceramic Mug pricing
Set
Price
Ceramic Mug (11 oz) - Gold Metallic (Love is All)

$18.99




$15.19

Ceramic Mug (15 oz) - Gold Metallic (Love is All)

$21.99




$17.59

Assorted Squares

$7.99




$6.39

Premium Hot Cocoa

$7.99




$6.39

Peppermint Bark

$7.99




$6.39
20% off
Until December 19
Ceramic Mug pricing
Set
Price
Ceramic Mug (11 oz) - Gold Metallic (Love is All)

$18.99




$15.19

Ceramic Mug (15 oz) - Gold Metallic (Love is All)

$21.99




$17.59

Assorted Squares

$7.99




$6.39

Premium Hot Cocoa

$7.99




$6.39

Peppermint Bark

$7.99




$6.39
20% off
Until December 19
Ceramic Mug pricing
Set
Price
Ceramic Mug (11 oz) - Gold Metallic (Love is All)

$18.99




$15.19

Ceramic Mug (15 oz) - Gold Metallic (Love is All)

$21.99




$17.59

Assorted Squares

$7.99




$6.39

Premium Hot Cocoa

$7.99




$6.39

Peppermint Bark

$7.99




$6.39
20% off
Until December 19
Ceramic Mug pricing
Set
Price
Ceramic Mug (11 oz) - Gold Metallic (Love is All)

$18.99




$15.19

Ceramic Mug (15 oz) - Gold Metallic (Love is All)

$21.99




$17.59

Assorted Squares

$7.99




$6.39

Premium Hot Cocoa

$7.99




$6.39

Peppermint Bark

$7.99




$6.39
20% off
Until December 19
Ceramic Mug pricing
Set
Price
Ceramic Mug (11 oz) - Gold Metallic (Love is All)

$18.99




$15.19

Ceramic Mug (15 oz) - Gold Metallic (Love is All)

$21.99




$17.59

Assorted Squares

$7.99




$6.39

Premium Hot Cocoa

$7.99




$6.39

Peppermint Bark

$7.99




$6.39
20% off
Until December 19
Ceramic Mug pricing
Set
Price
Ceramic Mug (11 oz) - Gold Metallic (Love is All)

$18.99




$15.19

Ceramic Mug (15 oz) - Gold Metallic (Love is All)

$21.99




$17.59

Assorted Squares

$7.99




$6.39

Premium Hot Cocoa

$7.99




$6.39

Peppermint Bark

$7.99




$6.39
20% off
Until December 19
Ceramic Mug pricing
Set
Price
Ceramic Mug (11 oz) - Gold Metallic (Love is All)

$18.99




$15.19

Ceramic Mug (15 oz) - Gold Metallic (Love is All)

$21.99




$17.59

Assorted Squares

$7.99




$6.39

Premium Hot Cocoa

$7.99




$6.39

Peppermint Bark

$7.99




$6.39
20% off
Until December 19
Ceramic Mug pricing
Set
Price
Ceramic Mug (11 oz) - Gold Metallic (Love is All)

$18.99




$15.19

Ceramic Mug (15 oz) - Gold Metallic (Love is All)

$21.99




$17.59

Assorted Squares

$7.99




$6.39

Premium Hot Cocoa

$7.99




$6.39

Peppermint Bark

$7.99




$6.39
20% off
Until December 19
Ceramic Mug pricing
Set
Price
Ceramic Mug (11 oz) - Gold Metallic (Love is All)

$18.99




$15.19

Ceramic Mug (15 oz) - Gold Metallic (Love is All)

$21.99




$17.59

Assorted Squares

$7.99




$6.39

Premium Hot Cocoa

$7.99




$6.39

Peppermint Bark

$7.99




$6.39