Mugs
What customers have to say about our Mugs
January 27, 2019
Wonder Gift
"I purchased 2 mugs with pictures of my granddaughter and her best friends. They opened at Christmas. They were both so surprised and happy. FUN GIFT!"
January 27, 2019
Love it!!
"Love my coffe mug"
January 26, 2019
Perfect thank you gift
"We made a large coffee featuring a photo of us wearing a hand knitted gift and sent it to the friend who knitted our nose warmers. Delivered to US in less than a week. Double the Facebook posts and fun."
"Love these mugs!"
January 26, 2019
Once again, I am satisfied with the quality
"The image was perfect on the mug. Job very well done"
Give Unique Gifts With Custom Mugs
Bring an extra smile to a loved one's day with a personalized photo mug. Christmas gifts, birthday gifts, sympathy gifts, anniversaries, Valentine's Day, Mother's Day gifts, or just because—no matter the occasion, you can't go wrong with giving someone a custom photo mug with a personal touch. Whether you're searching for something sweet to give a grandparent or need to knock your office gift exchange out of the park, a unique photo mug will always be a cherished personalized gift. With Shutterfly, you can make custom coffee mugs with your favorite photo, a unique design, or a special quote. From latte mugs to classic and color changing custom coffee mugs, you can create a unique personalized gift perfect for the special people in your life.
How to Make Your Own Personalized Mug
Personalized coffee mugs are the best way to show your style on something you use every day. No matter how you start your day, we can think of one thing that would make your mornings even better – a custom mug made perfect for you. Ditch that old, stained mug for something truly special: a personalized photo mug from Shutterfly. If you drink a lot of coffee and tea, you probably have a favorite mug you gravitate towards every day. A personalized coffee mug can be emotional, fun, and functional as well. Make your own custom photo mug with photos of your favorite memories or your initials. You can add photos, play with designs, add a monogram or a quote to your custom mugs to make them completely your own.
Photo Mug Designs and Styles
Customize mugs that are perfect for you or your recipient with Shutterfly. Choose from a vast collection of personalized coffee mugs that offer unique designs and sizes. Edit text, upload favorite photos, and choose your preferred colors to make custom coffee mugs that's truly your own. From photo collages to monograms to an option of uploading your own design, the possibilities are endless, and there's sure to be something for everyone searching for mugs. Whether you make a photo mug for the perfect gift for a loved one or as a functional keepsake for yourself, personalized mugs covered in your favorite photos are the perfect way to start the day.
Unique Photo Mug Ideas
Bring an extra smile to your day with a ceramic mug, stainless steel travel mug, or acrylic travel mug featuring photos of someone you love. Enjoy your tea with a custom mug in memory of your late grandma. Sip some coffee at your desk with a constant reminder of your children's smiles, a favorite vacation, or a family holiday from years past with a picture mug made with your favorite images. Nurse a cup of hot cocoa with your pet by your side—and on your personalized picture mug. No matter what you're drinking, the important thing is to sit back, relax, and enjoy your favorite beverage in your favorite custom mug or custom coffee cup. We also offer customized coasters to help keep your home surfaces protected from damage in a fun and personalized way. You can even customize more drinkware items like wine glasses, water bottles, travel tumblers, beer glasses, and more. For the best Shutterfly deals on custom mugs, check out our Special Offers page.
Related Products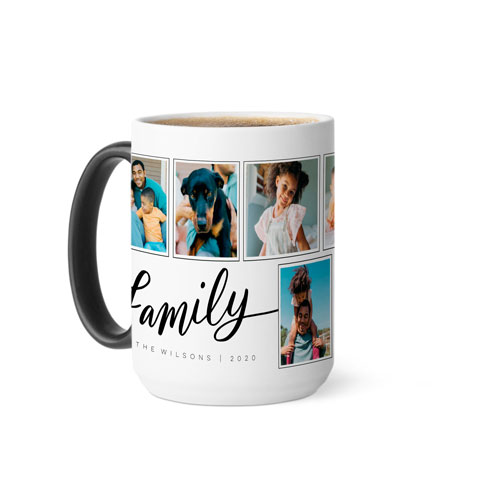 Script Family Collage Color Changing Mug by Shutterfly. Pour your hot beverage into this ceramic mug and watch your personalized image or message magically appear. This heat-sensitive mug changes color when hot and returns to matte black when cold.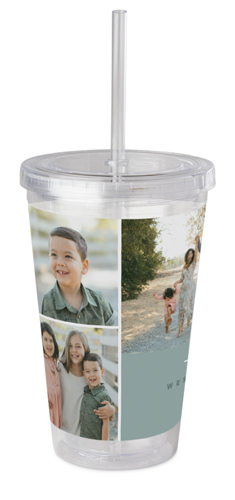 Monogram Text Gallery Acrylic Tumbler with Straw by Shutterfly. This 16 oz top-on tumbler keeps your drink chilled with its double wall insulation. Has a removable straw for convenient sipping.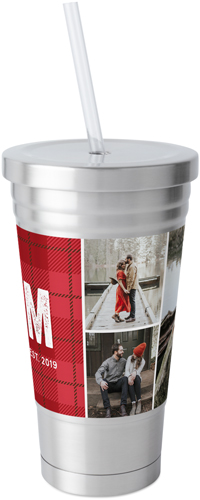 Plaid Monogram Collage Stainless Tumbler with Straw by Shutterfly. Express your style and keep drinks cool throughout the day with a fun personalized tumbler. Featuring double-wall insulation and a removable acrylic straw, you can customize with photos, quotes, a monogram ...