Love Infinity Outline Pillow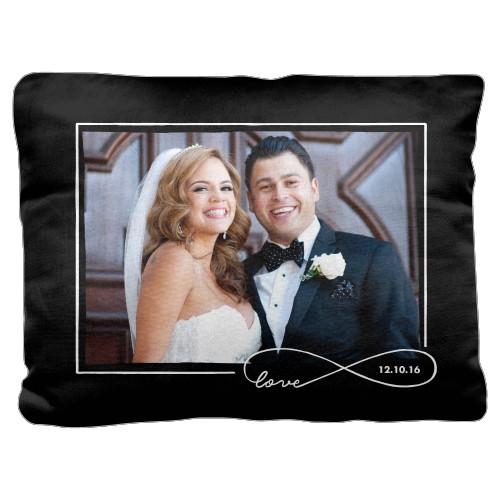 Love Infinity Outline 18x24 Pillow
Personalized pillows complement any space or make a memorable gift for someone you love. Customize with favorite photos, messages or monograms for a one-of-a-kind look.
Product Details
Features hidden zipper enclosure with a synthetic-filled insert included
Cotton weave features ivory or black backing
Plush pillow features ultra-soft front and back for ultimate comfort
Sherpa pillow features ultra-soft front and cozy Sherpa backing
Machine washable cover
Choose size:

12x16

16x16

18x18

18x24
Custom Color Palette
Click Personalize and choose your colors for this design.
Pillow pricing
Item
Price
Double-sided Indoor Pillow (12x16)
$39.99
Double-sided Indoor Pillow (16x16)
$44.99
Double-sided Indoor Pillow (18x18)
$54.99
Double-sided Indoor Pillow (18x24)
$64.99
Pillow pricing
Item
Price
Single-sided Indoor Pillow (12x16) - Black
$34.99
Single-sided Indoor Pillow (12x16) - Ivory
$34.99
Single-sided Indoor Pillow (16x16) - Ivory
$39.99
Single-sided Indoor Pillow (16x16) - Black
$39.99
Single-sided Indoor Pillow (18x18) - Ivory
$44.99
Single-sided Indoor Pillow (18x18) - Black
$44.99
Plush Pillow - 12x16
$44.99
Plush Pillow - 16x16
$49.99
Sherpa Pillow - 12x16
$54.99
Single-sided Indoor Pillow (18x24) - Black
$59.99
Single-sided Indoor Pillow (18x24) - Ivory
$59.99
Sherpa Pillow - 16x16
$59.99