What customers have to say about our Puzzles
January 26, 2019
Excellent gift!
"I designed a 500 piece puzzle for my daughter's 14th birthday. I had her text me a bunch of photos of her and her friends, and I made a collage. Where the single "monogram" letter was on the template I instead reduced the size and font until it said "FRIENDS 2018-19." She really liked it. Also, I bought a big, inexpensive black frame she can use to hang the puzzle in her room once she's put it together!"
January 26, 2019
Shutterfly is Awesome!!
"i have been using shutterfly for years now for various photo projects and can't say enough about how much i appreciate the company, products, and services. unless something goes very haywire, i plan to remain a customer for life! -matt, portland OR"
January 26, 2019
Fun For Families
"My grandson is learning how to put together puzzles. He enjoys seeing a picture of himself."
January 26, 2019
Fun puzzle
"Family likes puzzles and this is one of my pictures"
January 26, 2019
My Photo Puzzle
"I enjoyed putting my puzzle together. I love it. Wasn't too happy cause I also ordered 2 8x10 Photos it said I could get 3 free gifts & was Charged for the 2 photos."
Make Your Own Custom Puzzle From A Picture
Whether you're searching for a gift that's made with love or you like to bring family and friends together to solve a challenge, a personalized jigsaw puzzle ticks every gift-giving box. Unique, fun, and entertaining, you can choose your favorite memory and make it larger than life by creating a personalized gift that keeps giving year-round. Take the time to figure out how you want the custom photo puzzle to look in its final form and unleash your creativity with the design and layout of your pictures. Shutterfly's jigsaw puzzles for sale allow you to customize everything from size, color, material, and more.
Give the Gift of a Custom Jigsaw Puzzle
Perfect for Christmas, birthdays, anniversaries, Thanksgiving, and more, high-quality jigsaw puzzles are both interactive and collaborative. While friends and family members sit 'round the table enjoying each other's company, you can relish knowing you've created a gift that's memorable, enjoyable, and irreplaceable. Create small picture puzzles for kids or design more challenging adult puzzles. Choose from 500-piece puzzles, 1000-piece puzzles, and more to make sure they're as difficult or and as fun as you want. Seeing your custom puzzle put together with your favorite photos will bring a smile to your loved ones' faces as they put the pieces together.
How to Make Your Own Picture Puzzles
Make your own photo puzzle with one or multiple photos; choose an iconic color and theme that goes along with it. Consider making Christmas puzzles that you can give as gifts or select photos from your favorite vacations this year. Set your sights on an easy challenge with a 60 piece puzzle or an all-nighter with 252 and more. Made for the critical thinker in your life, a custom jigsaw puzzle isn't just a gift they'll use one time, but time and time again.
Photo Puzzles for Kids
If you're a puzzled gift-giver, fret no more. Fit for children over three, a personalized photo puzzle will keep them busy, keep them challenged, and keep them entertained. We offer a variety of free Art Library images that will fit your child's personality. Work with your little ones to make your own puzzle that they love. Customize your jigsaw puzzle with an enlarged image of a friendly dinosaur, a Disney princess, or their beloved furry friend to make a great gift for kids that will live on as a unique keepsake. There's no shortage of inspiration with our personalized puzzles, so be sure to let your creativity flow. For younger kids, you can also choose wooden jigsaw puzzles to make it easier for them to grab the pieces and find where they fit. Playing jigsaw puzzles with your kids can help them stay focused and have fun!
Photo Puzzles and Personalized Games for the Whole Family
Love the idea of making your own jigsaw puzzles for adults and kids? If so, our matching card game will test your memorization skills and help your kids develop a lasting appreciation for memory games. Be sure to check out our personalized playing cards as well if you're looking for a photo gift that'll keep family and friends entertained for hours.
Related Products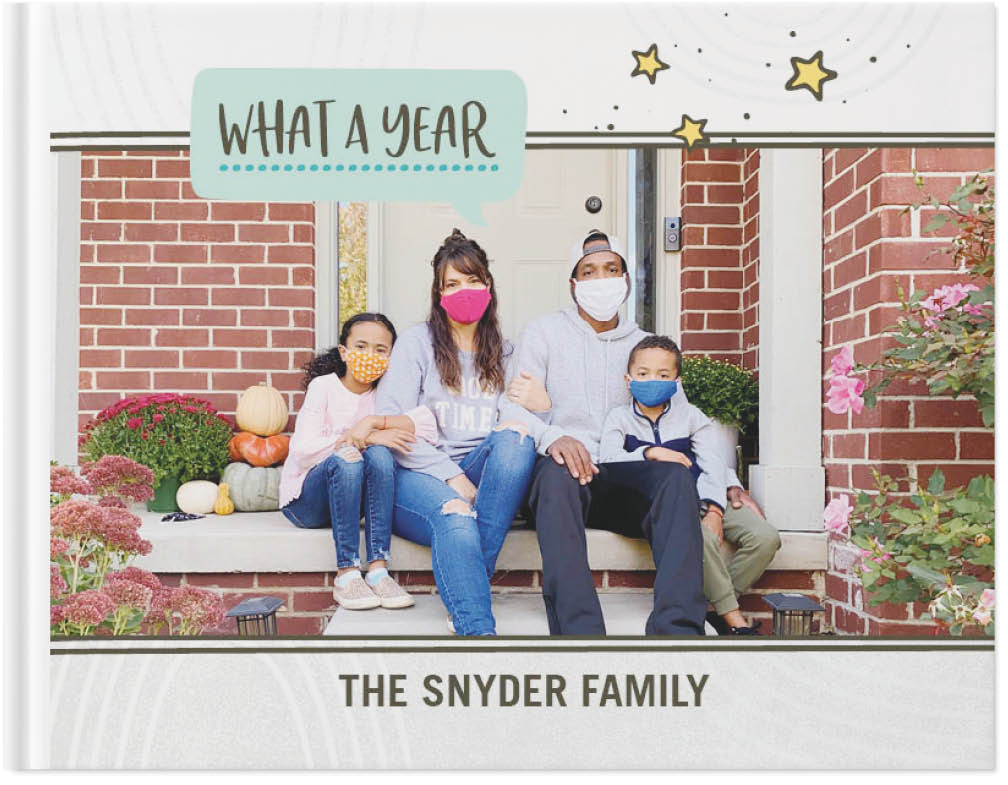 Document your 2020 with a custom photo book to remember it all. From bread baking and jigsaw puzzles to face masks and working from home, 2020 was the start of a new normal for everyone. Endless amounts of memories were ...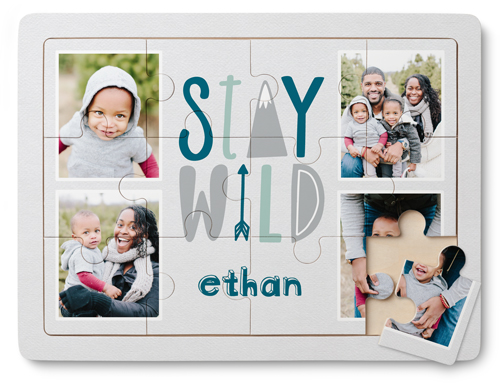 Adventure Stay Wild Toddler Puzzle by Shutterfly, Thick wooden pieces keep a toddler engaged with this fun 12-piece puzzle. Packaged in a wooden tray for easy assembly and convenient storage.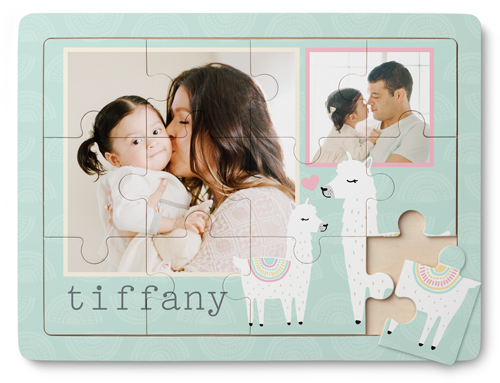 Desert Adventure Llama Toddler Puzzle by Shutterfly, Thick wooden pieces keep a toddler engaged with this fun 12-piece puzzle. Packaged in a wooden tray for easy assembly and convenient storage.