4 Photo Collage Poster Prints
What customers have to say about our Collage Poster Prints
January 8, 2019
Collage Poster
"I was expecting it to be flimsy like regular posters, but it's not! Its just a big piece of photo paper. Definitely something you shouldn't tape to the wall, it's worth getting a frame."
"i received the poster with a protective paper taped around it. photos came out nice. overall im happy with the product."
June 4, 2018
Absolutely LOVE this layout
"Beautiful quality and looks amazing in a gallery 16 x 20 frame. Plan to do several of these from family trips. I only wish there was a high count vertical one as well."
November 22, 2017
Beautiful Pet Memorial
"I have used the 11x14 to make Pet Memorials for 3 of my dogs that passed away. I picked the layout for one large picture and three smaller pictures. I was also able to add their names at the top and years they were born and passed at the bottom. All turned out just beautiful and look so nice in barnwood frames. I would like to suggest to Shutterfly to use a pet memorial as an example in their collage photos. I believe a lot of people would like to do the same thing for their pets. Thank you!"
Custom Photo Collage Posters
Custom photo collage posters and prints are a fun way to display your fondest memories and also make fabulous customizable gifts. Whether you're looking for a stylish gift for a college student to display in their dorm room, want to feature something stunning during a special celebration or need to fill some empty space in your home, Shutterfly's one-of-a-kind photo collage posters will bring joy - and plenty of smiles - to you and your loved ones.
Multiple Photo Collage Posters
The awesome thing about collage posters is that you don't have to choose just one image. Instead, you can select several of your favorite pictures to create a beautiful piece of art that showcases a variety of your most meaningful memories. With Shutterfly, you can choose from a variety of designs when creating your own photo collage poster or as a gift for a loved one.
Personalize Your Collage Poster
Turn your digital photos into wall art with a custom collage poster featuring four or more of your favorite photos. We offer a wide selection of layouts, styles and colors, enabling you to design the perfect collage for your space or to give as a customized gift to a loved one. Plus, our collage posters are printed on luxe archival-quality paper, keeping your posters looking stunning year after year.
Designing a landscape or portrait collage poster is easier than you may think. With Shutterfly's easy to use layouts and wide array of background and design options, you can create the perfect poster simply by uploading your favorite photos to our website. A few design possibilities include:
Adding up to 20 photos, depending on your layout choice.
Choosing a background showcasing your favorite color or a pattern that suits your personality and style.
Adding text such as your name, monogram, important dates or a favorite quote.
Uploading your own design to create a collage poster that features your unique artwork.
For further guidance on creating photo collage posters and custom wall art, be sure to check out How to Make a Photo Collage and The Ultimate Creative Guide to Wall Art.
Wall Art for the Home or Office
In addition to photo collage posters, Shutterfly offers a variety of elegant decor options for the home and office. Check out some of our other customizable wall art items, including metal prints and framed prints.
Related Products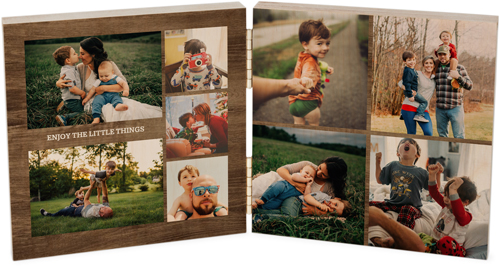 Gallery Collage of Nine Double Wooden Print by Shutterfly. This hinged frame will let you display two of your most cherished memories side by side. Perfect gift for a new couple or mom and dad.
Gallery Collage of Six Double Wooden Print by Shutterfly. This hinged frame will let you display two of your most cherished memories side by side. Perfect gift for a new couple or mom and dad.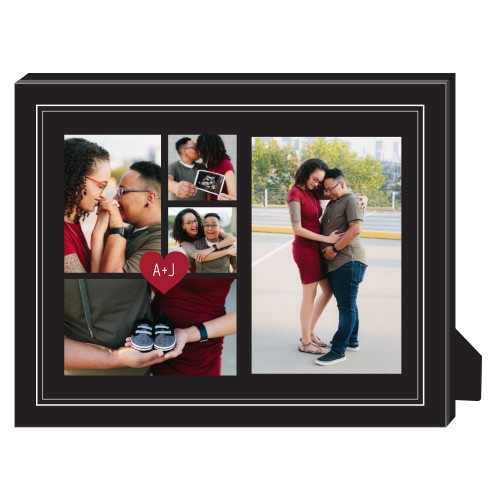 Heart Monogram Border Collage Personalized Frame by Shutterfly. "Choose from a range of printed designs","Includes keyhole hanging slots and an easel back for easy display","8x10 frame fits 4x6 print","Made with durable high-gloss hardboard"