8x8 Collage Poster Prints
What customers have to say about our Collage Poster Prints
January 8, 2019
Collage Poster
"I was expecting it to be flimsy like regular posters, but it's not! Its just a big piece of photo paper. Definitely something you shouldn't tape to the wall, it's worth getting a frame."
"i received the poster with a protective paper taped around it. photos came out nice. overall im happy with the product."
June 4, 2018
Absolutely LOVE this layout
"Beautiful quality and looks amazing in a gallery 16 x 20 frame. Plan to do several of these from family trips. I only wish there was a high count vertical one as well."
November 22, 2017
Beautiful Pet Memorial
"I have used the 11x14 to make Pet Memorials for 3 of my dogs that passed away. I picked the layout for one large picture and three smaller pictures. I was also able to add their names at the top and years they were born and passed at the bottom. All turned out just beautiful and look so nice in barnwood frames. I would like to suggest to Shutterfly to use a pet memorial as an example in their collage photos. I believe a lot of people would like to do the same thing for their pets. Thank you!"
8x8 COLLAGE POSTER PRINTS FOR ANY OCCASION
Photo collage posters and canvas prints are a great way for you to tell your story, your way. Preserve and highlight your favorite memories with a charming 8x8 collage poster from Shutterfly and take advantage of our special offers. Collage posters are the perfect way to display your favorite photos in one unique print. This unique way of showcasing several photos in one print makes for a unique piece of wall décor that is sure to be the focal point of any room. Whether you are planning a party, in need of a fun gift, moving into a dorm room or looking to pick up wall art to fill that empty space in your house, these one-of-a-kind keepsakes are sure to make you (and your loved ones) smile.
CAPTURE MEMORIES WITH CUSTOM 8x8 COLLAGE POSTER PRINTS
Celebrate family, seasons, birthday parties, anniversaries, graduations, funerals, weddings, vacation, class reunions, engagement parties, office parties, bon voyage parties… you get the picture. There are many reasons people get together. A wonderful way to showcase and reminisce about your lives together is with a customized 8x8 collage poster or collage canvas. Everyone will be able to come together and laugh, cry, smile and cherish all of those precious moments you choose to display. Our 8x8 photo collage posters also make great gifts as do our best selling photo books. Collage poster prints can also be used as a way to highlight change and development: a baby or puppy as they grow, plants as they bloom, the sun as it sets, a marathon runner, photo enlargements and so much more. Make photo collage prints online to highlight events like these as they progress over time. The best thing about personalized 8x8 photo collage posters is that you don't have to choose just one image—instead, use multiple pictures to create a beautiful collection of your favorite, most memorable photos and photo prints.
HOW TO MAKE 8x8 PHOTO COLLAGE POSTERS
To make a custom 8x8 collage poster, browse through Shutterfly's vast collection of templates and choose one that suits your style. You can create a small collage poster or a larger print that will be fantastic wall art in any room. Decide whether you want your photo paper to have a glossy or matte finish, and then determine how many pictures you want to feature in your photo collage. After you upload photos, you can then experiment with the collage poster's design — customizing everything from the background colors, the layout, the colors and fonts, and the custom text. The photo collage's orientation can be printed as a landscape or portrait collage print, so it can fit in any space and work with any style of photo you want to feature. When you're finished customizing your 8x8 photo collage poster, you'll have a high-quality piece of home décor on matte photo paper ready to hang at home, in your dorm room, or in an office. It makes a great photo gift.
Related Products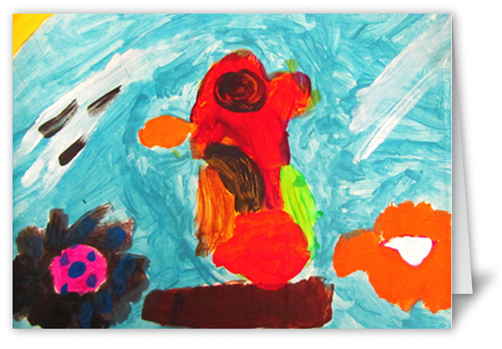 Show off your little Picasso's hard work with our kid's artwork folded cards! Turn your child's favorite drawings into 5x7 cards that can be used as birthday cards, holiday greetings, and much more! Design your cards today and get FREE ...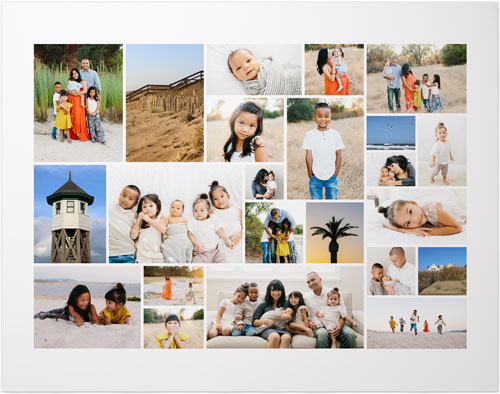 Gallery Collage of Twenty Three Premium Poster by Shutterfly. Posters are the most convenient way to bring art to your space. Pick your favorite images or quotes and print them on our premium matte posters.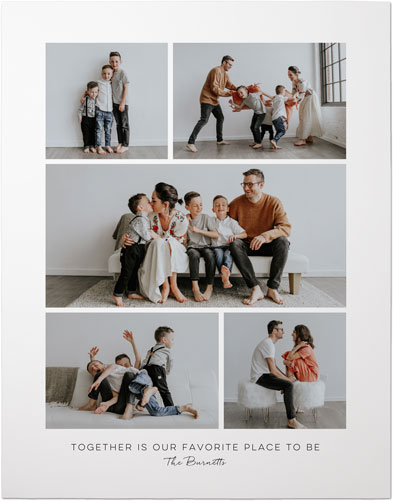 Gallery of Five Text Premium Poster by Shutterfly. Posters are the most convenient way to bring art to your space. Pick your favorite images or quotes and print them on our premium matte posters.