Three ways to capture the big day
Make it amazing
Premium Wedding Albums
Get Started
Deluxe layflat pages create an unparalleled, seamless display
Premium cover options include genuine leather, silk
and metallic accents

So worth it
Way more affordable than a professional photographer's albums and you still get the premium quality with all the personal touches that could only come from you.
Keep it basic
Photo books for the big day and beyond
Get Started
Choose your favorite photo to personalize the cover
Perfect for a guestbook or parent's gift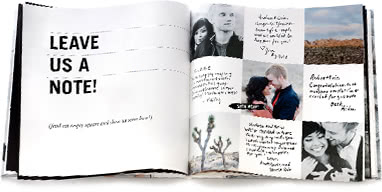 Let us do the work
Save time with our Make My Book™ Service. Get started for free.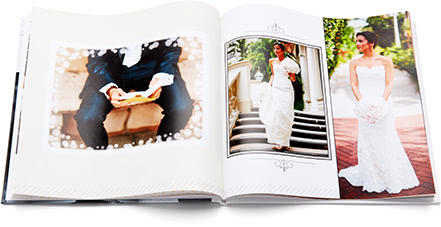 Choose your size and style. Upload your photos
or entire albums.
Our talented designers will curate your photos and create a
beautiful book for you in 3 business days.
Order as is or add your finishing touches. A design fee of
$9.99 will only be applied if you order the book.
Learn More
Forever is in the details
Make your wedding album, your way.
Show & Tell
Combine your favorite photos from
anywhere—your photographer's shots, your
friends' candids, and don't forget Facebook
and Instagram.
Take your pick
Choose from a variety of elegant book styles and page layouts
made just for your big day.
Sweet inspiration
Our pre-designed Idea Pages make it super easy to give your
wedding album that extra panache it deserves.
[TIP]
Make duplicates in smaller
sizes to give to the wedding
party or your parents.
It only takes one click.

People love our
wedding albums
Watch our video to see why
Beyond the big day…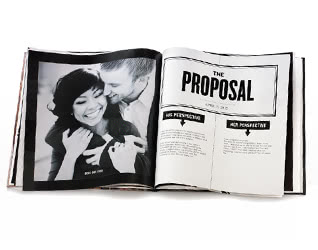 Engagement
Tell the whole story. Show how you met, fell in love and the proposal unfolded.
Get Started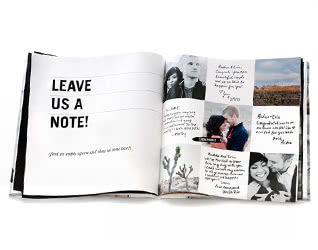 Guestbook
Start with a guestbook. You'll see how easy it is and end up with something truly unique.
Get Started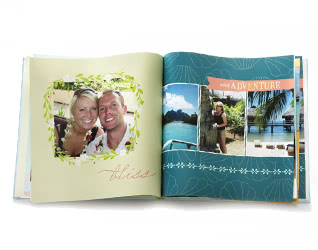 Honeymoon
Relive your honeymoon all over again with a photo book you'll have forever.
Get Started
About Wedding Books
Let Shutterfly help relieve the stress of creating the perfect wedding photo album. With a wedding photo book by Shutterfly, you can preserve the special day forever. Custom wedding albums are the perfect new way to capture every memory from your wedding day. Shutterfly photo books are professionally bound, easy to make and truly personalized. Put together a wedding scrapbook that tells your story by choosing from a variety of layouts and background designs. You can also add your favorite photos and insert captions along the way. Look back on your wedding day in the years and decades to come with wedding photo books and custom photo albums. We've got you covered on your big day. Check out our collection of wedding announcements, wedding cards and wedding thank you cards.