Birthday Greetings

What customers have to say about our Birthday Greetings
"Once again, Iove my end result from Shutterfly. The people love their personalized cards too."
January 25, 2019
Plan on making cards for all my family
"Used old pictures to make a fun unique birthday card for my dad"
January 24, 2019
These cards are amazing!
"I'm blown away by the quality of these hand designed Birthday cards! It's a great deal too in terms of cost. Thank you for making these personalized cards possible! I would give this product a 10 on a scale of 5"
January 23, 2019
I would buy this again!
"The card turned out great!"
January 23, 2019
Great eye catching card
"I love all of the color, it made this card pop!"
Birthday Cards
Few things show how much you care more than heartfelt birthday wishes, and the very best way to express those wishes is with a custom birthday card from Shutterfly. Our fast, high-quality printing (great for last minute birthday cards) ensures that your happy birthday card goes out in time with the message or blessing of your choice. Unlike stock messages in store-bought birthday cards, we make it easy for you to personalize a birthday card into a meaningful memento that your mom, dad, kids, grandpa, grandma, or best friend will love.
DIY Birthday Cards & Wishes
Say "Happy Birthday to you" with a one-of-a-kind birthday card designed by you. With Shutterfly, it's easy to make birthday cards for your friends and family that fit their personality. Whether you're looking for b-day cards for your husband, son, niece, nephew, or uncle, there's a happy birthday card for everyone in your life. Once you've selected your happy birthday card design, upload the pictures you want to showcase on your photo card, and customize away.
Funny Birthday Cards
If your sister, brother, best friend, wife, or aunt loves a good laugh, order him or her a funny birthday card online with Shutterfly. Our collection b-day cards from Ted Lasso and The Onion are a huge hit, as is our magazine cover birthday card, which allows you to put the birthday boy or girl's photo on a fake magazine cover, headline and all. At Shutterfly, we understand that, sometimes, the best birthday wishes are silly birthday wishes. Humor is, after all, the hallmark of a wonderful friendship. Choose a design template that speaks to you, add a photo or a personalized message if you like, and order a custom, printable birthday greeting card to be delivered directly to your recipient.
Birthday Cards For Your Son, Daughter, Husband, Wife, Sister, or Brother
Whether your son, daughter, grandson, granddaughter, or best friend is marking their 16th, 18th, or 21st b-day, at Shutterfly you'll find creative birthday card templates with which to express funny, emotional, sweet, or heartfelt birthday wishes (even if they're belated birthday wishes). If your brother, sister, boyfriend, or girlfriend is celebrating his or her 30th, 40th, or 50th trip around the sun, we have just the card for you to extend to them your special happy birthday wishes. And if your husband, wife, grandpa, or grandma is set to blow candles off a 60th, 70th, 80th, or even 100th birthday cake, we'll help you send your best and most beautiful birthday wishes. We also have cute birthday cards for your coworker, sister-in-law, boss, manager, cousin, crush, or lover, so even if you're searching for "birthday cards near me," explore our online store, including our birthday party invitations.
Personalized Birthday Cards and Wishes
Sometimes it matters whether you're expressing birthday wishes to a female or, alternatively, male friend. Depending on who your bestie or brother-in-law is, you may want to buy a birthday card that's cute, warm, or funny. Of course, those ordering birthday cards for older adults would likely want something different than those writing birthday cards for kids. Likewise, you'd want to tailor the style of your birthday card and your birthday wishes for, say, a fisherman, a teacher, a patient of yours, or a very special girl you've known for her entire life. Whether your recipient is celebrating his or her 1st, 7th, 15th, 19th, or 67th birthday, Shutterfly has a card you can personalize for that purpose. Want to send a card some other time of year? Create a personalized thinking of you card from Shutterfly.
Related Products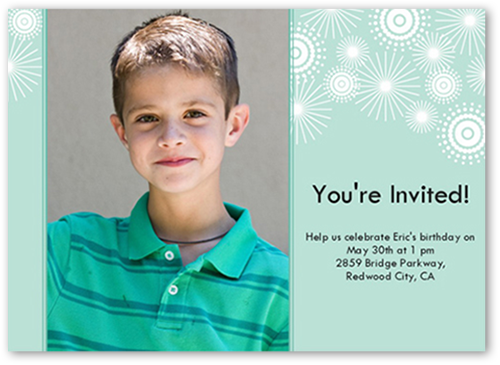 Sprinkle Sea Foam Swimming Party Invitations. Dazzling swirls pop against a seafoam background. Highlight your favorite photo beside important event details
Happy Bunny 5x7 Stationery Card by Blonde Designs. Another year older. Another year of fun. Invite all the guests with this stylish birthday invitation. Just add your favorite photos and all the event details.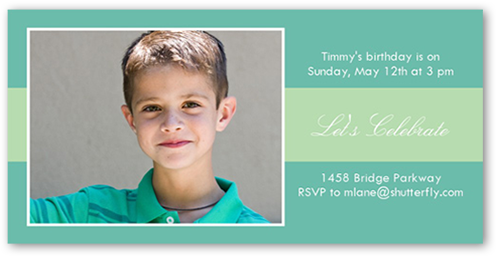 Cookie Sea Foam 4x8 Photo Card by Shutterfly. Capture elegance for any occasion with ornate lettering and a two-tone green background. Room for one special photograph.