What customers have to say about our Acrylic Prints
January 12, 2019
good product and very nice costumer service
"I am very impressed with new acrylic product, definitely will be back with new order"
January 10, 2019
I would make these prints again if I needed them
"I love the "no frame". Easy to hang which also creates an offset/shadow on the wall which I also like."
January 8, 2019
Loved the colors! Loved the look
"I have never ordered an acrylic print before and was unsure if it was worth the money... so worth it! I just love how it turned out. And I've shown it to others and they loved it too."
"I really didn't know what to expect but was delighted with the results. The acrylic looks just glass. I'm a rookie photographer and finally decided to enlarge one of my photos and hang it on the wall. It is perfect. Wonderful clarity and resolution. No flaws. Comes with everything you need to hang it. I will order more and would definitely recommend it to others! Shutterfly doesn't let me down!"
November 27, 2018
Turned out great!
"We ordered this as a Christmas gift for my in-laws and it turned out GREAT!! High quality image, colors kept their saturation, and I like that the mounting hardware is included (and simple). Would definitely recommend and will be buying more in the near future!"
Spice Up Your Walls With a Photo Acrylic Print
Decorating a home means personalizing it and making it truly yours by hanging family photos on the walls. If you are looking for a modern and dynamic option, consider a dramatic photo acrylic print from Shutterfly to make your images pop.
Traditional Prints
You may have considered using canvas prints. However, you won't get the same vibrancy with this option. Canvas dulls the look of the photo, providing an old-fashioned look with less detail and resolution. Acrylic brings it to life. Your photos will look realistic and modern in a photo acrylic print.
Imagine creating a gallery-style wall in your home with prints that have vivid colors and crisp details. When visitors walk by, they won't be able to help but look them over. You can literally stop people in their tracks and awe them when you choose acrylic.
What About Metal?
Metal prints are a nice step up from canvas, too. They produce a similar look to acrylic with the sleek look and bold colors. The main difference is the thickness of the print, and metal is very thin. If you are looking for a museum-quality print where you can see the fine details and the colors are lifelike, then metal or acrylic would work, and Shutterfly offers both options.
DIY Acrylic
You can buy acrylic photo-mounting supplies and create your own acrylic prints. However, they won't turn out as clean as what you can get from Shutterfly. You will be able to see the acrylic sheet you use to put over the photo. Air bubbles are also a common issue when trying to mount your own. With a custom print from Shutterfly, you get one piece that is secured together to ensure the quality of your photo doesn't diminish over time.
If you want to capture the spark that makes your loved ones unique, acrylic is a good place to start. Shutterfly creates memories that help to preserve your loved ones in a print that you will love to hang in your home.
Related Products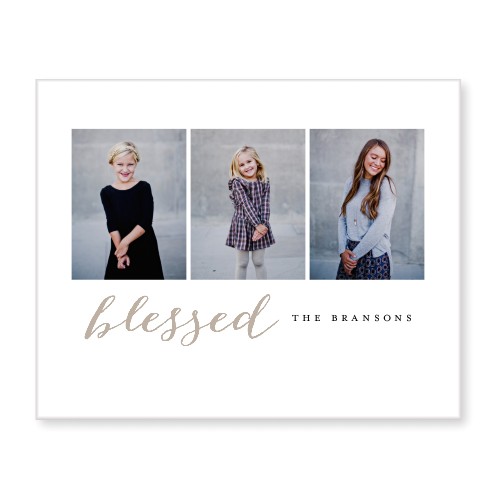 Blessed Scripted Trio Acrylic Print. This premium polished acrylic wall art will surely elevate any home or office space! Display your favorite photos or artwork to complement your room's style.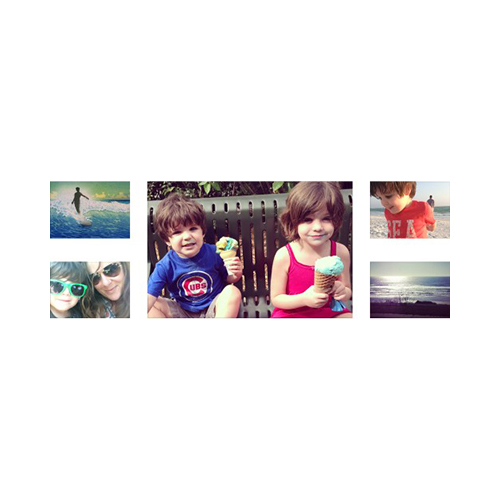 Picture Window of Five Acrylic Prints by Shutterfly. Use our Design-a-Wall tool to create an artful arrangement of acrylic prints. Comes with a special kit to make hanging easy and flawless.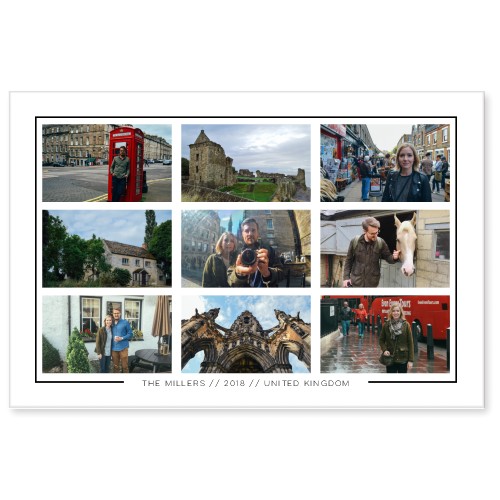 Simple Outline Border Collage Acrylic Print. This premium polished acrylic wall art will surely elevate any home or office space! Display your favorite photos or artwork to complement your room's style.