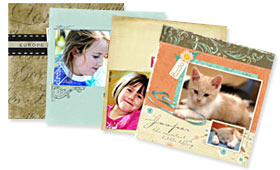 Print your digital scrapbook with Shutterfly to create a cherished keepsake the entire family can enjoy.
With affordable printing solutions, Shutterfly makes it simple to print digital scrapbook pages and easily place them into our high-quality Photo Books.
Simply upload your digital designs as .jpg files, drag-and-drop them into a blank book, and order—it's that easy. With Shutterfly, you can easily create a premium-quality book of your digital layouts.
Shutterfly Digital Scrapbook Print Solution Benefits
Print your digital scrapbook with Shutterfly and enjoy a host of benefits:
Affordable Printing - Shutterfly delivers high-quality results at a reasonable price


Outstanding Quality - Professional print quality is standard in all Shutterfly products, including our digital scrapbook solutions


Variety of Book Sizes - You can select from 8x8, 12x12, 8.5x11, and 5x7 book sizes


Easy Editing - Drag-and-drop your digital designs onto full-page layouts


Work across Windows and Mac OS Platforms - Digital scrapbooks from either platform can be printed with Shutterfly
Please review our How to Print Your Digital Scrapbook document and download the design templates before you begin. To begin uploading your digital scrapbook layouts, sign in to you Shutterfly account (or sign up for your free Shutterfly account).
Digital Scrapbook Basics
Creating a digital scrapbook is similar to traditional scrapbooking, except your scrapbook layouts are created partially or entirely on your computer using an image-editing program.
Digital scrapbooking has gained popularity because the editing software makes it easy and more affordable to create stunning digital scrapbook layouts using digital photos, background designs, fonts, stickers, embellishments, and other elements.
Print or Share your digital Photo Book with Shutterfly
Shutterfly lets you showcase your digital scrapbook layouts with a professionally finished Photo Book. Shutterfly also makes it easy to replicate your digital scrapbook using our online sharing feature. Customers can share their digital scrapbooks online (which requires only an email address), allowing recipients to view and order shared books.
Simply select your book size, upload your digital scrapbook layouts, drag-and-drop your layouts in our blank photo book, and place your order. Shutterfly takes care of the rest.
A digital scrapbook makes a great gift for loved ones or a personal keepsake for sharing on special occasions.